23 Fabulous Things To Do In & Around Boston This October
This year's Boston October events are filled with spooky spectacles, fall foliage and of course, abundant apple picking.
As the temperature drops and the leaves change colors, Boston is looking positively picturesque at this time of year. And with Halloween just around the corner , there are tons of activities to take part in around the city this October!
From festivals to nature walks, here are our recommendations for plans this month:
1. Visit Michelangelo's Sistine Chapel: The Exhibition
Admire the timeless works of Michelangelo magnified 60x! The global exhibition will finally make its way to Boston this October after successful runs in London, Toronto, Shanghai, and NYC! Guests can experience Michelangelo's iconic frescoes up close and personal with vivid detail.
Learn more and get tickets here !
Find it at 121 Webster Avenue, Chelsea, MA 02150
2. Take a spooktacular mystery picnic with friends
What is a distinguishes a foodie from a mere mortal?
Enjoy the ultimate foodie adventure as your taste buds, and mind get to experience the thrill of a mystery picnic. Solve clues that'll lead you to your ultimate destination where an extravagant picnic awaits! Reserve your adventure online .
3. Light up the mood with a candlelight concert
Imagine sitting in the warm glow of a thousand candles, with a live orchestra softly strumming classic tunes in an ornate historic building. Candlelight Concerts mesh the magic of live performance with a multi-sensory musical experience for a jaw dropping performance!  October brings two unique Candlelight experiences to Boston.
If you're in for a spine-chilling musical performance, check out the Haunted Evening of Halloween Classics !
If you're a Swiftie you'll love Candlelight: A Tribute to Taylor Swift at First Church for the ultimate fall vibes
These limited-edition Candlelight experiences only take place in October! Tickets are selling out fast for showtimes, so make sure to secure a seat !
4. Go apple picking at a tranquil orchard
Apple picking is the quintessential fall activity in New England. What's better than exploring picturesque apple orchards, picking your own, and taking a bag home to enjoy in a homemade apple pie or just by themselves? Our list of the ten best orchards will definitely get you motivated to plan a weekend excursion outside the city.
Brooksby Farm in Peabody
Boston Hill Farm and Smolak Farms in North Andover
Lookout Farm in Natick
Dowse Orchards and in Sherborn
If you want a pick at some of the best apples in the country, according to USA Today, then head to this farm in Northborough, MA!
5. Explore Massachusetts' spookiest town, Salem
Just 17 miles north of Boston sits the small, quaint town of Salem: a place known for its ghosts, mysterious energy and, of course, its famous witch trials. From haunted spots and historic sites to magic shops, we've come up with a few magical Salem spots to explore and bask in the city's witchy spirit. Check out our full guide to exploring Salem here.
You can also try your own stay in the Sanderson Sisters' cottage starting on October 12; read more about that here!
6. Catch the fall foliage at the best rated spot in Massachusetts
Planning a trip to the countryside to catch the leaves changing colors this fall? Lenox, MA should be on your itinerary. According to Reader's Digest , this Berkshire town has some of the most vibrant fall foliage in the country. Starting in late September, the area's landscapes are ablaze with reds, yellows, and greens. Read more here.
7. Or explore a hidden waterfall in Vermont, surrounded by changing trees
Tucked away in Warren, VT, these falls are the perfect natural spot to escape the leaf-peeping crowds. A wild swimming spot may not sound like the most appealing fall destination but hear us out. If you're looking to escape the throngs of leaf-peepers currently exploring the New England wilderness but still want to bask in the glorious fall foliage of the area, this is the place for you this fall. Details here!
8. Get lost in a corn maze
Before escape rooms were all the rage, corn mazes were (and still are!) the best places to have fun and solve a massive outdoor puzzle with your friends. Bring family and friends for a day of trial and error as you navigate your way through fields of corn as far as the eye can see at a corn maze close to Boston. . Here are some ideas:
Hanson's Farms in Framingham
Marini Farm in Ipswich
Connors Farm in Danvers
Sauchuk's Corn Maze and Pumpkin Patch in Plympton
Davis Mega Maze in Sterling
See the rest of the best corn mazes in Boston here!
9. Cheer on the Head of the Charles athletes
The Head of the Charles regatta returns October 20 this year. It's a fun spectacle to cheer on the rowers from these five iconic HOCR viewing spots .
10. Go on a beautifully haunting hike through an abandoned ghost town
A spookier alternative to the classic autumn nature walk is exploring one of Massachusetts' ghost towns. As our state is home to some of the first settlements in the United States, it's no surprise that there are plenty of ghost towns around. Whether the original inhabitants abandoned the villages over decades or were forced to leave, there's plenty of interesting history remaining for you to explore on a hike through ages past.
Check out the eerie magnificence of these towns:
Quabbin Reservoir Towns
Whitewash Village
View our full itinerary of Massachusetts ghost towns for a solidarity staycation.
11. Go glamping in the great outdoors
Fall weather can be unpredictable, but you can bet that a glamping experience is sure to be a comfortable getaway in nature this fall.  Glamping (glamorous camping!) provides all the beautiful scenery of the outdoors without sacrificing modern amenities. Luckily there are tons of glampsites around New England such as:
Getaway in Epson, New Hampshire
Normandy Farms in Foxborough, Massachusetts
Maine Forest Yurts in Durham, Maine
Tops'l Farm in Waldoboro, Maine
Sandy Pines Campground in Kennebunkport, Maine
Huttopia White Mountains in Albany, New Hampshire
Autocamp in Cape Cod
While some require long car rides away from the city, the trek will absolutely be worth it. Check out our top picks for glamping outside of Boston for a lovely fall getaway.
12. Thrift shop for some seriously spooky Halloween costumes
Want to assemble a perfectly spooky Halloween fit? Look no further than your local thrift stores—thrifting is one of the best options to shop for Halloween costumes without breaking the bank, and Boston has no shortage of super-cool thrift shops where you can browse around. Our list of 9 Boston thrift stores includes boutiques and chains of all price ranges and styles, but no matter where you go, you'll be certain to leave with a Halloween costume that's completely unique.
13. Try out a new restaurant
There's a plethora of new spots opening in Boston this fall. One of the most anticipated is the return of Eastern Standard ! It'll open alongside 3 brand-new spots that promise delicious foods in lovely settings that will whisk you away from Boston into a flavorful world of gourmet innovation!
14. Or revisit a classic: the Apple Cider doughnut
It's that time of year when local orchards and bakeries start serving those steaming hot, cinnamon-dusted delicacies we call apple cider donuts . When you're craving a fresh-baked doughnut, you don't have to travel too far to satisfy your cravings. Check out our list of the best places in in the city to get one (or a dozen), including:
Blackbird Doughnuts
Kane's Donuts
Wilson Farm
Union Square Doughnuts
Volante Farms
15. Catch legendary Oscar-winning Costume Designer, Ruth E. Carter at the Coolidge
View this post on Instagram A post shared by Ruth E. Carter (@therealruthecarter)
The Coolidge Corner Theatre will honor Academy Award winner, Ruth E. Carter with The Coolidge Award! The Springfield native designed costumes for  Black Panther, School Daze, Black Dynamite, and  Selma  to name a few! Celebrate with Carter and The Coolidge on October 15 at 6 PM! Tickets required .
16. Head out to the Flannel Jam fall music festival
View this post on Instagram A post shared by LEVITATE (@levitatebrand)
Old Crow, Medicine Show, Chadwick Stokes & The Pintos, Ali McGuirk and others will ring in the fall with a cozy, comfy music fest. The 2-day festival will take place in Marshfield and on Nantucket. "One percent of each ticket sold will be contributed to the Levitate Foundation, a non-profit whose mission is to cultivate vibrant communities by creating and conserving access to music, art and the outdoors." Find the New England Flannel Jam October 8-9.
17. Get salty with the New Bedford Whaling Museum
There are many upcoming events and exhibits this month at the museum:
All month long check out a 3D screening of  Blue Whales: Return of the Giants  and learn about the magnificent blue whale
October 5 at 6 PM: Gather at a seaweed roundtable to study works dedicated to the slimy powerful kale of the sea
October 19 at 6 PM: Explore the seafaring collections of the New York Yacht Club and enjoy a reception with fellow sea-savvy folk
18. Check out the Blue Shark installation at Franklin Park
In partnership with the Emerald Necklace Conservancy and Franklin Park Zoo, "Blue Shark Garden" by Aquinnah Wampanoag artist and marine scientist Elizabeth James-Perry debuts at Franklin Park now through November 2024.
19. Check out the free  Play it by Fear  spooky season concert
Enjoy live musical scores of spooky classics like Ghostbusters, The Twilight Zone, Stranger Things, and The Addams Family , along with scores from beloved, festive family classics like The Nightmare Before Christmas and Harry Potter.  Find it Tuesday, October 3 from 6-8 PM at The Rocks. And reserve your free admission online .
111 Harbor Way, Boston, MA 02210
20. Get inspired at the Chinatown Arts Festival
Now through October 14 explore the colors of Boston's Chinatown. The rich artistic history of old and new is on display with 6 bold window murals, on bright display throughout the neighborhood!
Murals on display throughout Chinatown by artists include:
– "What Makes a Community Thrive" by BCNC Youth Center, 38 Ash Street
– "A Communal Blend" by Jennifer Duan at APM Coffee, 99 Kneeland Street
– "Unity" by Jinyi Duan at Crave Chinatown, 75 Kneeland Street
– "Welcoming Dishes" by Yuan-yuan Wang at WakuWaku, 2 Tyler Street
– "We Protect Each Other" by Yixuan Zeng at Q Restaurant, 660 Washington Street
– "Let's Eat" by Jialu Zou at Happy Lamb Hotpot Boston, 693 Washington Street
21. Voyage to Grenada with the opening of ZaZiBar
Nestled in Boston Seaport is a new flavor profile you need to explore. ZaZiBar, a traditional Caribbean Asian restaurant brings the flavors of "The Spice Island" to the district. Spearheaded by Chef Olrie Roberts, guests can enjoy everything from Jerk Chicken to savory "bubble waffles." Join ZaZiBar for its grand opening on October 10!
22. Make strides against breast cancer with the American Cancer Society
View this post on Instagram A post shared by Mike (@thlucky)
October is Breast Cancer Awareness Month. On October 1 at the Hatch Shell will be the 31st annual Making Strides Against Breast Cancer walk, where over 3,000 survivors, thrivers, and caregivers will dress in pink and parade around the Esplanade to honor those who are no longer here to walk. All month long there will be events to raise awareness honor survivors and encourage women to learn about early detection.
23. Wake up with a Pumpkin Spice Cold Brew from Blank Street
It's pumpkin spice latte season, but let's be real, most New Englanders are going to have the iced coffee or cold brew version- even as the temps dip. Blank Street released its Shaken Pumpkin Spice Cold Brew just in time!
The mix of pumpkin pie spice, cold brew, and milk taste like a crisp fall morning in a cup! Fun fact, unched the latest edition of its innovative and delicious Cold Brew Menu: The Shaken Pumpkin Spice Cold Brew from Blank Street sells 3x more than the regular Blank Street Pumpkin Spice Latte!
TYPE IN YOUR SEARCH AND PRESS ENTER
New England Wanderlust
Fall , Massachusetts · June 14, 2023
31 Fun Things To Do In Boston In The Fall (2023)
Even though it's New England's largest city, there's no shortage of fall coziness to be had in Boston! Offering the best of both worlds when it comes to big city amenities, and quaint neighborhoods, Boston is one of the best places to enjoy the autumn season.
This post shares all my favorite things to do in Boston in the fall season, including where to find the best foliage displays, spooky Halloween activities, best festivals and parties, and even the best fall day trips from Boston. With that, let's get started!
New England Wanderlust contains affiliate links, and is a member of the Amazon Services LLC Associates Program. We may earn a commission from any purchases you choose to make from our links, at no additional cost to you. For more information, please refer to our Privacy Policy .
Is Fall A Good Time To Visit Boston?
Oh, absolutely! There's just something extra magical about Boston in the fall season, and the city does an absolutely fantastic job capturing all the best things about this time of the year. You'll find curated seasonal menus at the restaurants that highlight autumnal flavors, crunchy leaves on the sidewalks, parks filled with fall color, and so many things to do to fill up your itinerary.
On top of that, the fall season offers very comfortable weather. In the summer, Boston is hot . But once October hits, temperatures begin to drop, and while there can be the odd hot day, the weather is generally cooler and more pleasant for exploring the city. And since Boston is a great city to explore by foot, this just adds to the appeal of a fall visit.
Best Time To Visit Boston For Fall Foliage?
Mid-October is a great time to visit Boston for peak fall foliage, but honestly, the entire month of October will be beautiful. Early October will bring the first few peeks of the leaves changing, and by the third week of the month, the city is usually about as colorful as it gets. The color will typically last through Halloween, too.
But even after Halloween, you'll usually find some colorful foliage still hanging onto the trees, and lots of it sprinkled all over the sidewalks.
However, one thing to know about fall foliage anywhere in New England, is that colors can peak at different times from year to year. The changing leaves is impacted by temperature and weather patterns throughout the entire year, so it doesn't always happen at the same time. However, for Boston, mid-October is almost always a safe bet for the best fall color.
Where To See Fall Foliage In Boston
Let's kick off my list on celebrating fall in Boston with where to find the best foliage around the city! Now, there are definitely more than these 3 places to see fall color, but I wanted to showcase the best of the best when it comes to colorful leaves. So these are the places you'll want to visit on your autumn trip to Boston for foliage:
1. The Public Gardens
If there's one place to see fall foliage in Boston, it's the Public Gardens. You'll be able to enjoy colorful trees backdropped by the city skyline, take perfect fall photos on the pedestrian bridge, and see foliage at pretty much every turn in the park.
The Public Gardens are gorgeous year-round, too, so while they're even more special in the fall, this is just a place that should be on anyone's itinerary if you've never been.
Pro Tip : Many people hope to take a ride on the famous Swan Boats in the park, and while this is a really fun thing to do, they're only open in the summer. They typically shut down right after Labor Day, so this isn't something you should plan on doing during your fall trip. However, definitely plan to enjoy the rest of the park during this beautiful season!
2. Boston Common
Right next to the Public Gardens is Boston Common, which is another wonderful park in the city that's a great spot to enjoy fall foliage colors. While The Common isn't quite as picturesque as the Public Gardens, you'll find walkways and lawns at this park filled with fall color.
And since it's just steps from the Public Gardens, it's so easy to see them both at the same time.
3. The Esplanade
One of my favorite walks in Boston year-round is the Esplanade, and it's definitely the best in the fall season. A paved walkway along the Charles River, the Esplanade is packed with foliage color in the fall, and is such a lovely place to enjoy a crisp, autumn walk.
Stretching over 3 miles, you can really walk for a while here, too, and there are fun places to stop along the way. If you don't want to walk the whole thing, it's easy to exit and head back into the city when you're ready. And if you're looking for things to do along the path, I recommend visiting the floating dock, and admiring the street art (there are both permanent and seasonal displays to check out!).
Spooky Tours To Take In Boston In The Fall
While most of these tours are offered year-round in Boston, a spooky tour is always better in the fall, right? With Halloween approaching, fall decorations everywhere, and the cool night air, all of these things combined just beg you to book a fun haunted tours in one of the country's most haunted cities!
4. Ghosts & Gravestones Trolley Tour
The Ghosts & Gravestones Trolley Tour is one of the most popular in the entire city, and for good reason! You'll hop aboard a trolley at night to cruise around Boston with a costumed guide, and learn all about the spookiest hauntings around the city.
Sites you'll see along the tour include the Boston Tea Party, the historic North End, and you'll even get off the trolley to walk through the city's oldest burial grounds for all the goosebumps and chills you could want.
🍁 Click here to check out the Ghosts & Gravestones Trolley Tour
5. Haunted Pub Walking Tour
The Haunted Pub Tour is perfect for those looking for a good mix of fun, history and a few scares. This walking tour takes you to some of the city's most haunted pubs, where your expert guide will share spooky stories of ghost sightings. During each pub visit, you're also welcome to purchase a drink to enjoy while learning about the haunted happenings.
This tour also passes by Beacon Hill, King's Chapel, and Granary Burying Ground for all the spooky stories you could possibly want between your visits to the pubs.
🍁 Click here to check out the Haunted Pub Tour
6. Death & Dying Walking Tour
The Death & Dying Tour is perfect for those looking for an eerie walking tour through the city that tells the tales of the most haunted places in Boston. This tour is so spooky, that it's an adult-only event that takes place at nighttime.
🍁 Click here to check out the Death & Dying Tour
Fun Things To Do In Boston In The Fall
For more fun things to do in Boston in the fall season to celebrate everything that this season is about, check out some of these recommendations below:
7. Sip On Seasonal Brews
Boston is such a great city for crafts breweries, and in the fall, you can take advantage of all the fun seasonal flavors that are special releases.
My favorite brewery to visit in Boston is Trillium Brewing , and in the fall, their Barrel Aged Spice Cake Imperial Stout is to die for. They often have fun cocktail creations in the fall season, too. Trillium also has a few Beer Garden locations around the city, including the Greenway, Fenway and the Common. Check out one, or all of them – I won't judge 😉
Another popular place for local beer in Boston is Harpoon Brewery , and their Flannel Friday is the one you'll want to order in the fall.
8. Order Some Seasonal Cocktails, Too!
In addition to seasonal craft brews, you'll also want to check out all the awesome seasonal cocktails that are poured around the city! Infusing drinks with apple, maple, and ginger, this is a great way to savor the flavors of the season before heading out to dinner.
A great place to check out is the Boston Harbor Distillery , which has a really fun cocktail bar that serves up creative drinks with seasonal specials. While here, you can also book a tour of the distillery and get a behind-the-scenes look at how their liquors are made.
Later in the post, I recommend staying at the Boston Harbor Hotel, and if you happen to book a room there, you won't have to stray far for a great cocktail! The Rowes Wharf Bar does an awesome job with fall-inspired drinks that incorporate the flavors of the season.
Other great places for cocktails in Boston are Next Door Speakeasy , Hecate , and Birds of Paradise .
9. Enjoy The Last Whale Watch Tours For The Year
The fall season brings the last of whale watching in the New England region, and you can actually head out on a whale watch tour right from Boston! Whales have usually migrated too far south once October is over, so if one of your goals was to spot some whales this year, book your tour before Halloween!
Whale Watch tours from Boston visit the word-famous Stellwagen Bank Marine Sanctuary, which is where the tours from Provincetown on Cape Cod go – so you're definitely going to the best place in New England on these tours.
Tours in Boston typically depart from Long Wharf along the waterfront area, and last for about 3.5-4 hours. And since it's the fall season, you'll want to be sure to bundle up, as the air will be much colder out on the water. I'd recommend packing a beanie, a warm coat, and even some gloves to stay warm.
🍁 Click here to check prices & availability for whale watching from Boston
10. Try ALL The Chowders
I love a good cup of New England clam chowder year-round, but man, is it even better in the fall and winter! The chilly air makes you appreciate a warm, creamy cup of chowder even more, so whether it's your first-ever cup of chowder in the area, or you're a seasoned pro, it's one of the best things to have in Boston in the fall.
One of my favorite places for both seafood and chowder in Boston is the famous Union Oyster House . This is a popular place that some may call touristy, but honestly, I think it lives up to its reputation. First-time visitors will love the vibe here, as well as the selection of wonderful, fresh seafood. And this is a place where you don't want to skip the clam chowder!
Walrus & Carpenter Oyster Bar , Neptune Oyster , and Atlantic Fish Company all also have incredible cups of chowder!
🍁 Want to try the best of Boston's food? I recommend booking a food tour! Click here to check out my round-up of the best Boston food tours!
11. Get Cozy At Beacon Hill Books & Café
View this post on Instagram A post shared by Beacon Hill Books & Cafe (@beaconhillbooksandcafe)
What is it about fall and wanting to throw on a blazer, sharpen pencils, and crack open a good book in the fall season? If those vibes are up your alley, you'll want to add a trip to Beacon Hill Books & Café to your itinerary.
A new addition to Boston, this bookshop is equal parts cozy and Instagram-worthy. It just so happens to also be a place you'll probably never want to leave if you love books and a warm drink on a fall day.
The entire store is designed to make you feel like you're browsing someone's personal library in their historic home, but the selection is absolutely never-ending. You're pretty much guaranteed to find your next great read during your visit.
The on-site café is about as picturesque as it gets, and serves breakfast, lunch and lite bites for dinner, as well as an afternoon tea on Sundays.
Since opening, this place has gotten rather popular, so I recommend booking a table online in advance to ensure you can snatch up a table. I suggest arriving an hour early so you can pick out a new book to start reading, purchase it before your reservation, and then spend a cozy afternoon in the café with delicious food and a great, new book.
12. Take A Crisp Fall Walk In Beacon Hill
Great news! Beacon Hill Books is located in probably the cutest and coziest neighborhood in Boston, so before or after your visit to the bookstore, budget some time to explore the cobblestone streets of Beacon Hill.
In the fall season especially, this entire neighborhood feels like a New England postcard. You'll spot fall foliage, historic streets, gorgeous brownstones perfectly decorated with pumpkins on their stoops, and cute little boutiques with lovely fall window displays. This is a great place to just wander, and take in all the fall vibes. Just be sure to have your camera ready at all times – you'll need it 😉
13. Pick Up Fall Treats At Tatte Bakery
View this post on Instagram A post shared by Tatte Bakery (@tattebakery)
One of the most popular bakeries in Boston is Tatte Bakery & Café, and honestly, it's worth waiting in line in the fall season for one of their apple pastries! I'm in love with their apple turnovers, which are the perfect fall treat on a crisp day. They also offer up great spiced lattes in the fall season.
Grab one of these to go to snack on while you explore Beacon Hill, or plan to stay a while and have breakfast or lunch at the café. The interior of each location is so stunningly beautiful, so it's worth it to linger and enjoy the atmosphere.
In the fall season, they have other delicious goodies like homemade maple pecan pie, pastries infused with cinnamon and pumpkin flavors, and savory dishes spiced with cardamom. It doesn't get much better than that, right?
14. See The Giant Pumpkins At Boston Public Market
The Boston Public Market is a great stop to make year-round, and in the fall season, you'll want to swing by to check out the giant pumpkins that are on display for your dose of autumnal fun.
But the fun doesn't stop there at the Market! The second half of October brings some fun events like the Urban Pumpkin Patch, Pumpkinpalooza, Pumpkin Vase Flower Arranging, and a Taste of the Season food event. If any of these sound like they're perfect for your itinerary, check them out here before visiting!
15. Join A Walking Tour
Boston is one of the most charming and historic cities in the entire country, and an easy way to get to see all the best places if it's your first time is by joining a walking tour. There are all kinds of wonderful tours to check out in the city that cover everything from history, the Freedom Trail, to food tours (mentioned earlier!).
The fall season is actually my favorite time to take a walking tour because of the more mild weather, so grab your scarf and sneakers, and get out there to see all the amazing historic places around Boston this fall.
Here are some of the best walking tours around Boston:
Small Group Freedom Trail Tour
Revolutionary Story Walking Tour
Boston History & Highlights Tour
16. Get Some Seasonal Cupcakes
View this post on Instagram A post shared by Georgetown Cupcake (@georgetowncupcake)
One of my personal favorite things to do whenever I visit Boston is place an order for whatever seasonal cupcake flavors are available at Georgetown Cupcake, and they never disappoint.
During the month of October, you'll find special Halloween-themed cupcakes, as well as pumpkin flavors, on their menu. And they make it so easy to see what's available by going to their "monthly specials" menu on their website. From there, you can place an online order to make sure you get the exact flavors you want, and have them ready for you when you arrive.
Pro Tip : These cupcakes taste way better when you eat them in your hotel bed at the end of the day 😉 Juuuuust sayin'.
17. Enjoy Foliage Views On A Cruise
One of the best ways to enjoy Boston in the fall season is to take in views of the skyline from the harbor, and good news! There are some awesome cruises available to help you plan the perfect day.
My favorite, however, is this sunset cruise , because there's just something so dreamy about seeing the fall colors enhanced by the amber glow of the setting sun. On board, have your camera ready to snap photos of the skyline during the best time of the day. And drinks and snacks are also available on the boat to make your trip even more fun.
🍁 Click here to check out this wonderful sunset cruise in Boston
18. Experience The Arts During Doors Open Day
For anyone out there hoping to get their fill of arts and culture on their fall trip to Boston, you'll want to pay attention to this one. Every October, the Fenway Alliance coordinates a special Doors Open Day, where over 80 cultural experiences can be enjoyed at absolutely no cost.
The event changes from year to year, and has only continued to grow since its inaugural event in 2001. But past events have included dancers, art exhibits, concerts, and so much more.
19. Stroll Around Harvard Campus
Like I mentioned earlier in the post, fall always makes me want to buy a new blazer, throw on some loafers, and feel like a student again … maybe without the classes and homework 😉 If you share the same sentiments, then a tour around the historic Harvard University campus may be something you'll enjoy!
Having walked around Harvard myself, I can honestly say it's such a cool thing to do when visiting Boston, especially in the fall season for all those back-to-school vibes.
And while you can definitely just walk around the campus on your own, you can also book a really fun and quick tour that's led by actual Harvard students. Get the inside scoop on what life is like on campus, find all the prettiest buildings, and listen to entertaining stories from your guides along the way.
🍁 Click here to check out the guided Harvard Campus tour
Awesome Fall Day Trips From Boston
While there's so much to do right in Boston proper in the fall season, there are some amazing places nearby that are especially magical in the fall. These are the destinations I recommend if you're looking to add a day trip or two to your fall Boston itinerary:
20. Salem, Of Course!
If you only have time for one fall day trip from Boston, it's just got to be Salem, right?! I mean, it's really the heart of all things Halloween in New England, and through the month of October, it's one of the most exciting places to be for all things spooky.
During your day trip, you can join a Hocus Pocus filming locations tour or a spooky ghost tour (or both!), visit the Salem Witch Trials Memorial, and participate in all the fun Halloween events that take place all month long during Haunted Happenings.
The best way to visit Salem for a day trip is to take the ferry from Boston. Salem in October is, well … crowded. And parking will be a challenge, for sure. Leaving your car behind is a good idea during this time of the year, and since Salem is pretty small and walkable, you won't have to worry about getting around on foot.
The ferry also takes less than 1 hour to get to Salem, so by the time you drive out of the city and find parking, it's probably faster to just take the ferry.
🍁 Click here to check out the Boston → Salem ferry
Pro Tip : When you book your tickets, be sure to book both your ride to Salem, and your return trip back to Boston. Prices reflect a one-way ticket only!
21. White Mountains In New Hampshire
A great tour option from Boston, especially for those who plan to use Boston as their home base for their fall trip, is this awesome fall foliage tour through the White Mountains in New Hampshire . Taking all the guess work out of planning your own trip there, this tour does it all for you.
It's a long day at around 12 hours, but you're going to see the best of what New Hampshire has to offer in terms of fall foliage in one easy day trip. An expert guide takes you to some of the best spots for foliage in the area, including the famous Kancamagus Highway, North Conway, and the iconic Omni Mount Washington Resort (which is rumored to be haunted!).
🍁 Click here to check out this awesome tour to the White Mountains From Boston!
22. Newburyport
One of my personal favorite fall places to visit that's close to Boston is Newburyport. This little city feels more like a quaint, small town, and has amazing shopping and dining, waterfront scenery, boat tours, and of course … fall foliage. To me, it feels like the set of a Hallmark movie.
Visiting from Boston is pretty easy, too. There's a commuter train that goes right to Newburyport, and it takes just over an hour to get there. It drops you off about a 30-mins walk from the heart of town in Newburyport, but you could enjoy the walk on a nice fall day, or call a taxi (Ride Share services up this way are hit and miss).
To go at your own pace, I'd recommend renting a car to drive up to Newburyport, though. You can easily spend the day here, but there are some fun stops to make along the way, including Rockport for coastal charm. And you could choose to continue up to Portsmouth, NH for more fall foliage, and a cute town atmosphere.
23. Sturbridge
An amazing place for fall foliage and cozy vibes is Sturbridge, MA, which is just over an hour outside of Boston. Famous for Old Sturbridge Village, which is wonderful year-round, it's especially stunning in the fall season. This cute little town is also home to some wonderful parks for relaxing nature walks, a nice apple orchard, and Altruist Brewing Company.
24. Concord
Lastly for charming towns near Boston for cozy fall vibes and foliage, you'll want to check out Concord. Located less than hour outside the city, it's famous for its American Revolutionary War sites, and of course, Louisa May Alcott's family home.
While all these things are worth checking out, it's especially beautiful in the fall season with all the lovely foliage color at every turn. You'll find historic homes lining the streets and bright red and orange leaves on all the trees. This is a great escape from Boston if you're looking for small-town charm, history, and postcard-worthy moments.
25. Visit A Haunted House
While there are no haunted houses right inside the city of Boston, there are some really great ones to check out nearby!
One of the most famous haunted attractions in Massachusetts is the Lizzy Borden House in Fall River, which is about an hour outside of Boston. Ghost tours are given inside the original home, and you can even book an overnight stay if you're looking for the ultimate thrill.
There are several other haunted houses and attractions nearby – I have an entire post on these to help you pick the best one for you, so be sure to click on that link below (at the end of this section).
26. Experience The Davis Mega Maze
Located in Sterling, which is just about an hour outside of Boston, you'll find the very fun Davis Mega Maze. This corn maze spans over 3 miles and 8 acres, and can take anywhere from 30 minutes to 3 hours to finish, according to their website! So, you can really make an entire day out of it.
During the month of October, they really make their farm a fun destination, too, and you'll find live music, craft beer and drink vendors, awesome food vendors, zip lines, camp fires, and special Halloween events. If you're looking to plan the ultimate fall day of fun from Boston, this is the place to go.
Here are some posts to help you plan your fall day trips from Boston:
The Ultimate Salem, MA Day Trip Guide
Best Haunted Houses & Places To Check Out In Massachusetts
Best Things To Do In Newburyport, MA
Fall Festivals & Events In Boston
27. titanic masquerade halloween yacht party.
For the ultimate Halloween party on the water, you'll want to snatch up your tickets to the Titanic Masquerade Halloween Yacht Party ASAP! This party takes places on the Spirit of Boston, and cruises along Boston Harbor at night.
Climb aboard in your best Halloween costume, and enjoy 4 decks of fun. The party is led by the best DJ's in Boston, so you can dance the night away while taking in the best nighttime skyline views.
28. Head Of The Charles Regatta
One of the most famous fall events in Boston is the Head of the Charles Regatta, and while it takes place in nearby Cambridge, it's so easy to experience during a fall trip to Boston.
This regatta is actually the world's largest 2-day rowing event, and this is where the best of the best compete in rowing championships along the Charles River. It's such a fun thing to experience in person, and because the views of the river are so special in the fall season, it's also a great way to enjoy autumn in Boston!
29. Harpoon Dogtoberfest
Okay, so probably the cutest fall event in Boston is the Harpoon Dogtoberfest, which is held in October each year.
If you're traveling to Boston, you probably won't have your furry friend with you, but that doesn't mean you can't be an enthusiastic spectator 😀 And if you're in the Boston area, I encourage you to participate!
During Dogtoberfest, participate in a pup costume contest, or a 3-mile walk/run/trot/jog – whatever your pup's speed is. Proceeds from the event go toward local charities, and honestly, what's not to love about giving back AND seeing dogs in costume?
Bonus: Harpoon Octoberfest (For Humans 😉)
Looking for the human version of Octoberfest at Harpoon? I've got you covered! There's one of those, too. Usually in late September, the brewery hosts this event, and has live music, plenty of beer, lots of food, fun contests, and tons more.
30. Harvard Square Oktoberfest
For over 40 years, the Harvard Square Oktoberfest has been a fall tradition in the Boston area. While the Harpoon Octoberfest is for those 21+ only, the Harvard Square Oktoberfest is a family-friendly event that appeals to everyone.
Enjoy awesome food vendors, live music, craft vendors and lots more!
31. Boston Public Market Harvest Party
Lastly, a wonderful fall event to have on your radar is the Boston Public Market Harvest Party, which also takes place in October each year.
During the Harvest Party at the Market, enjoy bites from local vendors, craft drinks featuring local spirits, live music, and an array of awesome vendors. Proceeds of the event go toward the Community Engagement Fund, which is a local organization that works to offer free events at the Market.
Where To Stay In Boston
Boston Harbor Hotel : For a high-end stay, this 5-star hotel on the waterfront is hard to beat. With on-site dining that includes an awesome cocktail bar, a pool, and gorgeous rooms , it has everything you need for a relaxing fall getaway.
🍁 Click here to check out the Boston Harbor Hotel
Revere Boston Common : A great location that's just steps from Boston Common, Beacon Hill, and the Public Gardens . There's also a fun rooftop bar, on-site dining, free admission to the Paul Revere House, and modern rooms .
🍁 Click here to check out the Revere Boston Common
The Godfrey : Also a great location that's a short walk to Boston Common, Beacon Hill and the Public Gardens. The plaid headboards in the modern rooms are the perfect fall decor for your trip, and they also have Polaroid camera available for guests to use during their stay!
🍁 Click here to check out The Godfrey
Fall Weather In Boston
As mentioned earlier in the post, fall is one of the best times (if not the best) to visit Boston. The weather will likely be perfect. While you'll want to anticipate some warmer weather, especially if you visit earlier in October, you can generally expect very comfortable temperatures ranging from 60-65°F.
You'll also want to prepare for rain on a fall Boston trip, as October and November both have about 7-9 days of rain per month. However, it's very possible you could luck out and have sunny weather the entire time.
I mention this in almost all my posts about weather in New England, but it bears repeating – weather in this region is moody, and changes frequently. So it's best to check weather reports a few days before leaving to get a better idea of what to expect during your trip.
Is Boston In The Fall Season Expensive?
Unfortunately, yes, as are many New England destinations in the fall season. Boston is an expensive city year-round, but factor in fall foliage and its proximity to Salem, and you're very likely to see price jumps in hotels. Expect to pay about $250-$350+ per night at a hotel in Boston.
You can, of course, find deals outside of the city, but even in Cambridge, it's going to be higher than most other places around the country.
What To Pack For Boston In The Fall
Here are some helpful things to add to your packing list for your fall trip to Boston:
Waterproof sneakers or boots in case of rain
In fact, unless you plan to visit really fancy restaurants, I would leave your heels at home. Boston is a pretty casual city, and with the uneven cobblestone streets in many areas, a cute pair of booties will do the trick for pretty much any occasion.
A nice, casual dress and jacket will work perfectly for a dinner out (again, unless it's a very fancy place with a dress code, which is unlikely).
A rain jacket that's waterproof.
Sweaters and jeans – this is what I usually live in when visiting Boston in the fall season.
If you're anticipating both warm and cool weather, pack some t-shirts that you can wear under sweaters to create light layers.
Beanies and scarves if it's forecasted to be cold.
Reusable water bottle to stay hydrated while you walk around.
Dramamine if you're planning on a whale watch or cruise, and tend to get seasick.
Day pack for any day trips you're planning.
More posts you may also enjoy:
Your Ultimate Guide To New England In The Fall
Best Things To Do In Massachusetts In The Fall
Best New England Ghost Tours
The Perfect New England Fall Road Trip Itinerary
Best Stops To Make On A Boston To Stowe, VT Road Trip
Is New England In November Worth Visiting?
Thanksgiving In New England: Cozy Getaway Ideas & Things To Do!
That's A Wrap On Things To Do In Boston In The Fall
And there you have it! All my insider tips on the best things to do in Boston in the fall. Whether you're using Boston as the starting point for an epic fall trip around New England, or it's the home base for your trip, there are so many wonderful fall things to do that allow you to embrace the very best things about this magical time of the year. 🍁🍂🍁
You might also enjoy
Subscribe To My Newsletter
Privacy Policy
Terms & Conditions
Disclosure Policy
Boston in October: 25 Best Things to Do, Weather, Cost and Tips for Boston in October
Top hotel collections.

Near Boston University
Near Northeastern University
Near Fenway Park
Near Waterfront
Weather in Boston in October

Things To Do in Boston in October
Best events and games to attend in boston in october, 1. oktoberfest.

Location: Brattle St, Cambridge , MA 02138
Location: 306 Northern Ave, Boston, MA 02210
2. Columbus Day Parade

3. Head of the Charles Regatta

4. Fall Foliage Cruise

5. Fort Point Open Studio

6. Boston Book Festival

Address: 32R Essex St, Suite 5, Cambridge, MA 02139
7. Boston Sports Events

Amazing Halloween Places in Boston in October
8. vintage costumes.
1. Vivan Vintage Address: 318 Lincoln St, Allston, MA 02134 Timings: 11 AM to 6 PM 2. Bobby from Boston Address: 545 Washington St, Lynn, MA 01901 Timings: 11 AM to 4 PMSoWa 3. Vintage Market Address: 450 Harrison Ave, Boston, MA 02118 Timings: 11 AM to4 PM 4. Raspberry Beret Address: 2302 Massachusetts Ave, Cambridge, MA 02138 Timings: 12 PM to 6 PM
9. Pumpkin-picking in Boston

1. Shelburne Farm Address: 106 W Acton Rd, Stow, MA 01775 Timings: 9 AM to 5 PM 2. Boston Hill Farm Address: 1370 Turnpike St, North Andover, MA 01845 Timings: 9 AM to 5 PM 3. Hanson's Farm Address: 20 Nixon Rd, Framingham, MA 01701 Timings: 9 AM to 6 PM 4. Tougas Family Farm Address: 234 Ball St, Northborough, MA 01532 Timings: 10 AM to 5.30 AM
10. Ghosts and Gravestones Trolley Tour

11. Halloween Movies and Shows
12. halloween candy.
1. Cacao Nuts and Chocolates Address: 660 Centre St, Boston, MA 02130 Timings: 11 AM to 7 PM 2. Gâté Comme des Filles Address: 1 Bow Market Way #8, Somerville , MA 02143 Timings: 12 PM to 8 PM 3. L.A. Burdick Chocolates Address: 220 Clarendon St, Boston, MA 02116 Timings: 8 AM to 8 PM 4. Taza Chocolate Factory Store Address: 561 Windsor St, Somerville, MA 02143 Timings: 10 AM to 10 PM
13. Prudential Center
Beautiful walking tours in boston in october, 14. fall foliage tour.

15. Freedom Trail Walking Tour

Foundation Address: 204 Freedom Trail, Boston, MA 02113
16. Beacon Hill Crime Tour
Cost: The tour is free of cost and is not allowed for children below the age of 16. Address: Tour starts at the Park St. T Station Duration: 2 hours
Best Theatre and Music Shows in Boston in October
17. wilbur theatre.

Address: 246 Tremont St, Boston, MA 02116
18. Wang Theatre
Address: 270 Tremont St, Boston, MA 02116
19. Boston Opera House

Address: 539 Washington St, Boston, MA 02111
20. Emerson Colonial Theatre
Address: 106 Boylston St, Boston, MA 02116
Other Things to Do in Boston in October
21. back bay, 22. boston common.
Address: 139 Tremont St, Boston, MA 02111 Timings: 5 AM to 11 PM
23. Castle Island
24. new england aquarium.

Address: 1 Central Wharf, Boston, MA 02110 Timings: 10 AM to 5 PM
25. North End
Tips to remember while visiting boston in october.
Boston is best explored on foot. Only rent a car if you're going to the countryside and pack good walking shoes while enjoying the city.
The city offers a lot of free opportunities to attend- ranging from walking tours to exhibitions- keep an eye out for those.
f you're staying for over a week, you can get a seven-day T-card or Charlie Card to get around the subway station of the city.
Free Tours by Foot and Strawberry Tours offer free walking tours every day.
You can save money on food by eating street foods and dining in cheap restaurants- without sacrificing the quality (Check out Quincy Market). Since Boston is a college town, these are pretty decent options.
You can also invest in Boston CityPass that will allow you to visit most paid museums and other attractions.
If you like cycling, you can also hire a bicycle for touring the city on your own and on a budget.
This post was published by Pranjali Jain
Share this post on social media Facebook Twitter
Places to visit in Boston
Freedom Trail Boston Museums in Boston Fenway Park
View 216 places to visit in Boston
Read More Hotels in Boston
Top Hotels In Boston
$ 101 onwards
$ 112 onwards
$ 119 onwards
$ 70 onwards
$ 47 onwards
Related Articles

Fairs & Festivals
Christmas in Boston: 12 Things You Can Do to Enjoy Boston's Christmas

Travel Tips
Safety in Boston : A Comprehensive Guide on Dos and Dont's in Boston

Experiences
New Year in Boston: 15 Enjoyable Ways of Ringing in the New Year in Boston
Everything You Need to Know about Currency Exchange in Boston

Boston in November: Weather, Best Time to Visit, 4 Best Areas to Stay in and Top 10 Things to Do
Halloween in Boston: 15 Spookiest Ways To Enjoy Boston's Halloween!

Sightseeing
Boston In December: Weather, Key Tips and 15 Best Things to Do in Boston in December
Facts about Boston: 30 Incredible Facts about the Athens of America

Flea Markets in Boston: 13 Flea Markets for an Extraordinary Shopping Experience
Halloween Events in Boston: 15 "Eerie" Activities to Make Your Halloween Exceptional
10 Best Places to Watch the Beautiful Sunset in Boston

5 Best Car Rentals in Boston - Everything You Need to Know on Renting a Car in Boston

Food & Drink
Foods Of Boston: Eat Like a Local With These 16 Must-Try Dishes of Boston

18 Best Things to Do to Enjoy Nightlife in Boston
Sunrise in Boston - 10 Best Places to Visit to Catch Boston's Sunrise
Shopping in Boston - Where to Shop and What to Buy from Boston

Historical & Heritage
Architecture of Boston - 25 Buildings that Represent its Architectural Heritage
8 Best Bike Rental in Boston: A Guide for Boston Bike Rentals
Souvenirs in Boston: 16 Collectables and Souvenir Stores in Boston
Yoga in Boston: The Ultimate Guide to Yoga Studios in Boston
Hiking in Boston: 20 Best Hiking Trails Near Boston for the Perfect Adventure! 
History of Boston : Know Boston's History and Milestones
Coffee in Boston - 15 Best Cafes and Coffee Shops in New England

Romantic & Honeymoon
Wedding In Boston: 15 Perfect Destinations To Tie The Knot!

Skydiving in Boston: Top 7 Spots and 9 Key Tips for Skydiving in Boston
10 Best Dessert in Boston: Top 10 Dessert Places for a Hearty Gastronomical Experience
Museums in Boston You'll Want To Visit In Boston

Wildlife & Nature
Beautiful Gardens in Boston

Beaches & Islands
Best Beaches in Boston for a Day Trip
Best Casinos in Boston and Massachusetts Casinos
Comments on this post
Browse hotel collections, by hotel type.
Motels In Boston
Best Boutique Hotels in Boston
Best Luxury Hotels In Boston
Best Hotels In Boston
Best Hotels In Boston With Pool
Lofts In Boston
Vacation Rentals In Boston
Best Hotels In Boston With Rooftop Pool
Villas In Boston
Best Business Hotels In Boston
By Budget Category
Cheap Hotels In Boston
Cheap Hotels In Chinatown
By Star Category
5 Star Hotels In Boston
4 Star Hotels In Boston
3 Star Hotels In Boston
With Specific Facilities
Hotels Near Boston University
Hotels Near Northeastern University
Hotels Near Orpheum Theater
Hotels Near New England Aquarium
Hotels Near Boston Common
Hotels Near Hynes Convention Center
Hotels Near House of Blues Boston
Downtown Hotels In Boston
Hotels In Downtown Boston
Hotels Near Massachusetts General Hospital
Hotels Near Boston Opera House
Near Landmarks
Hotels Near Fenway Park
Hotels Near Waterfront
Hotels Near TD Garden
Hotels Near Brigham and Women's Hospital
Hotels Near Beth Israel Deaconess Medical Center
Hotels Near Tufts Medical Center
Hotels Near South Station
Hotels Near Quincy Market
Hotels Near North Station
Hotels Near Freedom Trail
Hotels Near Agganis Arena
Top Places in Boston

Recently Published

Get Customized Travel Packages
Compare quotes from upto 3 travel agents for free
*All prices shown on the website are tentative. Final prices will be shared by our partner agents based on your requirements.
Login for a personalized experience with Holidify!
Create and share itinerary, download PDF Guides and free access to Holidify's full content
Sign in with Facebook
Sign in with Google
We never post anything without your permission.
Share this page
This website uses cookies to improve your browsing experience and analyze the use of the website. Learn More
What to Do in Boston in October
This post lists the top things to do in Boston, Massachusetts, in October 2023, as well as things to do at night, free activities, and family-friendly events.
As local Boston tour guides, we know that October is one of the best times to visit the city. Fall colors peak mid-month and the pleasant autumn temperatures are perfect for outdoor events, at least during the early part of the month.
Many of the activities included in this post are things that we do regularly, particularly in October.
And we have taken our experiences as local experts leading thousands of visitors in October (and answering your questions) to help forge this guide.
We also included tips from the roughly 15k members of our popular Boston Travel Tips Facebook group.
Our group consists of locals, like our tour guides, veteran visitors, and newbies to Boston.
There is no need to become a member to read the posts, comments, and recommendations.
So, once you are done reading this post, check the group out to help plan your trip to our wonderful city.
Free Things to Do
Things to Do at Night
Family-Friendly
Things to Do (any time of year)
TOP 10 THINGS TO DO IN OCTOBER
In this section, we will cover the ten most interesting activities you can enjoy in Boston during the month of October.
Boston is full of lively neighborhoods.
If you're looking for even more fun things to do in Boston, make sure to check out some of our other posts such as: 
Free Walking Tours
Bike Tours
Bus Tours
Boat Tours
It's also worth noting that you can save money on some of the most entertaining attractions in and around the city with a Boston tourist pass .
1. Visit a Historic Graveyard
With Halloween just around the corner, this is the perfect time to make your way to one of the historic cemeteries and graveyards in Boston.
The most notable example is the Granary Burial Ground, which is the site where three signers of the Declaration of Independence were laid to rest.
This is also where you will find Paul Revere and Mother Goose!
If you're interested in digging a little deeper (no pun intended), head to Copp's Hill Burial Ground to see graves dating back to the 1600s.
Other historic locations and top attractions you might like to visit include the Boston Massacre Site, Boston Common, and Faneuil Hall near Boston Harbor. These are included in either our pay-what-you-wish guided Freedom Trail tour or our self-guided outing .
We recommend this activity for anyone who is interested in the history of Boston and wants to see some of the creepier sites in the city.
2. Go to a Concert
The Boston area is home to many different music venues, which means there's plenty of space for big-name artists and musicians to perform.
Below, we have listed several top musicians playing in and around the Boston area this October.
John Mayer | October 6th
Gipsy Kings | October 6th
Rebirth Brass Band | October 11th
Luis Miguel | October 18th
Lady A | October 20th
Enrique Iglesias/Ricky Martin/Pitbull | October 21st
Amy Grant | October 26th (Plymouth, MA)
Jethro Tull | October 28th (Hampton, NH)
Click here to see the rest of Boston's October concerts .
NOTE: If you're more interested in classical music, keep in mind that the Boston Symphony Orchestra will be performing at the Symphony Hall all month.
3. Attend a Sporting Event
Sports fans will have plenty of opportunities to see a live game in Boston throughout the month of October.
This month marks the beginning of the basketball season in the NBA, which means there will likely be more than a few Boston Celtics games to see.
New England Patriots t Gillette Stadium
Boston College
Harvard Crimson
Holy Cross Crusaders
Note that you can take guided tours of both TD Garden and Gillette Stadium, which is sometimes free with a discount pass.
Boston Bruins | at TD Garden
Boston Red Sox | only an away game this month
However, Red Sox fans might enjoy a tour of Fenway Park !
New England Revolution
Hot Wheels Monster Trucks Live Glow Party | October 14th, 15th
Click here to see  even more sporting events in October in Boston.
4. See a Hit Stage Performance
There will be a few great musicals and other shows to see in and around Boston during the month of October.
The Full Monty | October 1st, rd, 4th, 5th, 6th, 7th, 8th | Beverly
The Rocky Horror Picture Show | October 20th
Kinky Boots | October 13th-29th | Manchester, NH
Performance Art or Magic
Blue Man Group | various dates throughout October
Penn and Teller | October 11th | Worcester, MA
Family-Friendly Shows
Blippi The Musical | October 1st
Mrs. Doubtfire | October 17th-22nd | Providence, RI
Goblin Hole: Body Ody Ody Horror | October 20th
Frozen | October 25th-28th
5. Take a Crime Tour
If graveyards aren't enough, you might also want to consider celebrating Halloween with a tour of historic crime scenes in the Boston area.
We offer a pay-what-you-wish Beacon Hill Crime Tour which covers several notable sites tied to the Boston Strangler.
You'll also learn about Professor John White Webster, who was convicted of murder in 1850.
Searching Availability...
There are some graphic details included in this outing, so it is only available for guests who are 16 or older.
This is a great opportunity to discover the darker side of Boston's history and find out about some of the more grisly crimes that have taken place in this city.
What better way to get in the mood for the spookiest day of the year?
6. Attend Boston Lights
The Franklin Park Zoo brings back the Boston Lights event with this year's title being "A Lantern Experience."
All 72 acres of the zoo are lit up with fantastical creatures made of light. This wonderland of brilliant color is truly magical
You might run into a 33-foot sphinx or experience the history of China through lantern scenes.
The event runs throughout October.
For tickets and additional information, visit the Boston Lights page on the Franklin Zoo website.
7. See a Famous Comedian Perform Stand-Up
If you're in need of a good laugh, there will be several notable comedians performing in Boston during the month of October.
Comedy Shows
Iliza Schlesinger | October 13th
Nimesh Patel | October 14th
Steve Trevino | October 14th
Russel Howard | October 18th
Comedy Clubs
Laugh Boston
Nick's Comedy Stop
City Winery (also has music and other entertainment)
To find even more shows by some very funny stand-up comedians click here.
8. Watch a Rowing Competition
Over 11,000 rowers will be competing in the Head of the Charles Regatta on October 20th & 22nd.
This rowing competition will be free to watch, and there are several different venues offering viewing locations along the 3-mile stretch where the event will be taking place.
If you're interested in attending, consider watching it from one of the following sites alongside the Charles River:
Weld Exhibition | food, merchandise
Rowing and Fitness Expo | Rowing machine testing, merchandise
Reunion Village | lively and energetic
Eliot Bridge Enclosure | relaxed setting with great views
Learn more about this event.
Parking availability is limited, so it is recommended to use public transportation to reach the Regatta.
If you'd like to get out on the water yourself, consider Boston dinner cruises and sunset boat tours .
9. Take a Haunted Bus Tour
Join the "trolley of the doomed" and follow your guide on a two-hour tour learning about Boston's darker side.
The Ghosts & Gravestones tour covers a variety of disturbing subjects such as the Boston Strangler and various reported hauntings throughout the city.
In addition to seeing sites related to these terrifying tales, you'll also visit both Copp's Hill Burying Ground and the Granary Burying Ground to see the final resting place of several historic figures.
For tickets and information, visit the Boston Ghost Tours With Ghosts and Gravestones website.
NOTE: If you're looking for a more affordable outing, you can visit both the cemeteries included on this tour for free!
10. Save Money With a Tourist Pass
Several of the most popular attractions in this city are included with various Boston tourist discount passes.
There are a variety of different pass options to choose from, and depending on which service you pick, you could save 50% or more off general admission prices.
While all-inclusive passes give you access to dozens of different activities for a specific number of days, there are also companies that allow you to pay one flat price for a set number of attractions.
Here are some of the more notable activities you can enjoy with these services:
Hop-on-Hop-off Trolley
Boston Duck Tours
Fenway Park Tours
Skywalk Observatory
New England Aquarium
Salem Witch Museum
Franklin Park Zoo
Museum of Science
In addition to the potential savings, these passes also offer skip-the-line privileges at some locations.
For more details, make sure to read our post covering Boston attraction discount tourist passes .
FREE THINGS TO DO IN OCTOBER
This section will provide several fun activities that you can enjoy in Boston without worrying about your budget.
Don't forget to check our other sections for additional ideas such as the Columbus Day Parade, looking at the Fall Foliage, taking a self-guided Salem Witch Trials tour, or visiting a historic graveyard.
If you're looking for even more affordable attractions in the city, make sure to read our post about free things to do in Boston .
Visit a Free Museum
There are a lot of museums in Boston that offer free admission either all the time or on certain days each month.
If you're looking for somewhere creepy to visit in honor of Halloween, consider one of the following locations, which include a lot of medical history that may disturb some guests:
The Ether Dome
The Russell Museum
Warren Anatomical Museum
Alternatively, you can also take a trip to one of the many history or art museums that offer free entry.
For more details about all of the options available, please read our post covering every free museum in Boston .
Attend the Boston Veg Food Fest
Whether you're a vegetarian or you're just interested in trying some plant-based meals, this food festival is definitely worth checking out.
Not only is admission free but there will also be free food to sample and several fun activities for kids to enjoy.
In addition to the food and family-friendly fun, there are also presentations from various speakers and opportunities to learn about different ways you can help animals or protect the environment.
October 14th & 15th
Saturday | 10:00 AM to 6:00 PM
Sunday | 11:00 AM to 4:00 PM
Reggie Lewis Athletic Center
Learn more about this event
TIP: If you're interested in learning about the variety of food available in this city, consider taking one of our Boston food tours .
Attend Harvard Square's Oktoberfest
Join around 100,000 other folks for the free Oktoberfest celebrations in Harvard Square.
Of course, you'll find beer gardens, but also a parade, food, live music, crafts, family-friendly activities, and more.
This year's activities take place on Sunday, October 8th.
Visit the website for more information .
Note that there are other Oktoberfest celebrations , but most take place in mid to late September.
Go to a Comics Expo
Fans of graphic novels and comic books may want to think about attending the Massachusetts Independent Comics Expo in Cambridge.
This event is entirely free to attend, and there will be several fun activities to enjoy including panels with artists/creators, workshops on how to create comics, and exhibitions about this art form.
In addition to all the things you can see and do, there will also be industry icons on hand to sign autographs and meet with the fans!
September 30th-October 1st
Saturday | 11:00 AM to 6:00 PM
Sunday | 11:00 AM to 5:00 PM
Boston University Fuller Building
Although admission won't cost a dime, chances are you'll see something you want to buy while you're at this comics expo.
We recommend bringing at least a few bucks for those trinkets you can't live without!
Find Something to Read at a Book Festival
The Boston Book Festival will be returning to the city this October with a variety of great activities to enjoy.
Visitors can expect dozens of author talks, writing workshops, seminars, and other informative presentations at this event.
Aside from that, there will also be plenty of books to discover, live music to enjoy, and plenty of entertainment for kids.
Saturday, October 14th
Copley Square
TIP: Even if you miss out on this activity, you may want to make a trip to the historic Boston Public Library for free tours and plenty of books to read!
Boston Book Fair
Over 3 days in November is the annual Boston International Antiquarian Book Fair, now in its 45th year.
Book lovers, book dealers, and book collectors come together at Haynes Convention Center to share their love of all things books. Events take place October 27th - 29th. For more information, visit the fair website
Tour the U.S.S. Constitution & Bunker Hill Monument
These historic landmarks are always worth visiting, and they always offer free admission throughout the year.
The U.S.S. Constitution (otherwise known as Old Ironsides) is one of the most legendary vessels in United States history, and you can still see the ship to this very day.
If you want a great view of the city, the Bunker Hill monument is 221 ft tall, and you can get free admission simply by visiting the nearby museum.
Each of these sites is included on both our Freedom Trail tour and our self-guided outing .
Learn more about visiting these historic locations .
THINGS TO DO AT NIGHT IN OCTOBER
The following section will include a variety of fun activities that you can enjoy after dark in Boston during the month of October.
Be sure to check our other sections for even more great ideas such as taking a crime tour, going to a concert, attending a sporting event, seeing a musical, going to a pumpkin festival, and more.
For even more fun after the sun goes down, make sure to read our post covering things to do at night in Boston .
Take Part in a Spooky Bar Crawl
If you're interested in getting to try out a number of different bars in the Boston area and show off your costume, one of the following might be for you:
The Boston Zombie Crawl | October 28th
The Official Halloween Bar Crawl | October 28th
Boston Fenway Official Halloween Bar Crawl | October 28th
Trick or Treat Bar Crawl | October 27th, 28th, 29th
You're sure to experience some of Boston's haunted happenings while experiencing some of Boston's most fun bars.
TIP: Our Historic Tavern tour covers a variety of notable bars in Boston including Emmet's, the Parker Bar, and Cheers!
Go to a Halloween Horror Movie Marathon
The historic Coolidge Corner Theatre will be hosting its 21st Annual Halloween Horror Marathon on the last weekend of the month.
In years past, this event has included popular titles such as War of the Worlds , Alien , Night of the Living Dead , and Zombie .
In addition to the spooky movies, there is also a costume contest, music, and other fun activities to enjoy.
This is an excellent opportunity to see classic horror films on the big screen right before Halloween!
Check here for updates on the 2023 events .
Go Stargazing at the Boston University Observatory
Most Wednesdays, the Boston University Observatory opens to the public for a night of astronomy and looking at the stars with the professionals.
In the winter, the event begins at 7:30 pm. You can't see stars through clouds, so they do cancel in the event of poor visibility.
If it's a nice clear night and you want to see the stars, this is an excellent activity to enjoy either with the family or a significant other.
Location: Coit Observatory at Boston University. The program is free to attend, but it is also very popular. You can get tickets in advance online .
FAMILY-FRIENDLY ACTIVITIES IN OCTOBER
This section will include a variety of fun attractions and events that families can enjoy in Boston throughout the month of October.
You may also want to check our other sections for additional ideas like seeing a musical, attending a sporting event, visiting a historic graveyard, looking at fall foliage, going to the Columbus Day parade and more.
For even more family-friendly activities, make sure to read our post covering things to do with kids in Boston .
Take a Look at the Fall Foliage
October is usually one of the best months to look at the fall foliage in Boston.
The brilliant reds, golds, and yellows can be found throughout the parks just outside the city.
While you're out looking at the leaves, look into picking (with permission) some of the apples from the orchards as well.
There are a few different farms within 30 miles of the city, giving you plenty of opportunities to enjoy this activity.
Read our post all about the common tradition of leaf-peaking !
Needless to say, this is a great activity to enjoy with the whole family. If you're looking for even more to do with the kids, check out our family-friendly activities section.
Go Apple Picking
If you have a car and are willing to get outside of Boston, there are a number of spots where you can go apple-picking.
You'll also want to load up on apple cider, apple cider donuts, and s'more supplies.
Some farms offer hay rides and a farm animal petting area.
Visit this list of other best farms for apple picking near Boston .
Note: if you haven't managed to secure a giant pumpkin to create jack-o-lanterns, these are the best places to go pumpkin-picking .
Learn All About the Salem Witch Trials
Boston is located quite close to Salem, MA – the site of the historic Salem Witch Trials.
With Halloween fast approaching, this would be the perfect time to make a short day trip to the area.
In addition to tours that cover the subject, you can also visit the Salem Witch Museum to learn more about this event and about witches in general.
If you're up to it, this museum also offers a self-guided tour that you can access for free which includes several notable sites in the Salem area and beyond.
For more details or to plan a visit, check this list of Salem day trips .
Take the Kids to a Corn Maze or Pumpkin Patch
There are a lot of farms just outside of Boston, and most of them offer corn mazes and/or pumpkin patches.
One of the most popular options is at Connors Farm in Danvers, MA. This location always offers a themed maze, and they also have additional activities.
In addition to a Haunted Farm attraction, there are also opportunities to explore the maze by flashlight after dark on the weekends.
If you're looking for other nearby locations, check the following lists for more farms close to Boston that participate in spooky activities for Halloween:
10 Pumpkin Patches Near Boston
6 Corn Mazes near Boston
TIP: This could be a great activity to enjoy either before or after fall foliage viewing.
It's also worth noting that Connors Farm is close to Salem, so you could combine your trip to this famous location with a stop at their corn maze/pumpkin patch!
Go to the Columbus Park Fall Festival
The Friends of Christopher Columbus Park hosts a fall festival every year in October.
This event features a children's parade through the park which your kids can either watch or join, as well as a variety of music and live entertainment to enjoy.
The Columbus Park Fall Festival is currently scheduled to take place on October 14th, 2023, from 12:10 pm - to 3:30 pm, though this may change depending on weather and other factors.
If you're looking for other things to do in honor of this holiday, make sure to read our top 10 section for more details about the Columbus Day Parade!
Visit the New England Aquarium
Enjoy a day under the sea! Well, kind of.
Welcoming visitors for over 50 years, the New England Aquarium is one of the premier tourist attractions in Boston.
See penguins, seals, and dozens of different fish and meet the aquarium's most famous resident, Myrtle the Green Sea Turtle!
Tickets: $34/Adults | $25/Kids | $32/Seniors
Availability: Open daily from 9 am - 6 pm
Purchase tickets or learn more .
If you're budget-conscious, it's worth noting that they actually offer one exhibit of harbor seals for free right outside the ticket booth.
You can also save 50% or more on tickets simply by using a Boston tourist pass .
Eat at Faneuil Hall Marketplace
This is a great place to grab a quick lunch, whether it be a lobster roll, New England clam chowder, mac & cheese, or pizza – and you can fit in some souvenir shopping while you're there!
Faneuil Hall Marketplace is an excellent location that is appealing to all ages.
In addition to dining and shopping, look out for street performers and musicians, as there's almost always something fun to watch.
Visitors who come on Mondays and Saturdays can also take a free Quincy Market History tour which covers the architecture, politics, and geography of this marketplace.
In addition to these activities, you can usually rely on Faneuil Hall to host a special event celebrating either Columbus Day or Halloween during the month of October.
Although they haven't announced anything yet, we recommend keeping an eye on the Faneuil Hall Marketplace calendar to make sure that you won't miss out on anything fun and family-friendly.
The marketplace is open daily; hours vary.
RELATED POSTS:
Things to Do in Boston
Boston Boat Cruises
Bus Tours in Boston
Tourist Attraction Discount Passes
Choose a Destination... I want them all PLUS general travel tips. Amsterdam Berlin Boston Charleston Chicago Dubai Lisbon London Los Angeles Miami Nashville New York City New Orleans Paris Philadelphia Prague Rome San Francisco Washington DC
About The Author
Brian Burgess
North america, united kingdom & ireland, middle east & india, asia & oceania.
25 Fun Things to do in Boston in October and November
Boston, Massachusetts is an amazing city to visit any time of year, but fall is an especially great time to see it. There are so many fun things to do in Boston in October and November . You'll definitely want to add it to your fall bucket list .
Although the sun and warmth have waned a bit, fall is still one of the perfect times to visit Boston. This is one of the oldest towns in the US and has an undeniable rich history.
The history is one of the many attractions you will find in the town. There are a lot of other activities to engage in when you are here and festivities that you won't want to miss.
Is October a Good Time to Visit Boston?
The month of October is a GREAT time to visit Boston! The weather is fresh and crisp but not too cool, making it perfect weather for walking around and exploring.
There are plenty of fun activities in the Boston area throughout October and November, including several free things and many special events.
And because Boston is filled with trees, you'll enjoy beautiful fall colors everywhere you go. So, if you want to take in magnificent New England fall foliage and enjoy the best of Boston attractions and events, make plans to visit the city this October.
What to Pack for a Fall Visit to Boston
Layers are the secret to staying comfortable during a fall visit to Boston. Most days will be cool, but if you're walking around in the sun you may get warm. Start with a shirt, with a sweater or sweatshirt over it, and perhaps a lightweight jacket.
As you near the end of October and head into November, the temperature drops further and you'll want to make sure you've packed a warm jacket for your top layer.
Comfortable shoes are a must since Boston is best seen by foot. Also pack a hat, gloves, and scarf for chilly days along the water.
Top Things to do in Boston in Fall
Everywhere you turn, there are fall themed events and people seem to be having fun in one way or the other. The air is cool and light and the leaves have already started changing color, creating a beautiful spectacle that makes this town an amazing delight to be in during the fall season.
Here are some of the fun things to do in Boston in the fall.
Walk the freedom trail
As one of the oldest towns in the nation, Boston has a rich history and there are monuments all over the town to remind people of this heritage. The freedom trail is one of these.
When you visit in the fall, you have to take this trail. As you enjoy the fresh autumn air, you get the chance to see different important sites and buildings that hold a place in the history of the town.
These include the Old North Church where the Boston Massacre occurred, the Boston Common, the bunker Hill monument, the USS Constitution, the Paul Revere house, and much more.
It's a 2.5-mile trek that will also be quite eye-opening. It could be a learning opportunity for you and your kids as well.
Enjoy a Walk to the Sea
If you want to learn more about the city's history and how it has grown and developed over the last 400 years, head to the Norman B. Leventhal Walk to the Sea . This one-mile walking tour leads you from Beacon Hill to Long Wharf with freestanding glass information panels located at several stops along the way to highlight Boston's history.
Tour the Boston Tea Party Museum to learn about the American revolution
The Boston Tea Party Ships & Museum document the town's history and its role in the creation of the wider US. As one of the oldest cities in the US, founded in 1630 and under British colonial rule for so long, there is much to see and learn about American history.
The city was at the forefront of the American revolution and various key events in history can trace their origin here. For instance, the Boston Tea Party, The battle of Bunker Hill, the Boston Massacre, and much more. Visiting the museum in the fall will guarantee fewer crowds in the popular museum.
Walk among the dead at King's Chapel burying ground
Take your kids through a haunted walk among the dead in the King's Chapel . As the season prepares for Halloween, you can take a walk in the oldest cemetery in the city, where many of the city's prominent residents now lie.
This cemetery attracts many visitors who come to pay their respect to the heroes of the American revolution. Many have talked of the place being haunted by ghosts of the people who were buried alive there. The dead here are not at peace yet, and they are keen to show that.
Celebrate Halloween in Boston
Boston is a perfect place to celebrate Halloween and trick or treat with your kids. The town's history and documentation of grisly events make it the perfect place for the haunted.
There are numerous graves and cemeteries in the city and talks of ghosts are rife everywhere you go. The ghosts and gravestones tours that take you through the King's Chapel burial ground are a good example.
Join the neighborhood locals as they celebrate this event and have some fun. There are plenty of Halloween events for young and old.
Go to a giant pumpkins show
The Boston Public market is a very popular place during this period. The farmers come from all corners of the state to showcase their produce.
The giant pumpkins always steal the show here. Take some time to admire these gigantic specimens and marvel at what nature can produce.
While you are at it, grab some hot coffee at the markets and savor the way this helps you beat the cool weather.
Take a hike at the Boston's public garden
The Boston's public garden is beautiful and breathtaking, inviting you to take long walks in the fall foliage and enjoy the beauty of cool weather and the pure, cool air.
The trees start changing color in the fall and the metamorphosis is spectacular. It is time to take some beautiful photos against some of the most beautiful backgrounds in the city.
Go apple picking
The local farms around Boston are inviting and you can spend a productive day picking out apples. There is no shortage of farms around and they grow different varieties of apples.
Some of these farms, such as the Boston Hill Farm , offer more than apple picking. They usually hold events and activities that your kids can enjoy throughout the season.
Get to enjoy some of these festivals in stunning scenery and make sure you carry some fresh apples back home. It's the perfect day trip during October or November if you live in the area.
See animals at the Franklin Park zoo
The day might not be complete before you take your kids to see animals at the Franklin park zoo . There is a lot to see here.
There are hundreds of exotic animals here including giraffes, lions, and red pandas. Afterwards, the kids get to play in the playground here and have all sorts of fun.
Make plans to visit the zoo at night! From early August through late October, the zoo hosts the Boston Lights event. From 6:00 to 10:30 pm every night, you can witness dozens of beautiful lantern displays throughout the park.
Watch the Columbus Day parade
The Columbus day parade is held to commemorate the triumphs and voyages made by Christopher Columbus and the contributions others made to liberation of America.
It's a 2-hour parade full of military bands and regalia, clowns, performers and even a display of some antique cars. There is a lot of color and pomp at this event.
Visit the Salem Witch Museum
The Salem witch museum is another location which has a rich history in the city. Learn about the Salem trials and why this has significance in the city's history. You will be able to get guided tours.
The Salem witch trials occurred in the year 1692, eventually leading to the prosecution and burning at stake of many of these witches. This will be an education and eye-opening tour to learn more about the heritage that makes this city quite unique.
Visit Museums During Free Admission Days
Several Boston museums offer free admission days. Traveling Tulls has put together an extensive list of free and reduced museum admission options to help you find the right outing for your family.
Some of the options include the Boston Children's Museum, the Museum of Fine Arts and even the New England Aquarium!
Attend the Boston Book Festival
For my fellow book lovers, if you're planning a visit to Boston in October, try to time it around the middle of the month so you can attend this wonderful event. The Boston Book Festival is one of the best in the country and it's free to attend and open to all.
Held in both Copley Square and Roxbury, the festival celebrates the strength of words and is designed to inspire a love of reading.
If you really want to geek out on books, also make time for the Boston International Antiquarian Book Fair . This three-day event occurs in late October and features rare book finds from around the world
Find a place to observe the Head of the Charles Regatta
Every year, thousands of rowers flood the Charles River to participate in the regatta . Competitors row three miles upstream while tens of thousands of spectators cheer from the bridges and banks of the river.
For a great view, head to Memorial Bridge in Cambridge or any of the seven bridges along the route. The start line is at BU's DeWolfe Boathouse and the finish line is at Herter Park.
Visit the City of Quincy
Okay, it's not technically IN Boston, but it's close to Boston (just south of the city) and it's well worth a visit! Known as the "City of Presidents," this charming town contains several historical sites and also a wide variety of wonderful restaurants.
During the fall, Hancock Adams Common is a must-see. It's always a beautiful venue, but the breathtaking fall foliage make it spectacular.
Make sure to stop by Hancock Cemetery where you can see the memorials of noteworthy individuals. Then head to the United First Parish Church to see where Presidents John Adams and John Quincy Adams are both buried.
Attend a Sporting Event
Boston is one of the best cities in the U.S. for sports fans. You can attend top-notch sporting events year round, but some of the most popular games take place in the fall.
College Football
According to the Boston Globe , Boston is home to 29 colleges and universities and those students make up almost one-fifth of the city's population. So, if you really want to explore all Boston has to offer in the fall, you really should attend a football game at one of the many city colleges. Good choices are Boston College and Harvard .
Pro Football
If you're a football fan, you'll definitely want to take the opportunity to go to a New England Patriots game. The Patriots are tied with the Pittsburgh Steelers for the record of the most Super Bowl wins – six wins prior to 2023.
You can view the full schedule here . Ready to go? Click here to purchase tickets .
Pro Basketball
October marks the beginning of the NBA basketball season so it's a perfect time to catch the Boston Celtics.
See their full schedule here . And once you've chosen your game date, click here to purchase tickets .
Boston is home to the Boston Bruins . Like the Celtics, they play at TD Garden .
NHL season kicks off in October, yet another reason October and November are great months to visit Boston! See the Bruins schedule here . And when you're ready to go to a game, purchase your tickets here.
Other Fun Things to Do in Boston
There are, of course, dozens of other fun things to do in Boston. In the list above, I've tried to highlight the activities that are particularly well-suited for a visit in October or November.
Boston CityPass
If you want to see some of the cities most popular attractions, consider getting the Boston CityPass to save significantly off the admission price of four of the city's top attractions. Included are the New England Aquarium and the Museum of Science, plus your choice of any two of the following:
Boston Harbor City Cruises
Harvard Museum of Natural History
Franklin Park Zoo
View Boston Observation Deck
Fenway Park Tour
You can get an inside look at "America's Most Beloved Ballpark" and home to the Boston Red Sox — the 2018 World Series champions. These one-hour guided tours of Fenway Park are available year-round including game days!
Samuel Adams Brewery Tour
Another tour worth checking out is the Samuel Adams Boston Brewery Tour . Learn all about the brewing process and taste some of the brewery's delicious lagers.
More Fall Fun
Is Boston too far for an autumn getaway? Check out one (or more) of the 10 Best Places to Visit in the Fall in the US . There are recommendations for great spots all across the country from the West Coast to the East Coast.
If you prefer to stick close to home, print off this One Month Calendar of Fall Activities that are fun for the whole family! Or head outside on a family walk and try to spot all the items on this Fall Scavenger Hunt .
Last Updated 08/01/2022
Leave a Comment Cancel reply
This site uses Akismet to reduce spam. Learn how your comment data is processed .
Best Time to Visit Boston — Best Weather and More!
Adventurous Kate contains affiliate links. If you make a purchase through these links, I will earn a commission at no extra cost to you. Thanks!
When's the best time to visit Boston? This incredible city is wonderful to visit year-round, but some times of year are much better than others!
I grew up just outside Boston and lived in Boston for several years. I've eaten chowder outside on 98-degree days and walked through ankle-deep snow in stilettos. After seeing Boston at its best (October on a clear day!) and worst (Faneuil Hall at 2 AM before Uber existed!), I absolutely know the best time to visit this city!
You can go to Boston any time of year and have a great time. Because the winters get so cold, much of Boston is outfitted for spending time indoors. You've got plenty of museums, bookstores, restaurants, and indoor shopping areas.
Then again, some of the best experiences in Boston are quite seasonally dependent. Singing along to "Sweet Caroline" at a Red Sox game. Sailing down the Charles River. Walking the Freedom Trail. Cheering on the runners in the Boston Marathon. Riding the Swan Boats in the Public Garden.
And if you're really lucky, you'll be able to travel to Boston at its most magical time, when the trees explode into shades of red and orange and yellow.
Here you'll find it broken down into detail: the best time to go to Boston!
Table of Contents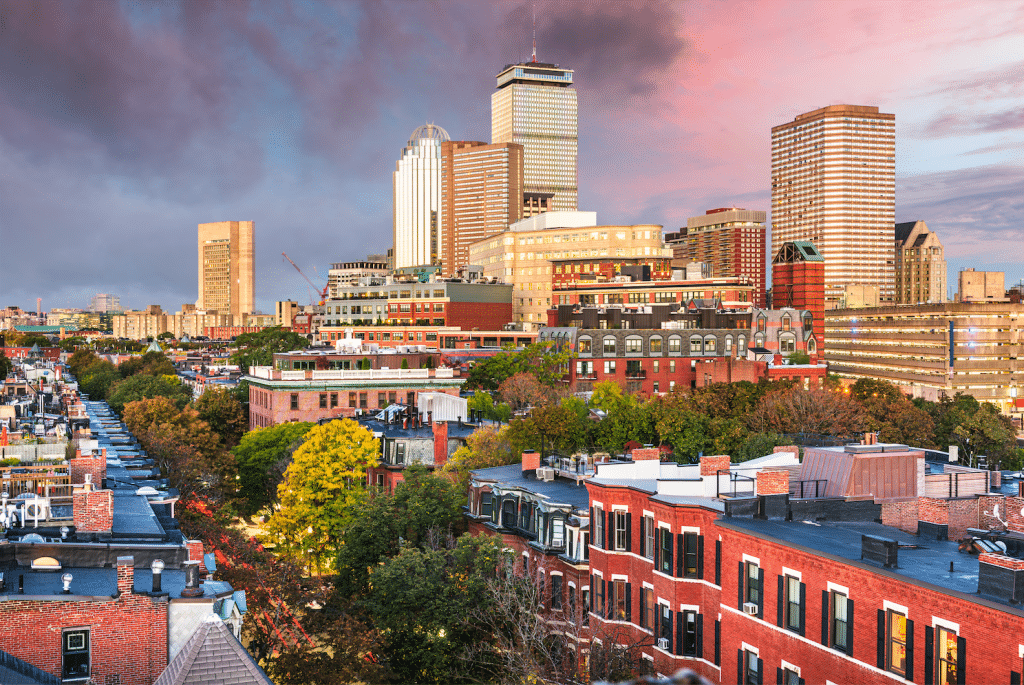 Best Time to Visit Boston
The best time to visit Boston is when the weather is warm but not hot, with minimal rainfall, and not during peak times. In my opinion, the best time to visit Boston is from late September through mid-October, with early October being the sweet spot.
The fall months have lovely weather and the bonus of fall foliage. September and October are wonderful , as is late June. July and August are hot and sunny, but also very humid.
In my opinion, the best month to visit Boston is October, especially early-to-mid-October . The weather is gorgeous and you get peak foliage, with lots of reds and oranges.
Usually the best time for peak foliage in Boston is in the first two weeks in October, though it can continue for a bit longer. If you're planning a New England trip beyond Boston, keep in mind that the leaves change earlier in Vermont and New Hampshire.
The Red Sox play from April through September (October if they make the playoffs), and seeing a Red Sox Game is a great cultural activity in Boston. Check their schedule to make sure they'll be home.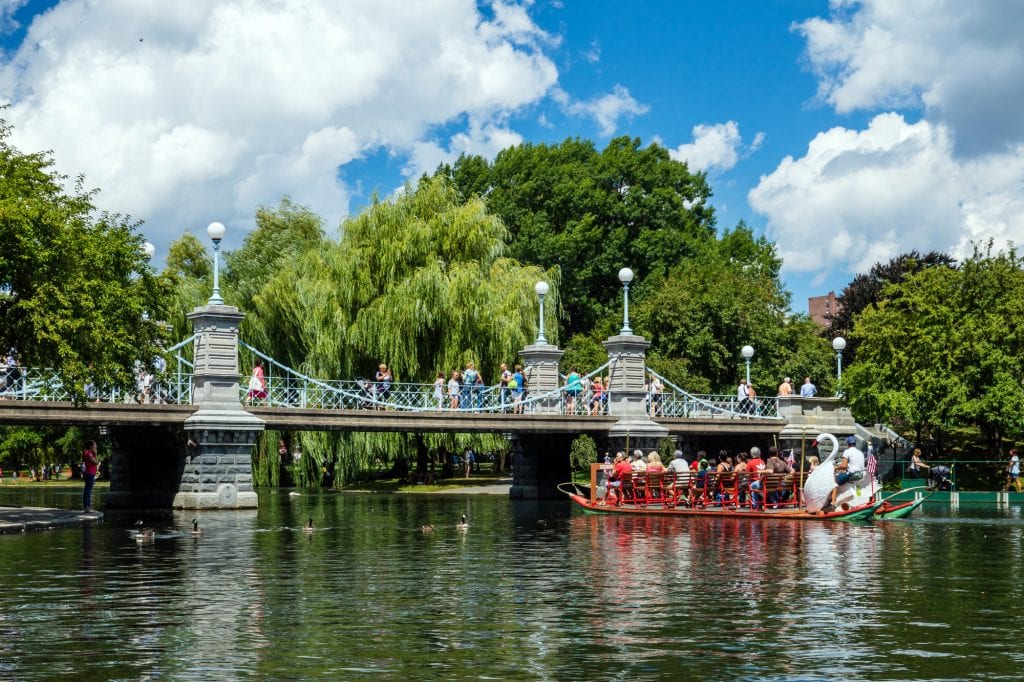 Boston Weather
Boston is a city with extreme weather. You get very cold winters, very hot summers, and high humidity throughout the year. Not only that, it can change on a dime! It's not unusual to have an unseasonably warm day sandwiched with two frigid, icy days.
Boston is known for its massive snowstorms, which are called nor'easters here in New England. Most nor'easters hit between January and March, though it's not unheard of to have snow as early as October or as late as April.
Summers in Boston can be extremely hot and very humid. If you've always lived somewhere with dry heat, like Southern California or Arizona, prepare to sweat through your clothes in Boston.
Even so, Boston's coastal location regulates the temperatures, keeping it cooler in the summer and warmer in the winter than destinations further inland in New England.
With the effects of climate change, Boston's weather has been warming year-round. It's not unheard of to have a 60 F / 16 C day in February, and July temperatures sometimes soar above 100 F / 38 C.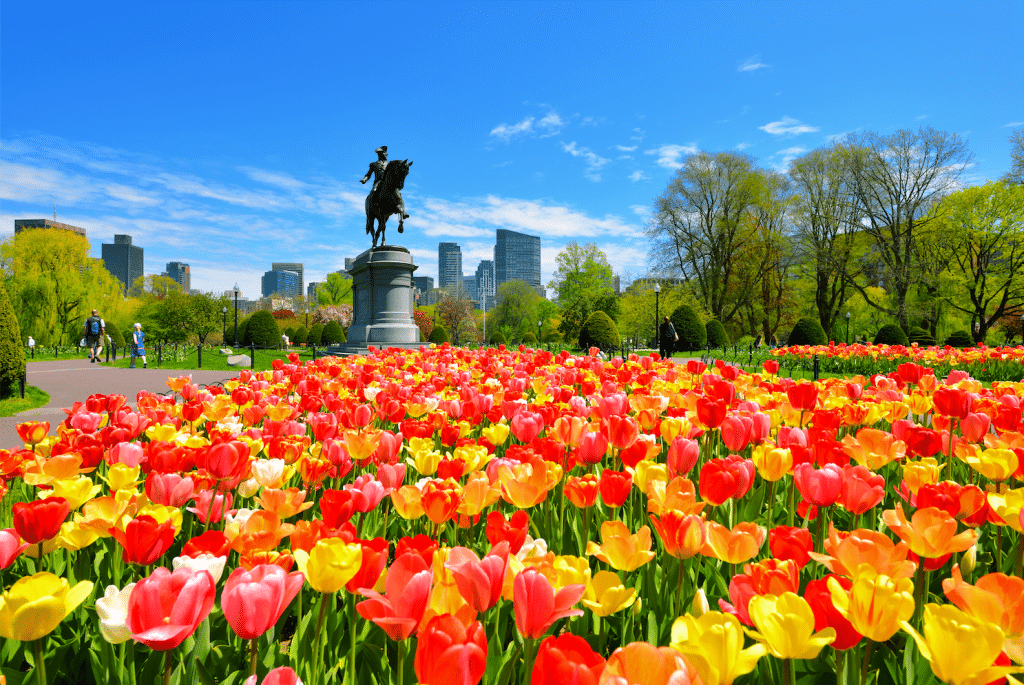 Boston in Spring
Spring in Boston is the shortest season of the year, and it's arguably the least reliable season of all. Heavy snowstorms drag on through late March and occasionally into April, and everyone is wearing their winter coats until mid-to-late April.
You'll see the first crocuses poke their heads through the ground in early April. Daffodils follow shortly after. By late April, the trees become full and lush, then burst with blooms.
Yes, there are cherry blossoms in Boston — and they tend to bloom briefly in mid-April.
Early May is one of the best times to see flowers in bloom throughout the city. The Public Garden is filled with gorgeous multicolored tulips, and magnolia blossoms dot the trees in Back Bay.
There are usually a few days in late April that feel like early summer, and everyone in Boston heads to the parks and beaches to soak it up. Then it usually turns chilly again.
It rains quite a bit in the spring, especially May. Even June needs to get through a few rainy weeks before turning into summer. If you visit Boston during the spring, be prepared for it to rain a lot!
Much of New England wryly welcomes "mud season" in the spring, a consequence of snowmelt. Mud season isn't as much of a thing in Boston because it's an urban environment, but there will be lots of muddy, sludgy areas in parks, especially in April.
Spring in Boston is less crowded than summer or fall, as long as you avoid weekends in late May and early June, which are filled with college graduations and lots of visitors.
Spring in Boston can be lovely — but most years in Boston, it feels like it goes directly from winter to summer with very little springtime in between.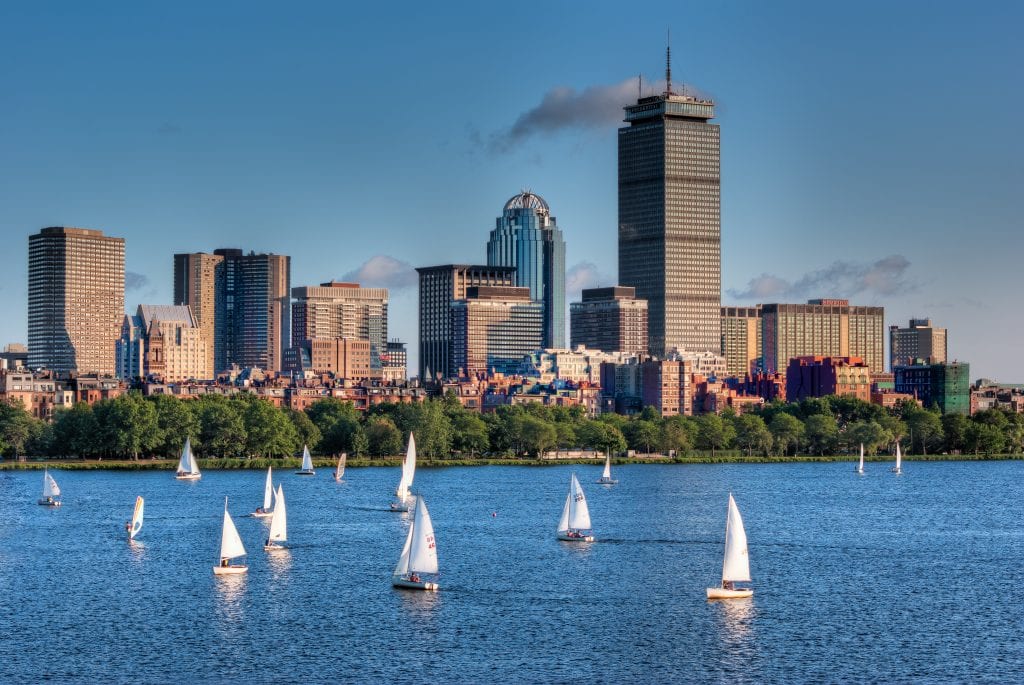 Boston in Summer
Summer is when Boston receives the most visitors — especially families, taking advantage of kids being out of school. And Boston becomes positively fantastic in the summer months!
Summer in Boston roughly lasts from late June through mid-September. During this time, expect high temperatures — you might even hit 100 F / 38 C — and high humidity. Despite being right on the coast, the air can be particularly thick and moist in Boston. Expect to sweat a lot, and you may want to plan downtime in air-conditioned areas each afternoon.
Summer is a great time to get out on the water in Boston — in a sailboat on the Charles River or on a larger ship in Boston Harbor! Beaches both within and just outside the city are filled with locals. Some of the best beaches in the Boston area, like Singing Beach in Manchester-by-the-Sea, are easily accessible by train.
Summer is also the best time to enjoy dining outdoors. Newbury Street in Back Bay is the place to see and be seen while dining on a patio — though Tremont Street in the South End is my personal favorite.
Summer also brings lots of free live concert events at the Hatch Shell — most famously, the Boston Pops Fourth of July Spectacular.
Summer is also the best time of year to catch a Red Sox game, though I urge you to grab a seat in the shade if you can. The shadeless seats are extremely hot in summer.
If you're planning a longer trip to the Boston area in the summer, consider extending your trip to see Cape Cod, the islands, and other coastal towns within a short reach of Boston. I'm from the North Shore so I always recommend towns like Newburyport, Rockport, and Portsmouth, New Hampshire.
Overall, if you love hot weather, free concerts, baseball games, and outdoor dining, summer is a wonderful time to visit Boston.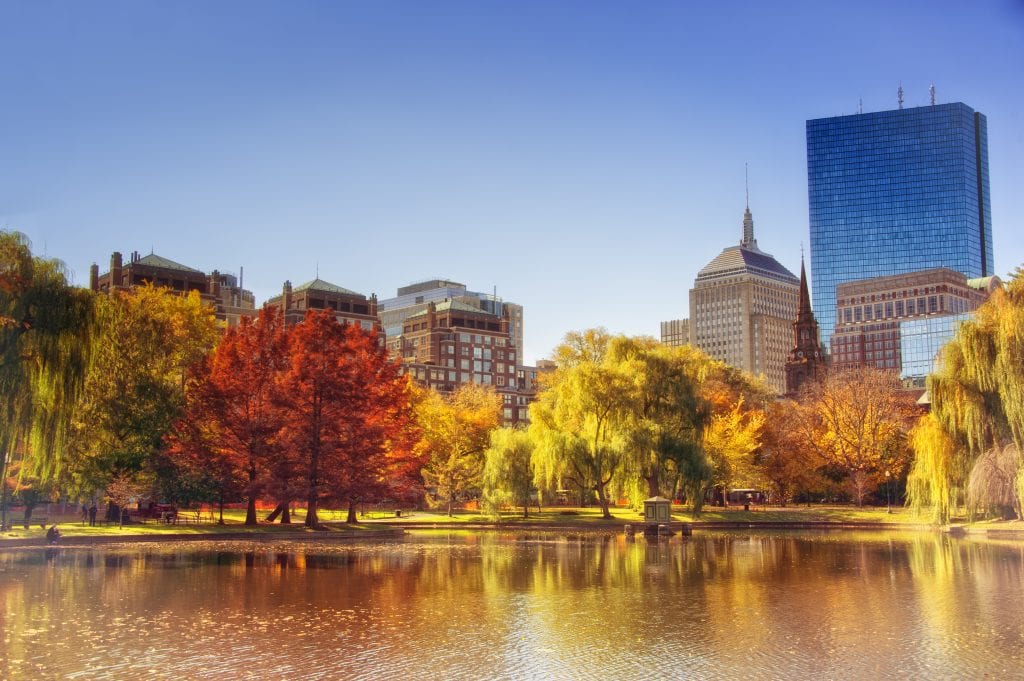 Boston in Fall
Fall in Boston is absolutely gorgeous — the best time of year to visit. It's no lie that the fall months are when the city is at its best.
Even so, a lot of travelers struggle with timing fall travel appropriately in Boston.
For starters, summer temperatures extend into mid-to-late September! Cool temperatures hit suddenly and hard, though because this is still New England, you may ping-pong back and forth with warm and cold days. Leaves start changing color in mid-to-late September.
October is my favorite month to visit Boston, and this is when you experience peak foliage! The peak dates can vary each year, but generally you see the best foliage in early-to-mid-October.
By November, peak foliage is over and the leaves have turned yellow, and will turn to brown soon after. November is when you start feeling colder temperatures and you'll probably need a heavier coat. People used to colder temperatures can usually get by with a leather jacket or light puffer jacket in November; if it's a cold year or you're from Texas, you'll need a heavier winter coat.
By December, the trees are bare and Christmas decorations are all over the city, making it a very nice time to visit Boston.
Does is snow in Boston in the fall? Occasionally. Most years we have one brief snowstorm in November or early December; occasionally there will be snow as early as October. Every now and then we'll have a white Christmas. But the big nor'easters, the storms that dump upwards of a foot of snow and cancel school, tend not to arrive until January.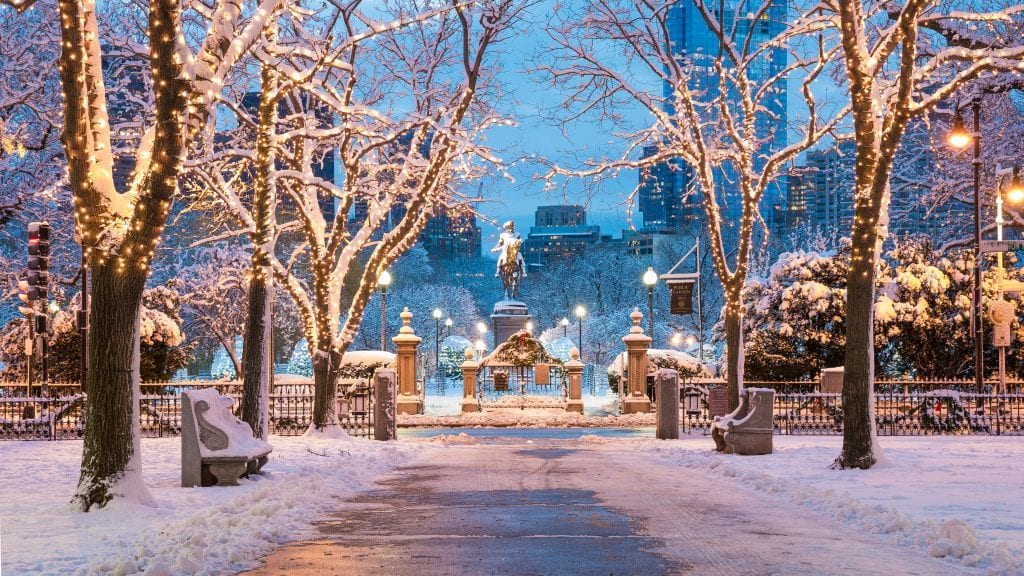 Boston in Winter
Winter in Boston is extremely cold, windy, and snowy. Boston tends to receive several snowstorms each year, most of them between January and March. It's not unusual to get snowfall as early as October or as late as April.
And while you see lots of beautiful winter wonderland photos like the one above, it's not long before the snow turns dirty and gross. You may step into what looks like solid snow but is actually a deep puddle.
Is it worth visiting Boston in winter? It depends.
If you're not used to very cold winters, I urge you not to visit Boston during the winter. If you do come, you may need to invest in winter clothing, like waterproof boots and a heavy winter coat, plus gloves, a scarf, and a hat. A leather jacket won't cut it here in winter.
As I always say, if you're from Minnesota or Michigan, you know what you're getting into when you visit Boston in winter. If you've lived your whole life in Texas or Florida, you'll have a hard time enjoying yourself. Even my British friends struggle with Boston winters.
Winter in Boston can be very difficult for people with mobility challenges, due to snow banks, uneven pathways of packed down snow, and people not shoveling their sidewalks. If you have mobility challenges, you may want to visit at a different time of year.
Beacon Hill, one of the oldest and prettiest neighborhoods in Boston, is exceptionally difficult to navigate on foot after a snowfall due to its steep cobblestoned streets. I recommend not booking accommodation in Beacon Hill during the winter months for this reason.
Finally, if you visit Boston in winter, you should have a contingency plan for what to do if a snowstorm hits and strands you for a few extra days. Travel insurance can be helpful here ( I use and recommend World Nomads ), but it's good to have a plan no matter what. Will your boss be infuriated if you miss an extra day of work? If so, you may want to avoid the winter months.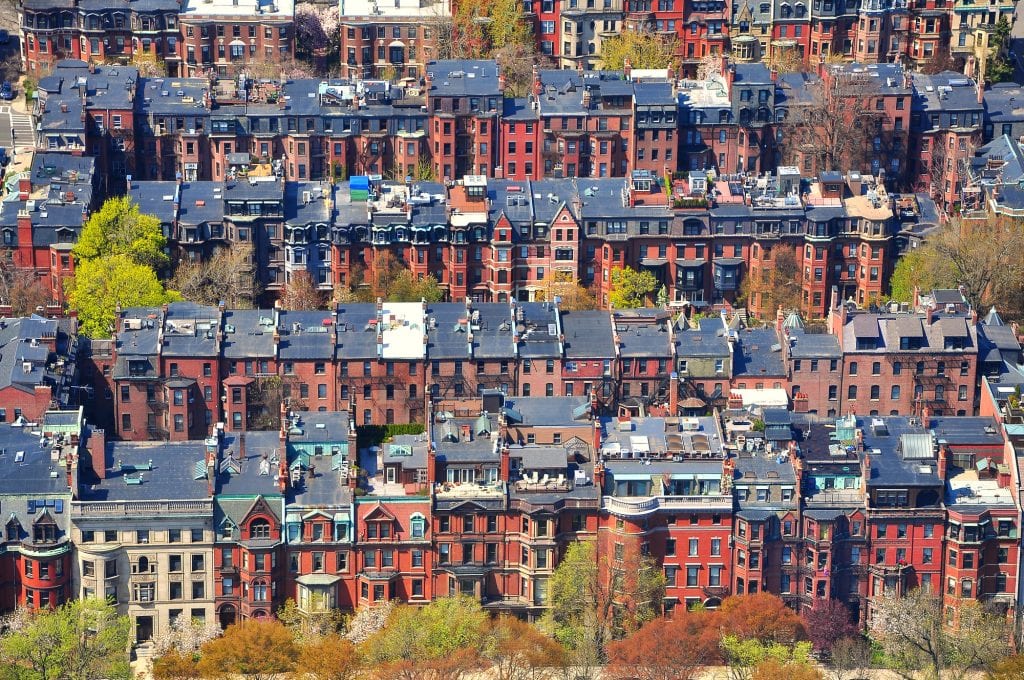 High Season and Low Season in Boston
High season in Boston is primarily during the summer months, from June through August. This is when Boston is at its most crowded and expensive. Boston is a very popular destination for families, so summer vacations and school holidays are when you see a lot of travelers.
Other peak periods for travel in Boston include the Boston Marathon in April, college drop-off and move-in dates around September 1, college graduation weekends in May and early June, and if the Red Sox are in the playoffs in October.
Shoulder season in April and May, excluding the weekend adjacent to Marathon Monday and graduation weekends in late May, and mid-September through early November.
Low season in Boston is during the winter months. This is when Boston receives the fewest tourists. Most hotels are still welcoming business travelers, but not so much on the weekends, so you may be able to find some good hotel deals on winter weekends.
I don't recommend winter travel in Boston to most people, but if you know what you're getting into and have a contingency plan for what to do if a snowstorm cancels your flight, go ahead and book it.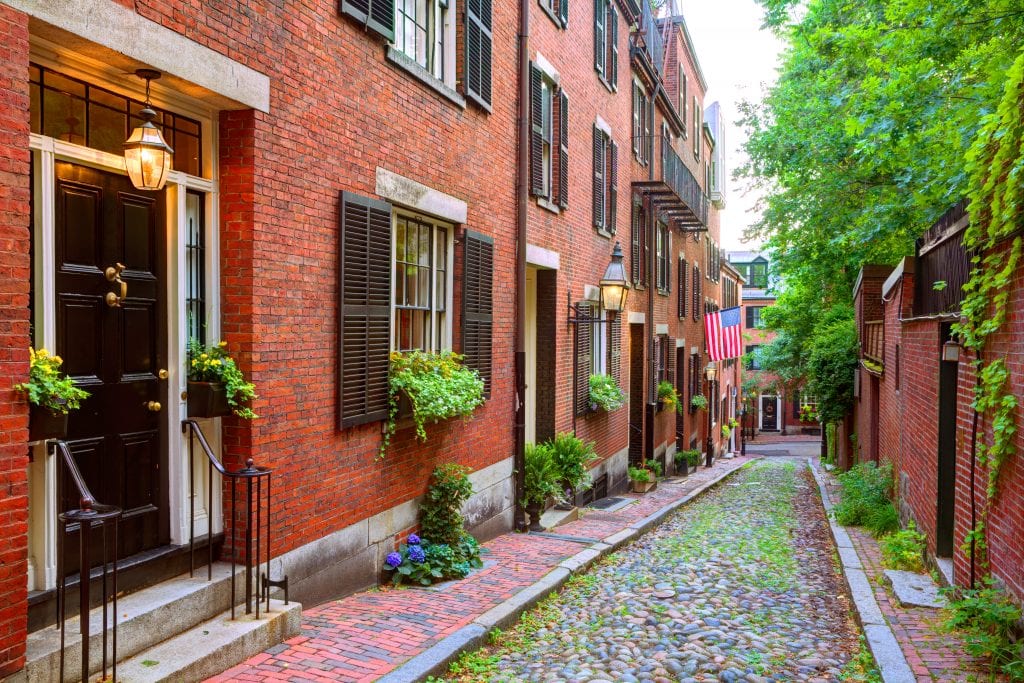 Best Month to Visit Boston
What's the best month to visit Boston? I personally think October is the best month to visit Boston. September is good, too, and so is late June. The summer months can be fun if you don't mind heat, humidity, and crowds.
Beyond that, here is information about weather and events in each month of the year:
January in Boston
January in Boston is one of the coldest months of the year. The first nor'easter or major snowstorm of the year tends to hit sometime in January, and there actually may be several snowstorms before the month is done.
Temperatures in January average from a low of 23 F / -5 C to a high of 37 F / 3 C.
First Night , a New Year's Eve celebration in Boston, continues into New Year's Day. Cultural events for people of all ages take place around the city, and buying a button gets you access to all of them.
February in Boston
February is another cold, snowy month in Boston. There will likely be at least one major snowstorm before the month is over, and sometimes several. In the past few years there have been random warm days in February — think springlike temperatures — before it goes back to winter.
Temperatures in February average from a low of 25 F / -4 C to a high of 40 F / 4 C.
Boston has a huge Chinese population, and Lunar New Year brings the Chinese New Year Parade in Chinatown, usually held on the second Sunday after Chinese New Year begins.
March in Boston
Spring may technically begin in March, but March in Boston is very much still the winter. Some of the biggest snowstorms of the year take place in March, and don't expect any relief from the snow until the end of the month.
Temperatures in March average from a low of 31 F / 0 C to a high of 46 F / 0 C.
Boston is the most Irish city in America and St. Patrick's Day is a big celebration here. On St. Patrick's Day it seems like every bar is full of drunken revelers, even Mexican restaurants! The parade takes place in the traditionally Irish neighborhood of South Boston, a.k.a. Southie, not necessarily on St. Patrick's Day but often the weekend after.
St. Patrick's Day in Boston can be fun, but it can be A LOT. Exercise caution, because a lot of people take this holiday as an excuse to drink far too much.
April in Boston
In Boston, it's April, not March, that goes in like a lion and out like a lamb. The month begins firmly ensconced in winter temperatures, but slowly it warms, trees bud, flowers start to bloom, and by the end of the month, temperatures are much warmer. There is also a lot of rain in April.
Temperatures in April average from a low of 42 F / 0 C to a high of 58 F / 14 C.
April brings the world-famous Boston Marathon , which is always one of the peak times to travel to Boston. Marathon Marathon takes place on Patriots' Day, a local holiday, which falls on the third Monday of April.
May in Boston
May is when Boston is in bloom. The leaves have grown, the flowers have burst, and the Public Garden puts on its best show of the year. Sunny May days are fantastic in Boston — but it also tends to rain a lot. Expect lots of overcast days, no matter what time of May you visit.
Temperatures in May average from a low of 52 F / 11 C to a high of 68 F / 20 C.
Boston Calling , an independent music festival, is one of the biggest concerts of the year and usually takes place on Memorial Day weekend.
June in Boston
June may be the official kickoff of summer, but you won't have consistently sunny and warm weather until closer to the end of the month. The rain persists in the beginning of the month, but don't worry, summer is coming!
Temperatures in June average from a low of 60 F / 16 C to a high of 76 F / 24 C.
The Jimmy Fund Scooper Bowl is a popular charity event raising money for cancer research in early June. A ticket includes all-you-can-eat ice cream!
Bunker Hill Day, a Massachusetts state holiday, takes place on June 17 and commemorates the Battle of Bunker Hill in the American Revolution. The closest Sunday brings a parade to Charlestown and is a fun event, especially if you're into history.
July in Boston
July is the hottest month of the year in Boston! Expect lots of heat and humidity in the month of July. It doesn't rain much, making it the perfect time for enjoying Boston's best outdoor activities.
Temperatures in July average from a low of 68 F / 20 C to a high of 84 F / 29 C.
Boston celebrates Independence Day in style with the Boston Pops Fireworks Spectacular . The Boston Pops perform with both famous singers and undiscovered local talents, and it all takes place at the Hatch Shell on the Esplanade. The show ends with fireworks. Here's a tip: there's a rehearsal on July 3, and many Bostonians prefer to attend that day!
August in Boston
August is another sizzling hot month in Boston with sky-high temperatures and lots of humidity. You start to feel the firsts whips of fall with slightly cooling temperatures at night.
Temperatures in August average from a low of 66 F / 19 C to a high of 82 F / 28 C.
August, like the rest of the summer months, is a great time to experience outdoor concerts and enjoy spending time outdoors. Public schools in Massachusetts usually begin the school year at the end of August.
September in Boston
In September, the atmosphere in Boston changes. Being such a college town, September feels like a switch is flipped. The tourists go home, the students move in, and the whole city takes on a new feel. The beginning of September feels warm and summery; as time passes, it becomes cooler and the leaves begin to turn.
Temperatures in September average from a low of 60 F / 15 C to a high of 82 F / 28 C.
September 1 and Labor Day are move-in days for college students. In addition to being a pricey time for accommodation, this is a time of year many Boston residents despise the most — a time when moving trucks block streets and get stuck under bridges. Once Labor Day is over, you're golden.
October in Boston
October is the best month to visit Boston. This is an absolutely beautiful time of year — in the beginning of the month, you have warm days and cool nights; toward the end, sweater weather takes over and you might even get some frigid days. The leaves burst into color in early October and darken throughout the month.
Temperatures in October average from a low of 49 F / 10 C to a high of 64 F / 18 C.
The Head of the Charles Regatta , the world's largest rowing event, takes place on the third weekend in October. It's a wonderful event to watch and photograph in the autumn colors.
Chowdafest , a celebration of clam chowder across the city, now takes place in early October. (A welcome change. It used to be in summer and I did not enjoy eating chowder in 90-degree heat!)
The city of Salem — yes, of the witch trials — goes crazy for Halloween all October long with Haunted Happenings , culminating in a huge street party on Halloween night. It's a 30-minute drive or train ride from Boston.
November in Boston
In the beginning of November, you might still get to enjoy some fall colors — more yellow than anything else, on the way to brown. Soon you'll be experiencing winter temperatures, and you might even get the first snowstorm of the year by Thanksgiving. If you're not used to a cold climate, November might be the coldest you've ever been, though it's only the beginning for Bostonians.
Temperatures in November average from a low of 38 F / 3 C to a high of 52 F / 11 C.
Plimouth Plantation , 45 minutes south of Boston, goes all out on celebrations to commemorate Thanksgiving. Plymouth can be a fun day trip, but be ready to be disappointed by how small Plymouth Rock is!
December in Boston
December is when temperatures drop further, but there's relatively low precipitation. Snowstorms are possible but uncommon; you're likelier to see a flurry or two. Be prepared for low temperatures and overcast days; the Christmas lights add cheer to what is a stark month weather-wise.
Temperatures average from a low of 30 F / -1 C to a high of 43 F / 6 C.
In December, Boston is all decked out for the holidays, and various tree lightings take place in early December, the biggest taking place on Boston Common. If you enjoy Christmas lights and decked out store window displays, this is a good time to visit Boston.
First Night is Boston's popular New Year's Eve celebration. A ticket gets you admission to interesting arts events all over Boston.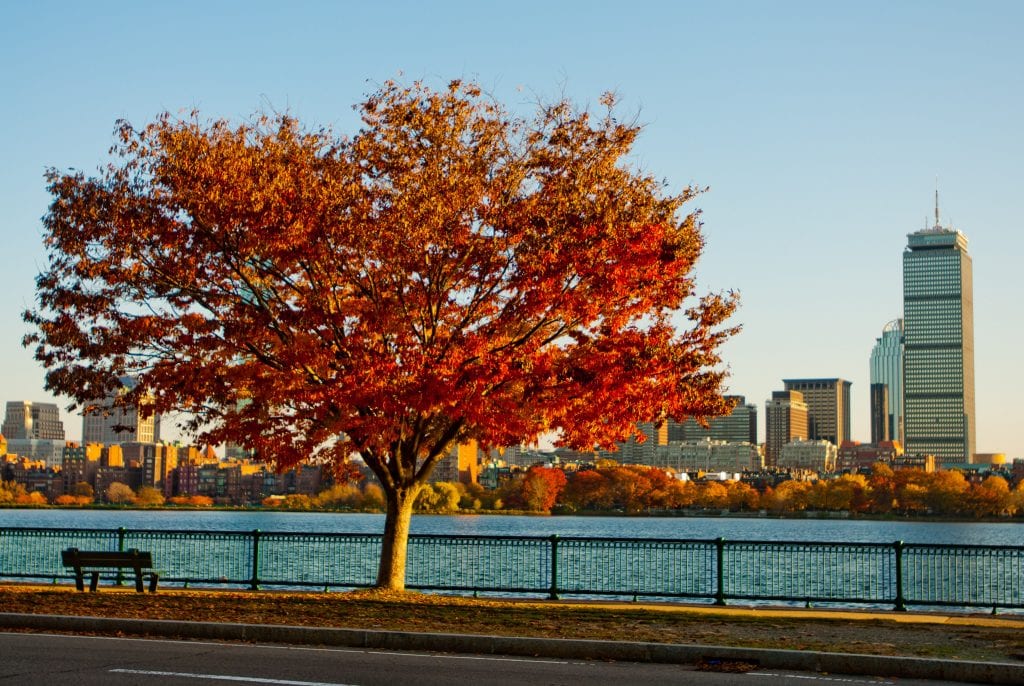 Best Time to See Fall Foliage in Boston
In Boston, peak fall foliage tends to hit in early-to-mid-October — though sometimes it can be the first week and sometimes the third week. This can sometimes vary a bit with global weather patterns, so consult an almanac for an up-to-date prediction.
However, if you're planning to explore more of New England on your trip, keep in mind that the further north you go, the earlier the leaves change. When the leaves are peaking in Boston, the leaves in northern Vermont are on their way to a dull brown.
If you're planning to road trip through Vermont, New Hampshire, or Maine and looking to hit peak foliage there, you may want to move your trip back a bit to late September. Again, an almanac will be very helpful to you here.
To see the best fall foliage in Boston, I recommend spending time in Boston's best parks: Boston Common and the Public Garden; the Esplanade, running between Back Bay and the Charles River; the Back Bay Fens, which pairs well with a Museum of Fine Arts visit; and the Arnold Arboretum, in Jamaica Plain. Mount Auburn Cemetery in Cambridge is definitely worth the trip in October.
You can get some nice old-timey Boston fall photos in Beacon Hill and around the Harvard campus in Cambridge.
Best Time for Visit Boston with Kids
What's the best time to visit Boston as a family? Boston is a great city to visit with kids of all ages! There are lots of fun yet educational activities (man, I went on a LOT of field trips in Boston as a kid), like the Museum of Science and New England Aquarium, as well as fun kid-oriented activities like the Swan Boats and Faneuil Hall Marketplace, and lots of parks, playgrounds, and places to run around.
If you're working with a regular school schedule, summer will probably be your best bet, and that's not a bad time to visit Boston at all. This is when Boston is firing on all cylinders for families! Just know that it will be crowded, as most places in the US will be.
If your kids' spring break is in March, don't expect spring weather in Boston — March is prime snowstorm season. If their spring break is in late April, you'll have a better chance of pleasant temperatures and no snow.
Another tip: if you're visiting Boston with kids, I recommend staying in or around the North End , as it gives you easy access to kid-friendly sites and Italian restaurants serving pizza and pasta.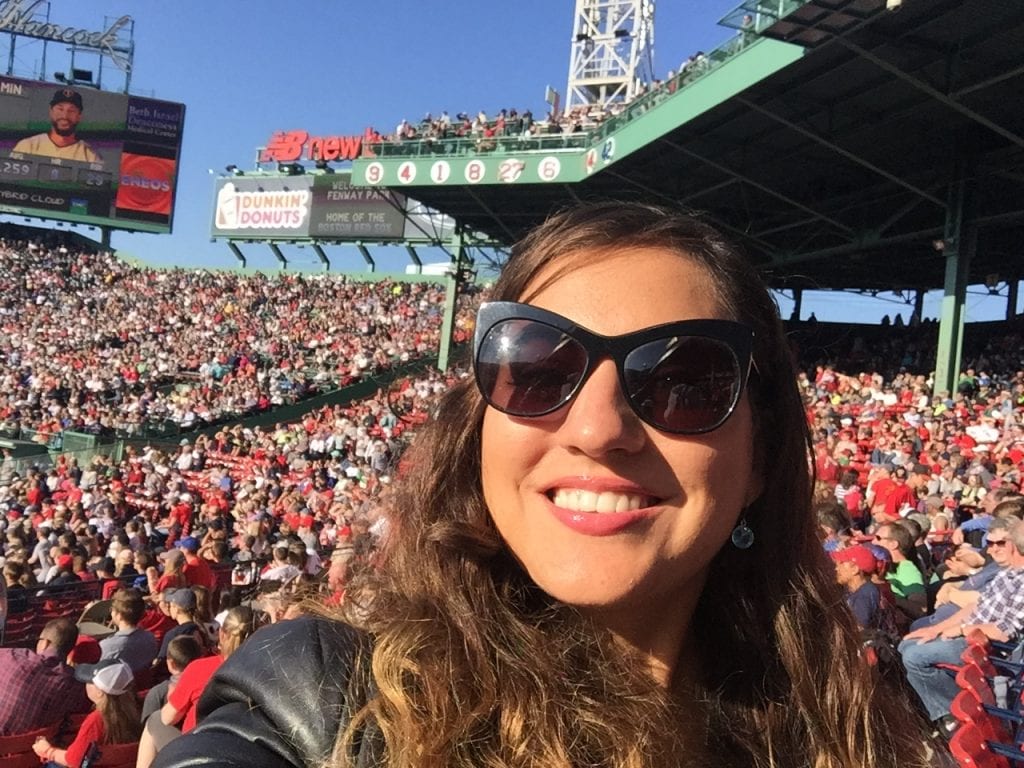 Best Time to Visit Boston for Sports Fans
Boston is a sports-crazy town, and if you're a sports fan in the least, I recommend seeing a Red Sox game at Fenway Park. It's the best cultural experience in Boston. To get the full experience, spend a few hours before and after in the Fenway/Kenmore neighborhood.
Opening Day takes place in April and the Red Sox will play into September, or October if they make the playoffs. Check MLB.com for the current schedule and to make sure they won't be away.
You can also enjoy games by the Boston Celtics (basketball), Boston Bruins (ice hockey), or New England Patriots (football), and they can be a lot of fun — though not QUITE on the cultural level of seeing the Red Sox play.
The Boston Celtics preseason begins in November and the regular season continues into April, with the finals in May. Check NBA.com for the current schedule and to make sure they won't be away.
The Boston Bruins preseason begins in September and the regular season continues into April, with the finals in May. Check NHL.com for the current schedule and to make sure they won't be away.
The New England Patriots play in Foxborough, 30 minutes from Boston by train. The NFL preseason begins in August and continues until January. Check NFL.com for the current schedule and to make sure they won't be away.
And don't forget the Boston Marathon, taking place on the third Monday in April! This is Boston's best sports tradition of all.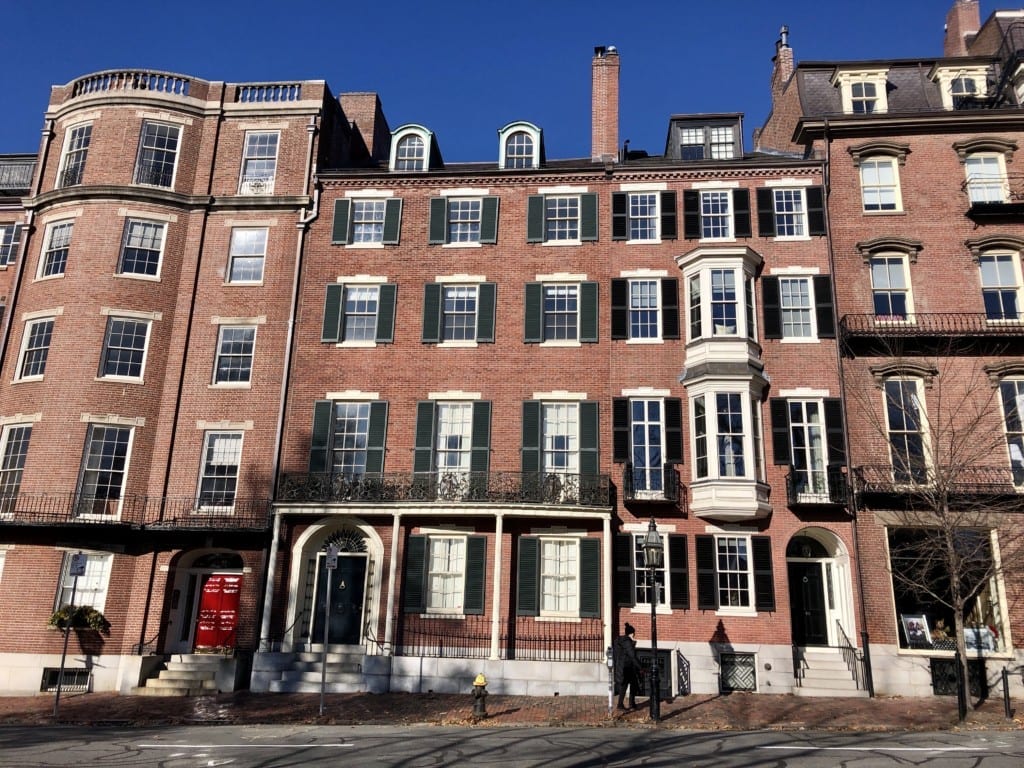 Cheapest Time to Visit Boston
Boston is one of the more expensive cities to visit in the United States, so I don't blame you for trying to save money where you can. But if you're looking for the cheapest time of year to visit Boston, you may want to consider visiting during January or February. Possibly March, St. Patrick's Day excluded.
Yes, it's a cold, dark, and snowy time to visit — but hotels tend to be cheap around this time of year, especially on weekends, and you have the benefit of enjoying museums and attractions without the crowds.
You should keep in mind that snow could derail your travel plans and ending up costing you extra days in your hotel and rebooked flights, effectively making your cheap trip more expensive. I would never book a trip to Boston without travel insurance. ( I use and recommend World Nomads .)
Of course — I don't recommend visiting Boston in winter if you're not used to extreme winters, or if you have mobility difficulties.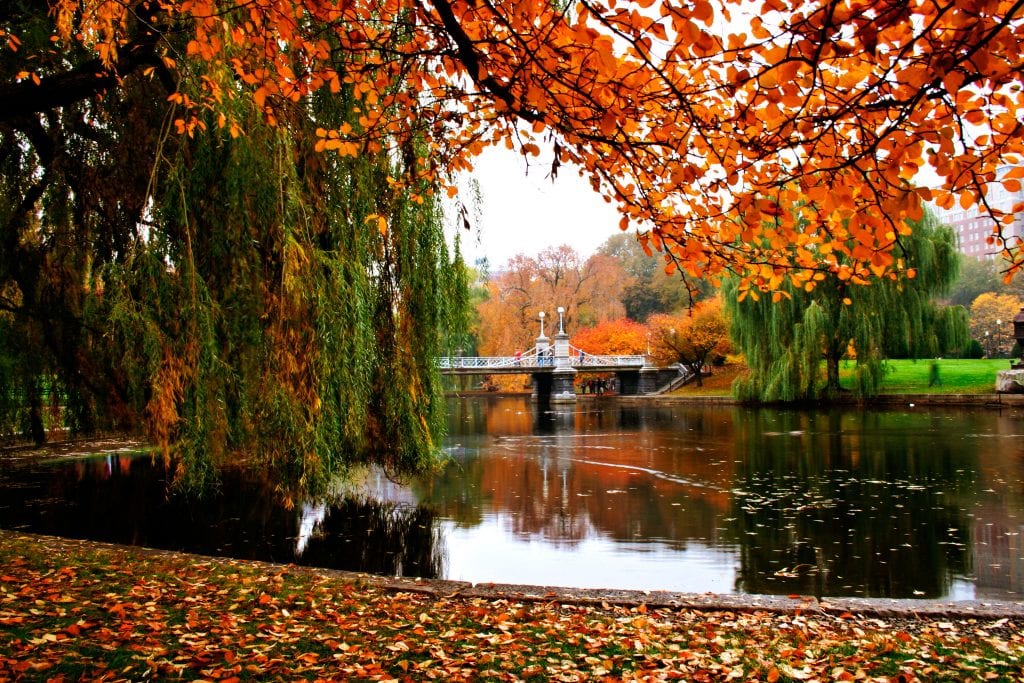 Overall Best Time to Go to Boston
If we were narrowing it down to the most specific time period possible, the best time to travel to Boston overall is in October: the first two weeks of October if you want to see good foliage, and the later two weeks in the month for darker foliage. That's a beautiful time for a trip!
Go enjoy your trip to Boston. It may be my hometown, but it's also one of my favorite cities, and I hope you enjoy it as much as I do!
Best of Boston:
What NOT to Do in Boston
Where to Stay in Boston: Best Neighborhoods & Hotels
40+ Fun Things to Do in Boston at Night
24 Interesting Things to Do in Cambridge, Mass.
12+ Best Day Trips From Boston
21 Best Museums in Boston
Cape Cod & the Islands:
Which of the Towns of Cape Cod is Best for You?
24 Fab Things to Do in Cape Cod
22 Fabulous Things to Do in Provincetown, MA
Which Of The 6 Martha's Vineyard Towns Is Best For You?
A Guide to Oak Bluffs, MA — Home of the Gingerbread Houses
A Guide to Edgartown, MA — Prettiest Martha's Vineyard Town
A Guide to Vineyard Haven, MA — Authentic Town on Martha's Vineyard
Western Massachusetts:
33 Best Things to Do in the Berkshires
Best Towns in the Berkshires, Massachusetts
North Shore:
27 Fun Things to Do in Rockport, Mass.
25 Spooky, Haunted Things to Do in Salem, Mass.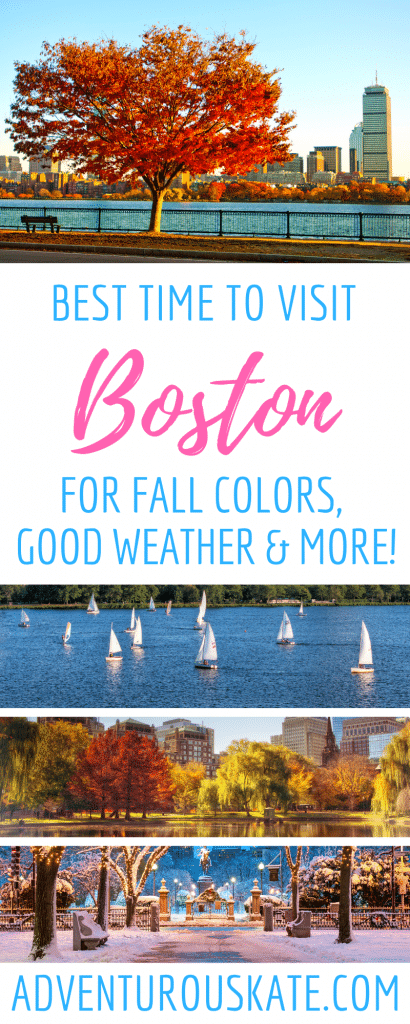 Have you been to Boston? What time of year did you visit? Share away!
Featured image via Shutterstock.
Leave a Comment Cancel Reply
Your email address will not be published. Required fields are marked *
This site uses Akismet to reduce spam. Learn how your comment data is processed .
Subscribe to the blog: First Name First Name Your email Your email Submit
Meet the Team
Talk to The Broke Backpacker
Czech Republic
Netherlands
Switzerland
Scandinavia
Philippines
South Korea
New Zealand
South Africa
Budget Travel
Work & Travel
The Broke Backpacker Manifesto
Travel Resources
How to Travel on $10/day
Home » North America » Boston
BOSTON Itinerary • MUST READ! (2023)
Boston is the capital of, and largest city, in the state of Massachusetts. Boston was founded all the way back in 1633 making it one of the oldest cities in the United States, and it played a very crucial role in the American Revolution. You can learn all about its fascinating and important history during your weekend in Boston.
Planning a trip to Boston has never been this easy! The thriving port city has a myriad of exciting activities to take part in, as well as a multitude of sightseeing attractions.
If you're up for the hustle and bustle of city living, with the peace and tranquility that comes with staying by the seashore, then a Boston visit is on the cards!
Here's everything you need to know, to create your very own Boston itinerary!

Unlock Our GREATEST Travel Secrets!
Sign up for our newsletter and get the best travel tips delivered right to your inbox.
Best Time To Visit Boston
Where to stay in boston, boston itinerary, day 1 itinerary in boston, day 2 itinerary in boston, day 3 and beyond, staying safe in boston, day trips from boston, faq on boston itinerary.
If you're wondering when to visit Boston , the answer is: there's no time like the present! But there are certain weather patterns at different times of year that might suit your schedule best.
The most popular time to travel to Boston is between June and October. The weather is warm and there are plenty of outdoor festivals, football games and other exciting entertainment options to take part in!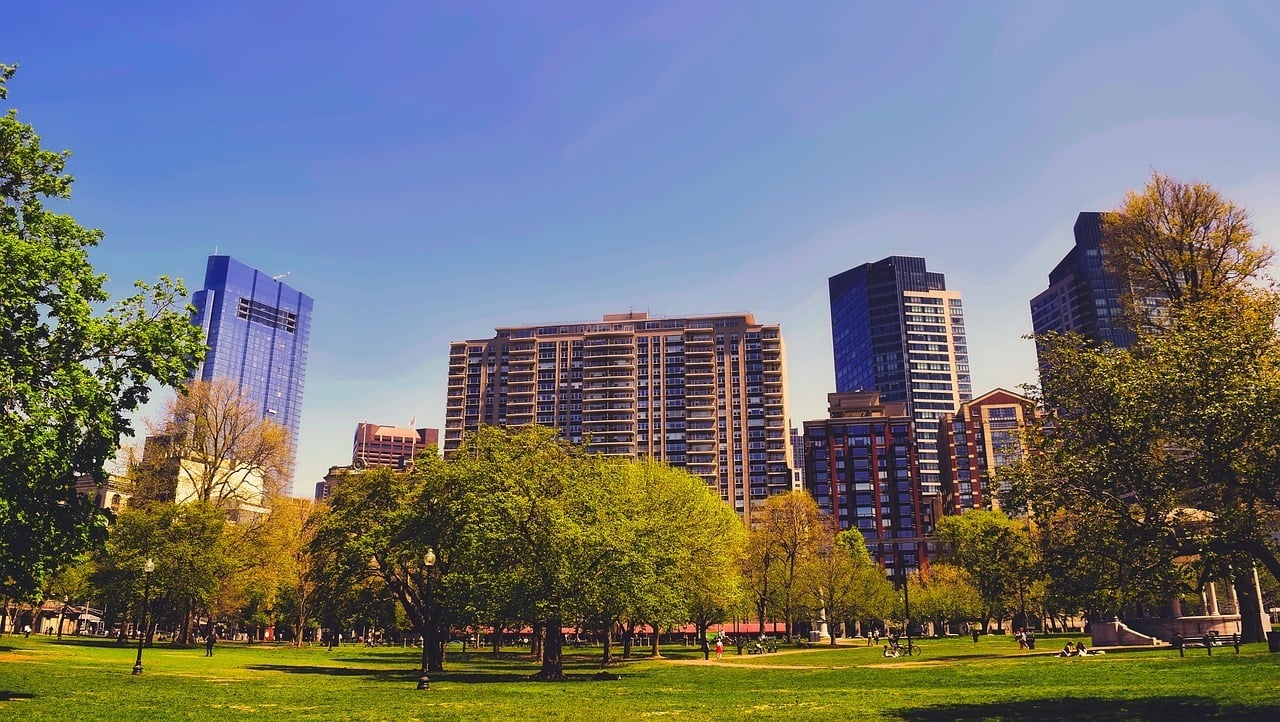 From November to February Boston gets very cold, but if you can stomach it you'll have plenty to celebrate! You'll get the chance to enjoy reduced prices of accommodation, tours, and activities around the city, which is a major plus if you're on a budget! Just remember to pack warm clothes as you're sure to need them this time of year.
Between March and May is Boston's springtime. The weather starts to warm (ever so slightly), but you can still enjoy discounted rates and peace and quiet at the many Boston attractions. If you're a little wary of the weather, just take a few Boston walking tours as they're sure to get your heart pumping in no time!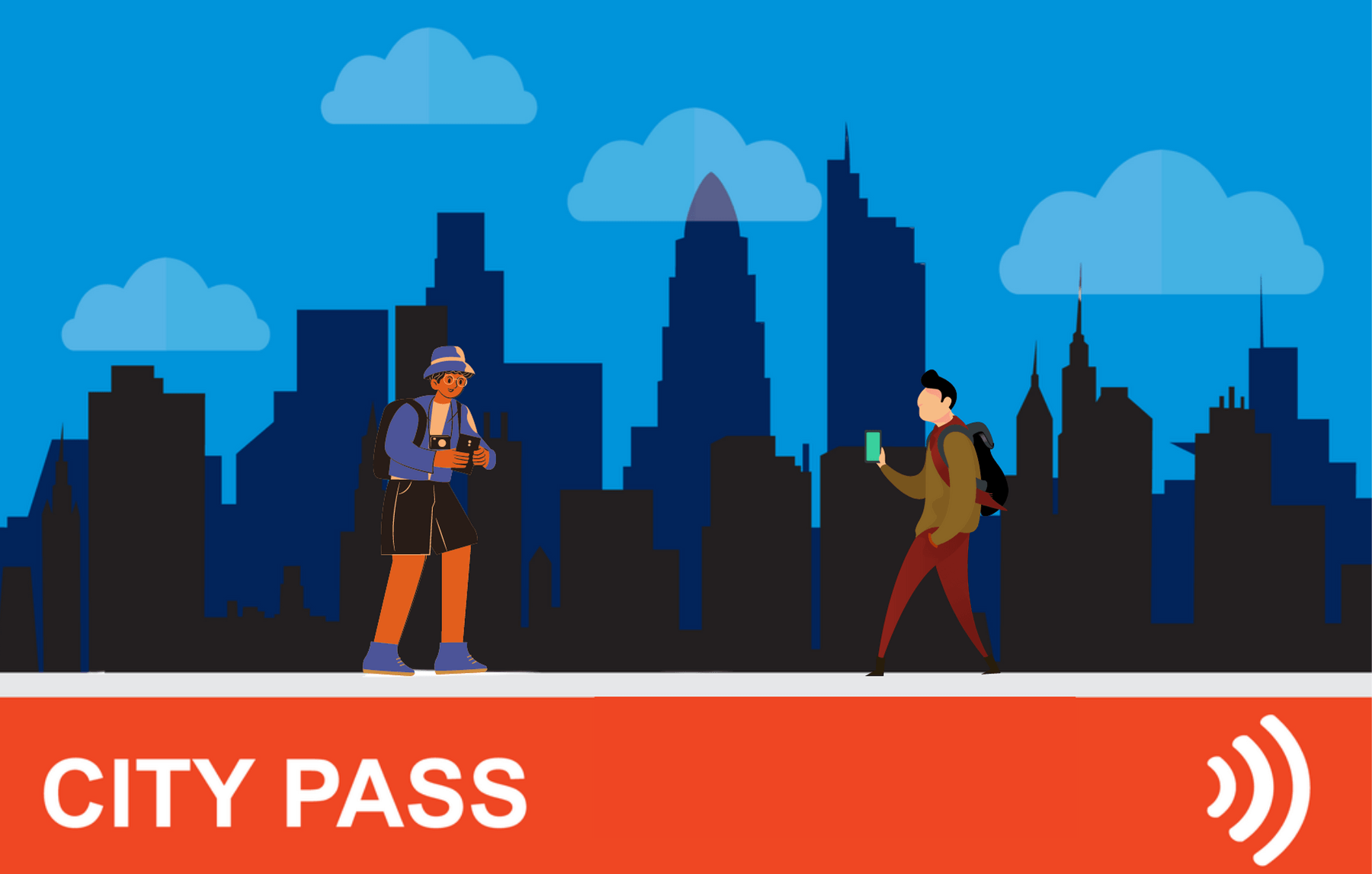 With a Boston City Pass , you can experience the best of Boston at the CHEAPEST prices. Discounts, attractions, tickets, and even public transport are all standards in any good city pass – be sure invest now and save them $$$ when you arrive!
Looking for accommodation can be a tough job, so we're going to make your life a little easier by telling you about the best place to stay in Boston !
South Boston is a great place to stay, especially if you're a first time visitor to this wonderful city. The neighborhood hugs the bay and is home to the scenic waterfront! The waterfront is a stretch of land about 1-mile long, where Bostonians walk their dogs or go for romantic strolls in the evening.
In recent years, the neighborhood has experienced an influx of young professionals, so expect the days to be quiet and the evenings to be abuzz with activity and youthful cheer!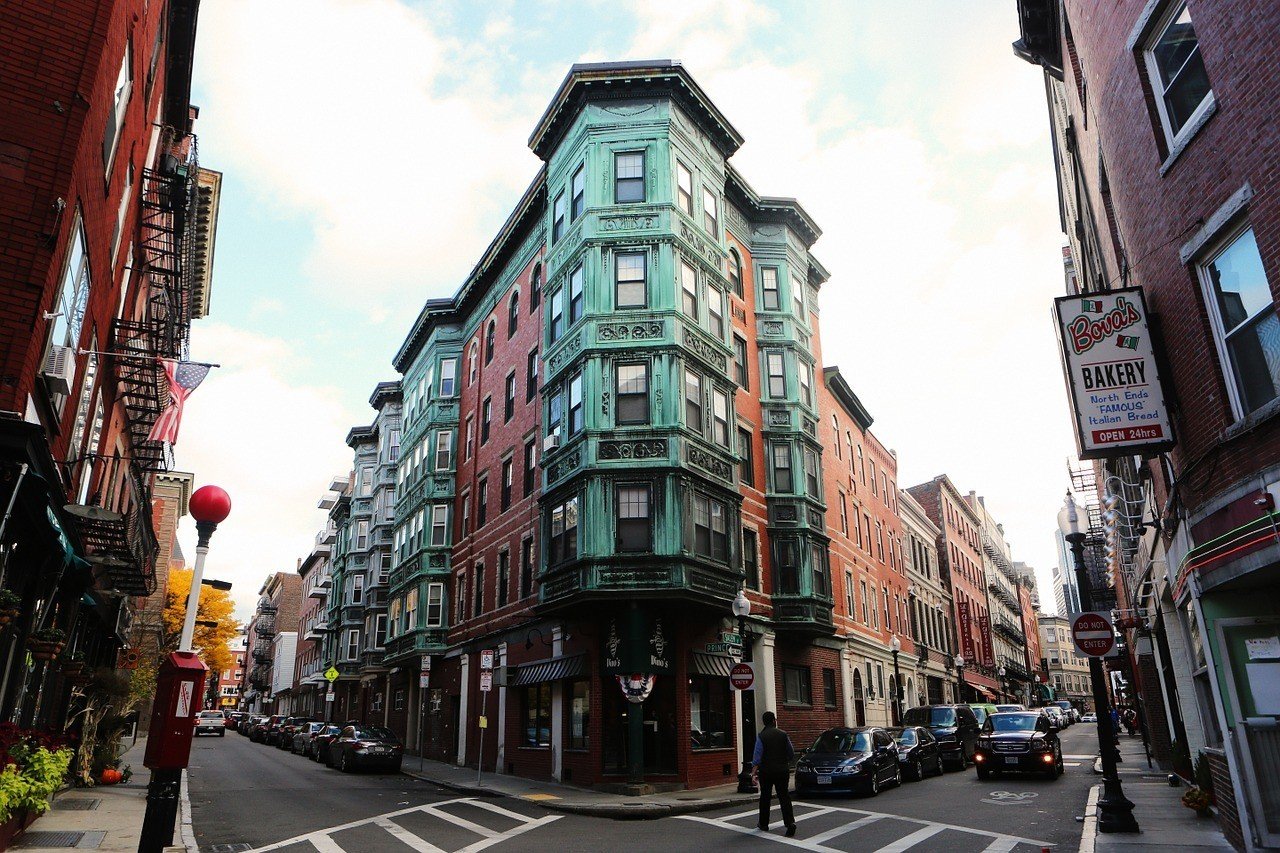 Jamaica Plain is a very diverse neighborhood, where everyone who aspires to be different tends to stay. You'll find hipsters of every variety staying in this old and quaint neighborhood! Jamaica Plain is home to Jamaica pond, which is a large urban park, perfect for those looking to get out of the hotel for a jog or even a leisurely stroll.
Davis Square could be considered one of the most happening neighborhoods in town. The neighborhood is home to a lively mix of students, young professionals, and old-timers who still like to party! You'll find a multitude of restaurants and cafes, bustling with a community of thriving individuals.
Need to know to where the best hostels in Boston are? Here are our top accommodation picks for your Boston trip itinerary!
Best Hostel in Boston – HI Boston
HI Boston offers an incredible communal setting that leaves you feeling refreshed to start touring Boston every morning! After indulging in a free breakfast at the hostel, be sure to play pool and engage with your fellow travelers. With a great central location, there's no better hostel to add to your Boston itinerary!
Best Airbnb in Boston – Studio in Prime Location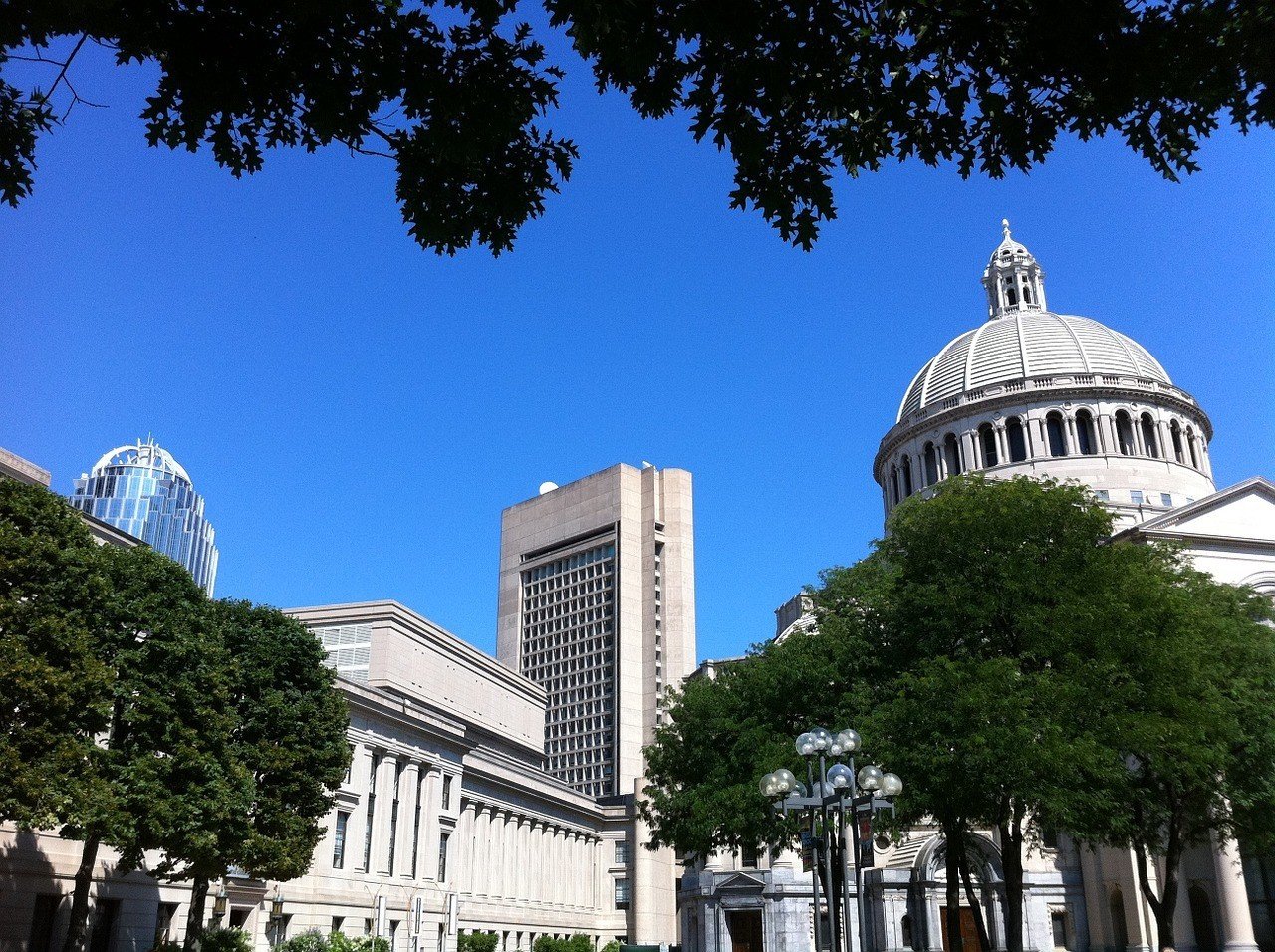 Spack dab in the heart of Back bay is this astonishing home that offers one of the most comfortable stays in the city. It's definitely one of the best Airbnbs in Boston . Located on the lively street of Newberry, you have access to the most premier shopping in the city and the award-winning restaurants you've only seen on tv. Speaking of food, the kitchen is small but does have everything you need to cook a quick meal, but being in the popping neighborhood, you will most likely be enjoying all the cafes he neighborhood has to offer anyways.
Best Budget Hotel in Boston – YOTEL Boston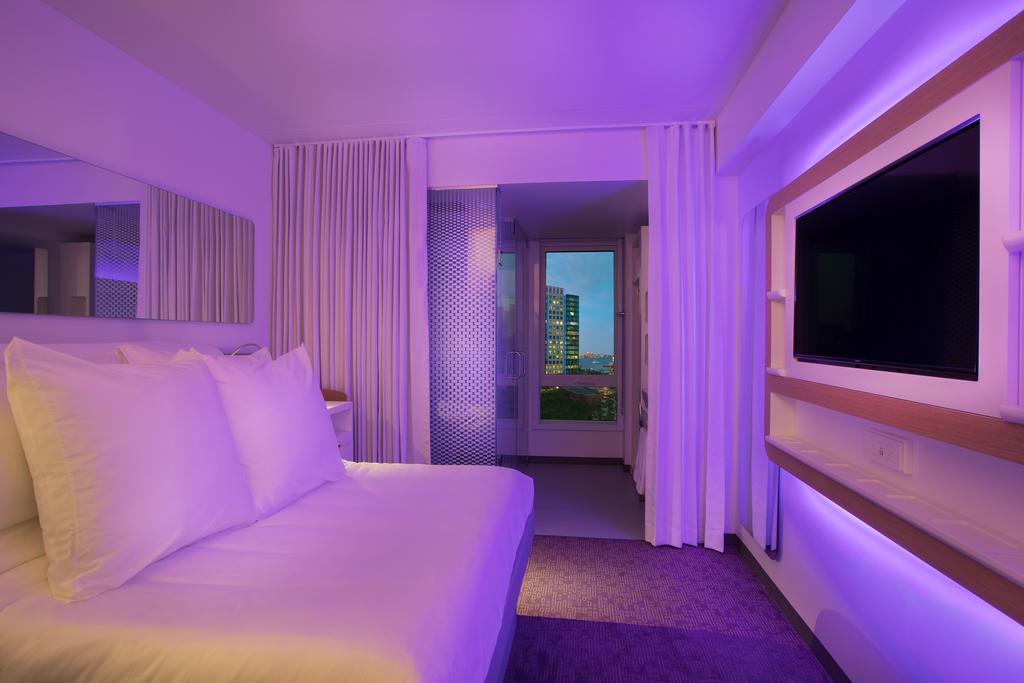 This wonderful hotel is located in Boston waterfront and offers a rooftop terrace with panoramic views of the city! Guests can indulge themselves at the on-site restaurant that serves absolutely delectable dishes. Make sure you make use of the on-site fitness center and take a visit to the many nearby Boston attractions!
Best Luxury Hotel in Boston – The Eliot Suite Hotel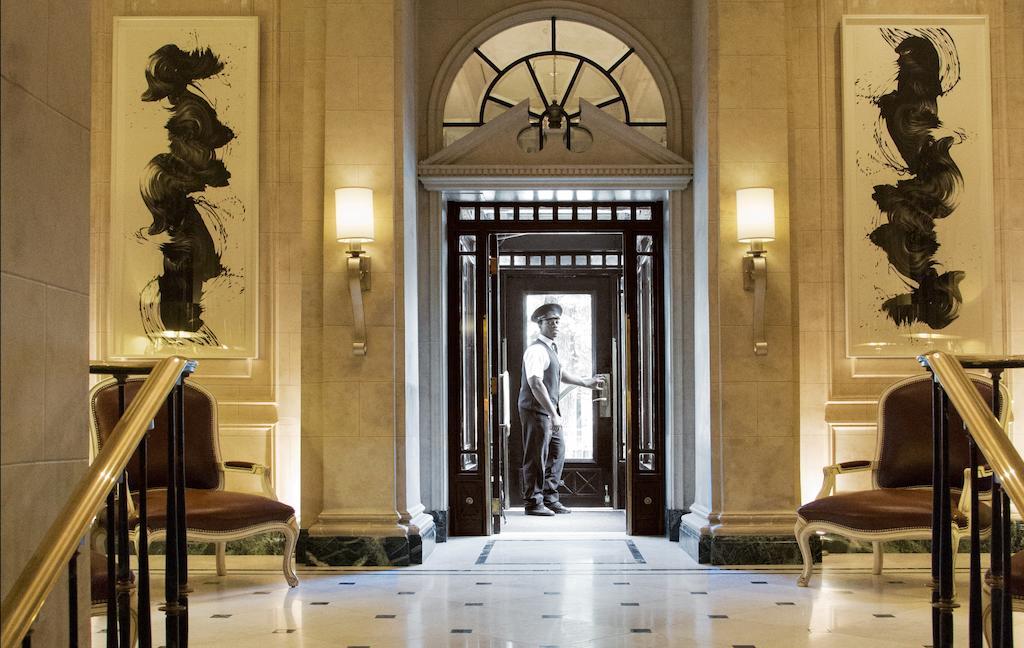 This historic hotel is located in Bostons' iconic Back Bay area. The Eliot Suite Hotel is elegant and offers many perks, such as the on-site sashimi bar! Guests can also enjoy free access to the sports club and business center that provides a constant flow of entertainment for visitors to the hotel.
There are a hell of a lot of things to do in Boston . In order execute your Boston itinerary, you're going to need to know how to get around!
When traveling through a few neighborhoods, taking the commuter rail is a great option! It travels around the outskirts of the suburbs, giving you access to a few different areas. It's also a fairly cheap option, and possibly the best way to tour Boston.
Taking the bus is a very common way to get around the city. It's perfect for intercity travel and is always decently priced. There are also extensive late-night routes for those still out and about in the early hours.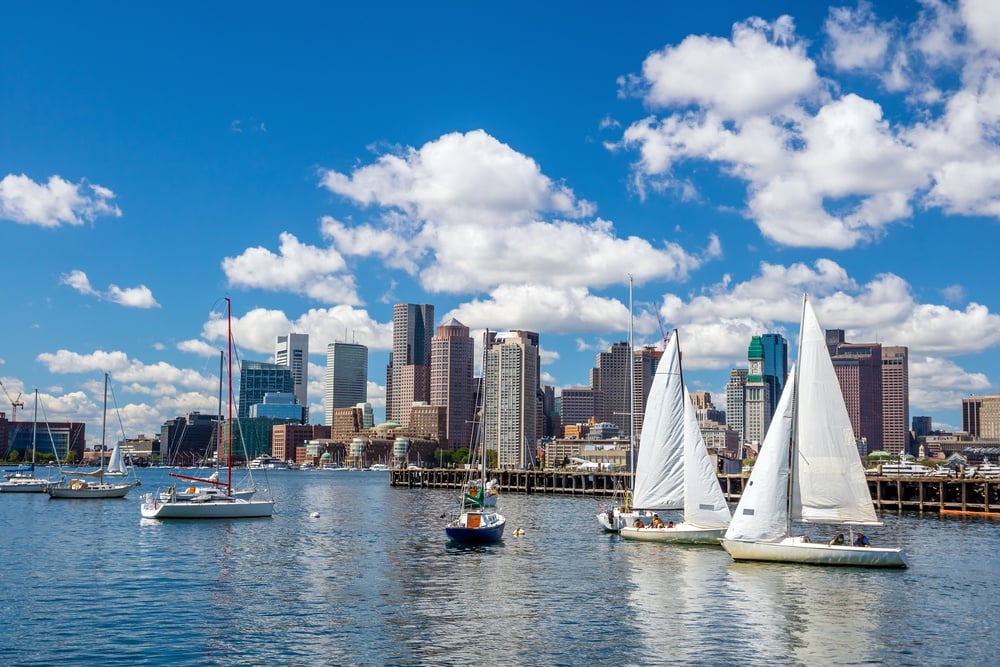 BlueBikes is a bicycle sharing system with over 100 stations and over 1000 bicycles throughout the city. If you're looking for an easy way to get around while staying active, this may be the way to go. You can purchase a 24-hour card that gives you access to bikes all around the city for a day.
Of course, taking a taxi around the city is always an option, although traffic does tend to be an issue in rush hour, so be careful of the times you choose to take this form of transport. Taxis are also more expensive than other forms of transport, so we wouldn't recommend it if you're on a budget.
Boston Public Garden | Boston Pond | Isabella Stewart Gardner Museum | Trinity Church | Little Italy
If you're only spending one day in Boston, it's important to hit some of the most popular tourist attractions in Boston . You'll spend the day strolling through the Boston Gardens and taking a ride in the famous swan boats, before checking out an art museum, Trinity Church and finally exploring Little Italy!
Day 1 / Stop 1 – Stroll Through the Boston Public Garden
Why it's awesome: A large garden located in the heart of Boston, which is also the perfect place for a morning stroll.
Cost: Free!
Food nearby: The Friendly Toast Restaurant is a local favorite for those looking for early morning breakfast! After a stroll in the gardens you're sure to have worked up an appetite, so be sure to try their delicious French toast or their incredible gluten-free pancakes!
Boston Public Garden is the oldest public garden in America, giving it a very old-timey feel. A Victorian bridge crosses the pond, and intricate statues are scattered around the lawns.
There is a series of paths that wind their way through the lawns, providing visitors with a wonderful view of the English-style garden. There is a formal garden area that was planted by the city in an attempt to make the garden even more appealing than it already is. The flowers planted blossom throughout the year to create a beautiful show.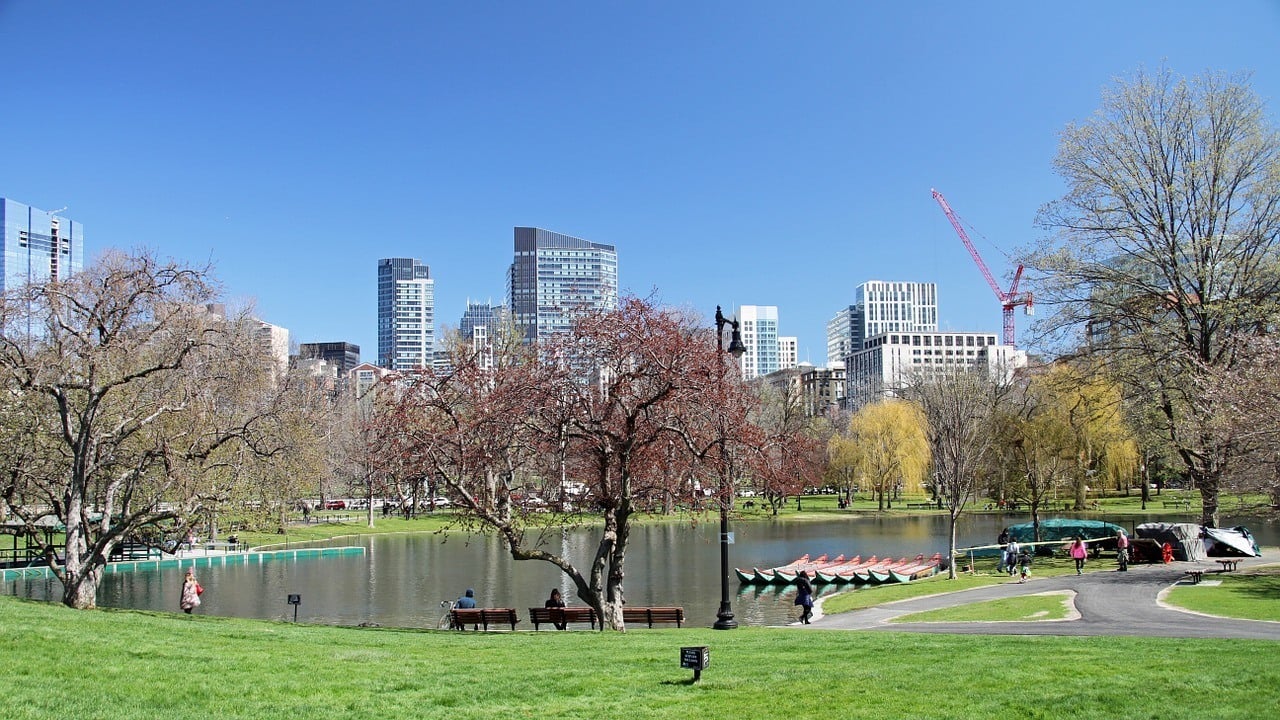 The pond that acts as the centerpiece for the public gardens is home to a great number of ducks in the warmer seasons, as well as a few swans. There are even swan boats that have become a very popular tourist attraction in Boston during the summer.
While going for your morning stroll in the public gardens, be sure to look out for the Equestrian statue of George Washington, which is a very interesting piece that seems to have gained popularity over the years.
Day 1 / Stop 2 – Ride on the Pond
Why it's awesome: There are many ways to enjoy the pond, depending on what time of year you decide to visit Boston.
Cost: Adults USD $4 and Children USD $2.50
Food nearby: Saltie Girl is a highly unique restaurant that has become a favorite amongst the locals. They serve incredibly fresh seafood in a diverse range of dishes, and boy do they do it well! The atmosphere is also lovely.
After strolling around the Boston Public Gardens, you're sure to be in need of a ride around the pond. Since 1877, there have been boats that sail the pond that are adorned with a swan body at the back of the boat.
If you decide to go for a ride, you'll hop in the boat and be paddled around the pond by a tour guide who sits comfortably in the swan part of the boat. This can be a very peaceful and fun experience for the whole family!
Unfortunately, the boats are only in operation during the summer months. But that doesn't mean that in winter you miss out on all the fun. The pond is only 3 feet deep, so it freezes over easily in winter and makes for the perfect ice rink.
Be sure to take a skate on the ice if you do happen to be staying in Boston during the colder months.
Day 1 / Stop 3 – Visit the Isabella Stewart Gardner Museum
Why it's awesome: The Isabella Stewart Gardner Museum is a woman's personal collection of artworks that she and her husband collected throughout their lives.
Cost: USD $15
Food nearby: Wahlburgers is a famous burger joint starter by Mark Wahlberg and his brothers. They serve deliciously meaty burgers as well as a multitude of other delectable main courses. Be sure to try their spiked milkshakes if you'd like a creamy treat to get your buzz on!
The Isabella Stewart Gardner Museum is housed in the personal home of Isabella Stewart Gardner and shows off her personal collection of incredible artworks.
In the museum, you'll find artworks from famed artists such as Botticelli, Titian, Fra Angelico, and John Singer Sargent, as well as many others.
When Isabella passed away in 1924, she instructed in her will that her house should be opened to the public as a museum. Unfortunately, in 1990 there was an art theft at the museum and 13 paintings were stolen. Amongst them were artworks from Rembrandt and Vermeer, as well as 11 others that were never recovered.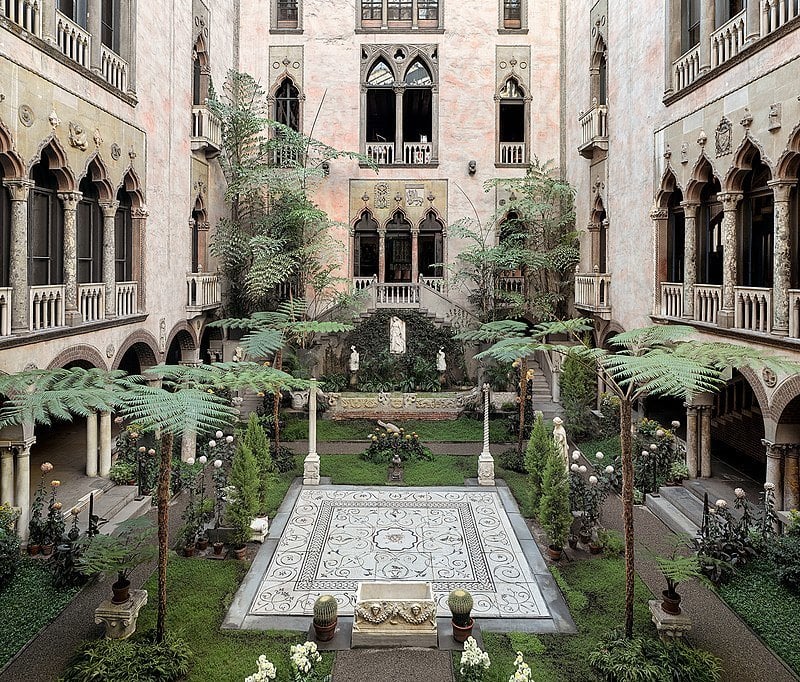 There is also a beautiful garden in the center of the museum, which is a lovely place to sit and relax, as well as taking a photo under the luscious vegetation.
Isabella was a Boston Red Sox fan, so anyone wearing Red Sox paraphernalia when visiting the museum gets a discounted entry fee. Discounts will also be given to anyone named Isabella!
Day 1 / Stop 4 – Visit Trinity Church
Why it's awesome: The original Trinity Church was built in 1733 but was burnt down in the famous Great Boston Fire. The current version was built shortly afterward to replicate the original.
Cost: USD $10
Food nearby: Eataly Boston is a fantastic collection of indoor restaurants that provides you with a wonderful selection of delicious Italian food. With one communal dining area, visitors can all get their meal from a restaurant that suits their preferences whilst still dining together. Expect a selection of wonderful pasta dishes, seafood delights and a wide selection of delicious comfort food.
Trinity Church is the first Romanesque style building to be built in Boston and makes a real statement in its surrounding area. The church is still operational to this day, as people go to worship every Sunday!
For a small entrance fee, you'll get the opportunity to tour this Boston landmark and see the incredibly intricate architecture that makes this building so great!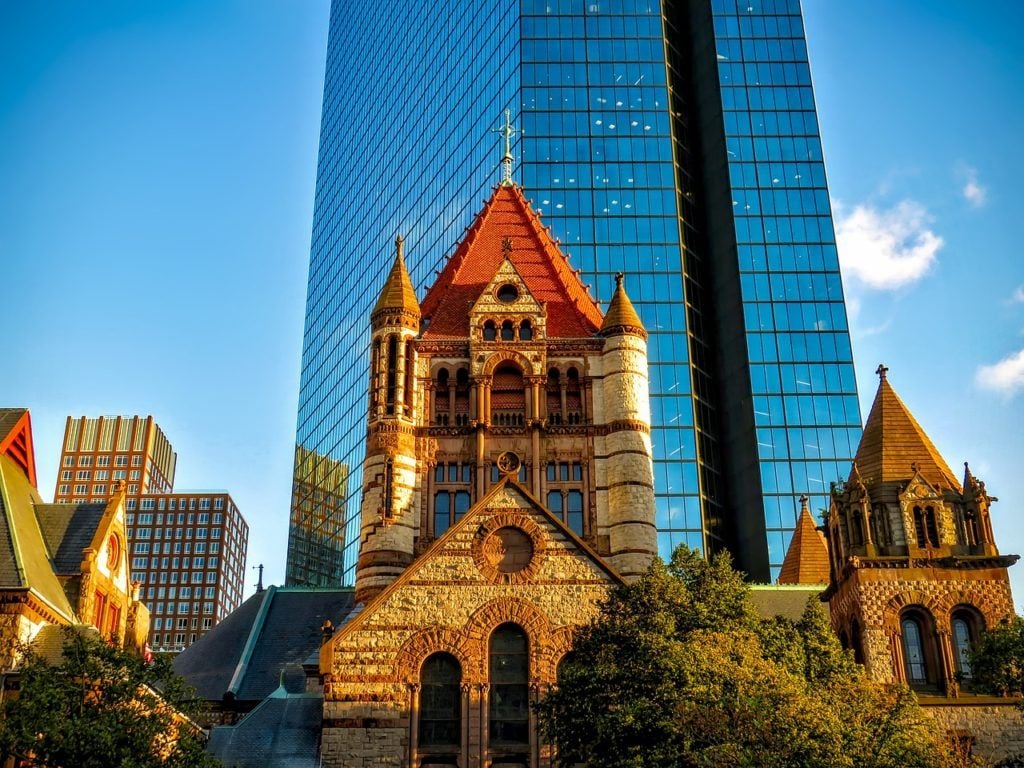 The building is built in the shape of a Greek cross, which was truly unique for its time, and it features murals by the famed artist John La Farge. The stained glass windows were done by various different artists but remain a prominent feature of the beautiful church.
Trinity Church consistently ranks in the top 10 for America's most significant architecture and is a wonderful sightseeing adventure.
If you're a fan of statues, ornaments, paintings, and intricate architecture, be sure to add this amazing activity to your Boston itinerary.
Day 1 / Stop 5 – Take a Walk Through Little Italy
Why it's awesome: Little Italy is the oldest inhabited area in Boston and has the same feel as a quaint cobbled street in Italy.
Cost: Free to explore!
Food nearby: La Famiglia Giorgio's Restaurant is a family-friendly restaurant that serves delectable Roman cuisine in healthy portions! If you're looking for a wonderful mix of Italian seafood dishes and other hearty meals, then this is the perfect restaurant for you to visit during your time in little Italy. Be sure to add this wonderful restaurant to your Boston itinerary! If you have more time, you could even take a food tour of Little Italy in Boston !
Taking a stroll through the cobbled streets of Little Italy is one of the most amazing Boston points of interest. Many of the buildings in this area were built during the late 1600s and early 1700s, so they're lots of fun to look at and to explore.
In the early 20th century, the area experienced an influx of Italian immigrants and remains the most popular place for Italians to frequent in the city.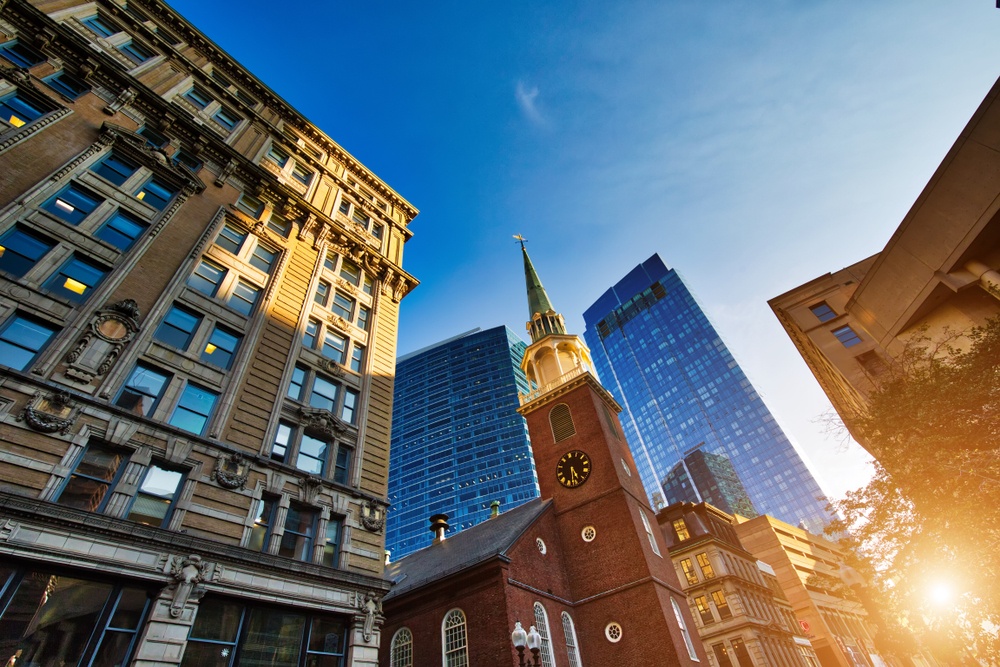 The neighborhood has maintained its Italian character over the years and is now home to a variety of Italian restaurants, bakeries, and vendors.
On the last weekend of August every year, the area hosts The Feast of All Feasts , where you can experience vendors lining the streets selling wonderful smelling and tasting delights. If you're not in the area during this time, there are still plenty of tasty treats for you in the surrounding restaurants and from vendors in the area.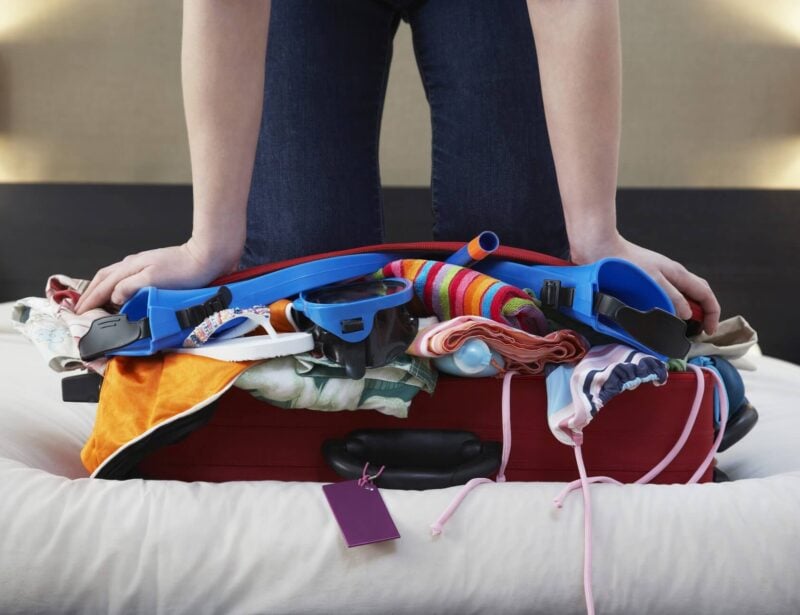 Wanna know how to pack like a pro? Well for a start you need the right gear….
These are packing cubes for the globetrotters and compression sacks for the  real adventurers – these babies are a traveller's best kept secret. They organise yo' packing and minimise volume too so you can pack MORE.
Or, y'know… you can stick to just chucking it all in your backpack…
Bunker Hill Monument | USS Constitution Museum | Museum of African American History | Greenway Carousel | Boston Common
If you're spending 2 days in Boston , you're going to need more activities. You'll climb a monument, visit two museums, ride a very unique carousel and end the day in Boston Common.
Let's dig into day 2 of your 2 day itinerary in Boston!
Day 2 / Stop 1 – Climb Bunker Hill Monument
Why it's awesome: Bunker Hill was where the first battle between colonial and British forces took place in America.
Cost: Free to visit!
Food nearby: Monument Restaurant and Tavern serves delicious and unique brunch meals that will fill the hole in your stomach created by the invigorating climb to the top of Bunker Hill Monument. Enjoy a variety of comfort food options in a cozy setting that allows you to sit back and relax while indulging in your meal.
The Bunker Hill Monument was built in remembrance of the first bloody battle between colonists and the Britsh forces and stands an impressive 67 meters tall. After picking up a free climbing pass at the bass of the monument, you'll be able to climb right to the top, which provides spectacular views of the beautiful city!
At the base of the monument, you'll see a metal statue of Colonel William Prescott, who was the leader of the rebel forces. He was the one who gave the famed instructions "Don't fire until you see the whites of their eyes".
Although the British won that battle, it was a significant one that proved how much damage the rebels could inflict on them.
Climbing the monument is an activity you simply must add to your Boston itinerary as you'll get the chance to enjoy panoramic views of the city below. Be sure to take your camera along for this activity as the sight is incredible!
Day 2 / Stop 2 – Visit the USS Constitution Museum
Why it's awesome: The USS Constitution is the oldest commissioned naval vessel in the world that is still afloat.
Cost: USD $10 – USD $15
Food nearby: Brewer's Fork is a cozy and rustic restaurant that serves delicious wood-fired cuisine. The pizzas are fantastic and the other dishes are very comforting! It's the perfect place to stop off for lunch before heading to the next activity on your Boston itinerary!
The USS Constitution was commissioned by President Washington and set sail to the high seas in 1797. The ship is best known for defeating five British warships in the war of 1812. The ship now sits in the naval yard, and contains a whole host of wartime and maritime memorabilia, and serves the public as a museum.
Visitors are allowed to board the ship and explore the decks as well as take photos onboard.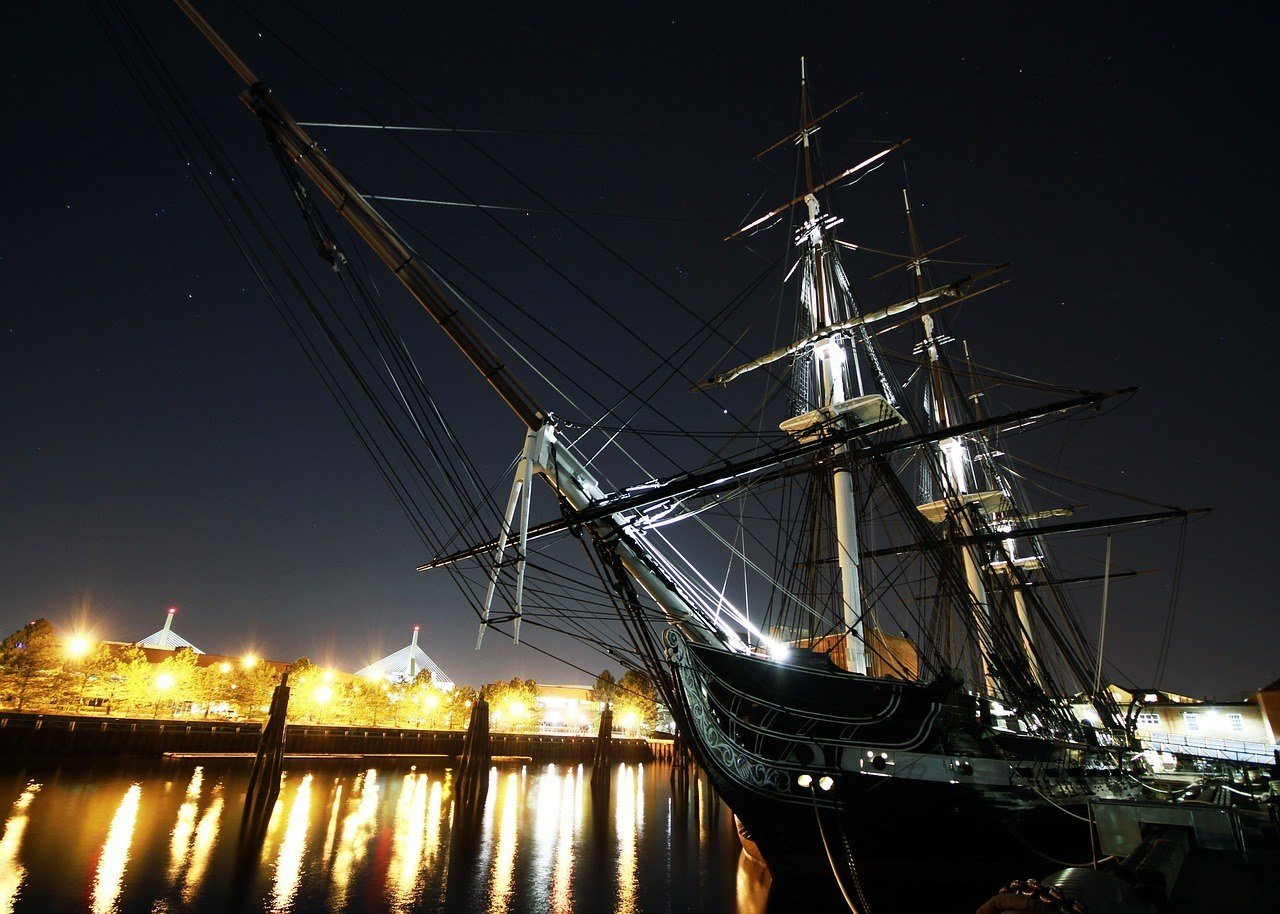 The wooden-hulled ship is known lovingly by Bostonians as Old Ironside and matches the old-timey feel of Boston city as a whole.
If you care for a stroll around the navy harbor, it's always an educational experience and is one of the best places to visit in Boston . You can take a guided tour of the harbor, or venture out on your own. Either way, you'll have a learning experience second to none.
Day 2 / Stop 3 – Explore the Museum of African American History
Why it's awesome: The Museum of African American History is an informative museum that gives you the opportunity to learn about slavery and segregation in Boston.
Food nearby: The Paramount serves American style comfort food in a cafe style diner that has a wonderful atmosphere. Tuck into a pancake stack, fluffy french toast or a juicy burger that will tantalize your taste buds.
The building in which the Museum of African American History is housed was built in 1835 as Abiel Smith School and was the very first public school in Boston for African American children.
It was used for this purpose for twenty years until in 1855, when African American children were integrated into all public schools.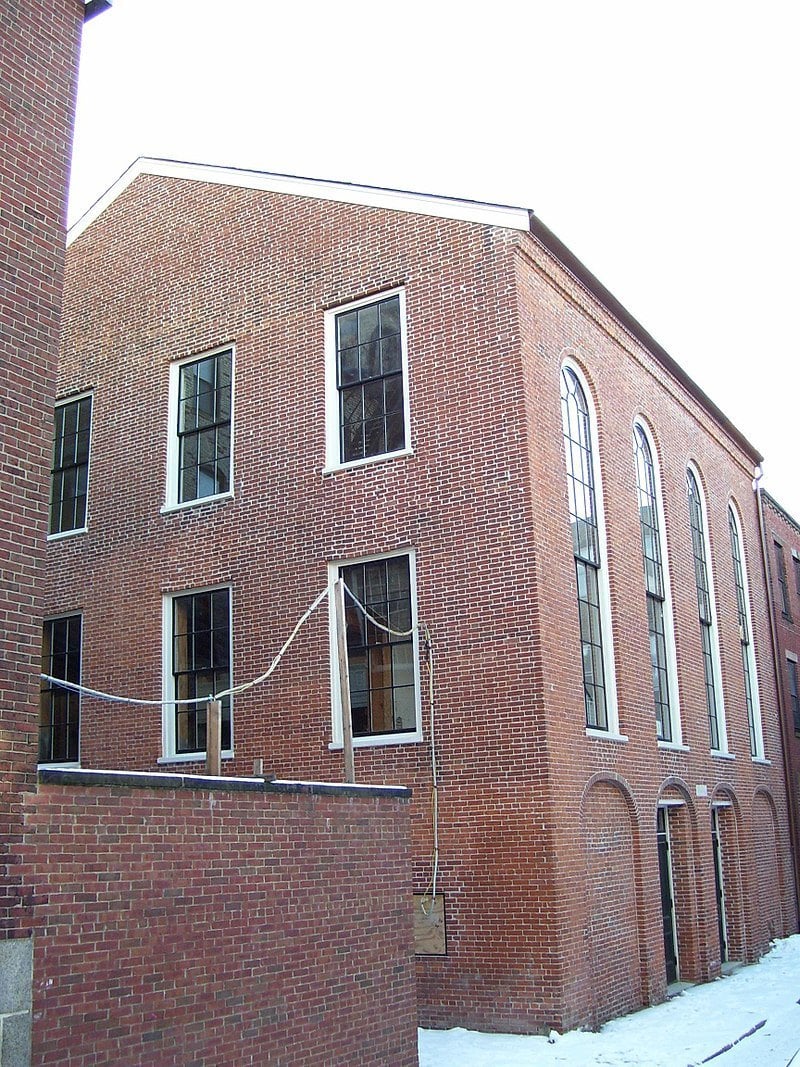 The museum not only shows what the school was like when it was in operation but also what life was like as an African American individual during the 1800's.
If you're interested in the history of oppression in the city, then this museum is a must-see on your Boston itinerary.
The museum is part of the Black History Tour that is run in Boston, so if you're planning on taking the tour, then give this activity a skip on the 2nd day of your Boston itinerary.
Day 2 / Stop 4 – Ride the Greenway Carousel
Why it's awesome: The Carousel is located in the Tiffany & Co Foundation Grove and is a fairly new addition to the grove.
Food nearby: Fogo de Chao Brazilian Steakhouse is an upscale restaurant that serves a wonderful variety of delicious Brazilian cuisine. They specialize in meat dishes but also have a fantastic selection of vegetarian meals. If you haven't tasted Brazilian cuisine, this is the perfect place to try it for the first time, so be sure to add this tasty experience to your Brazilian itinerary.
The Greenway Carousel is an activity that's not only for kids but for adults too! The carousel contains a variety of different animals that you can ride, all of which are native to Boston. This makes the experience all the more unique and educational.
You can find lobsters, harbor seals, owls, grasshoppers, bunny rabbits, and eagles, as well as a whole hoard of other animals.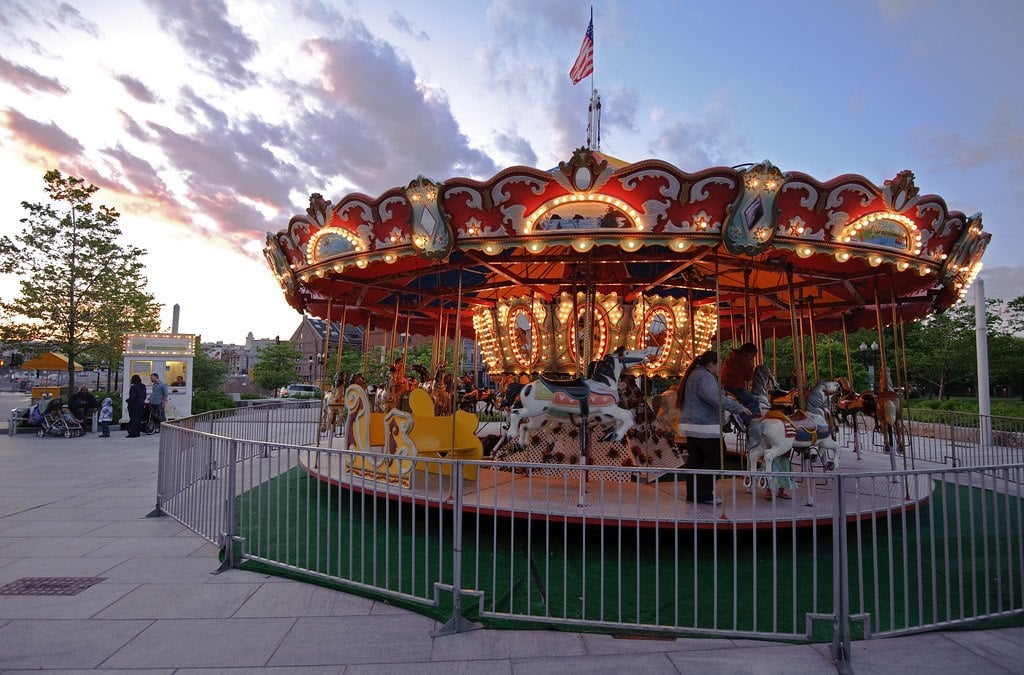 The carousel was designed with adults and children with physical disabilities in mind. So you'll find it's very easily accessible and has many features that make it a more inclusive experience.
Unfortunately, the carousel only operates on Fridays and Saturdays, so it's great for a weekend in Boston , but you can visit on any day just to see what it looks like. Each animal on the carousel is a work of art, and worth going to see whether it's on or not.
Be sure to take your camera along for this activity.
Day 2 / Stop 5 – Stroll the Boston Common
Why it's awesome : The Boston Common is the oldest park in America as it's been in use since 1634.
Food nearby: Pho Basil serves a mix of authentic Thai and Vietnamese cuisines. They serve a multitude of Vegetarian, Vegan, meat and fish dishes, so there really is something for everyone's taste buds and dietary requirements. The meals are served in a generous portion which you'll be very grateful for after a day of exploring and adventuring.
This 50-acre park is one of the most popular Boston landmarks as it's visited by locals and tourists daily. We recommend visiting the Boston Common in the early evening when locals are on their way home from work, and often stop for chat or a vendor meal in the park.
The Boston Common was once a cow pasture, and then a British camp, before becoming an execution ground. Luckily for us, the area is a lot calmer now and has been used as a public park for almost 400 years.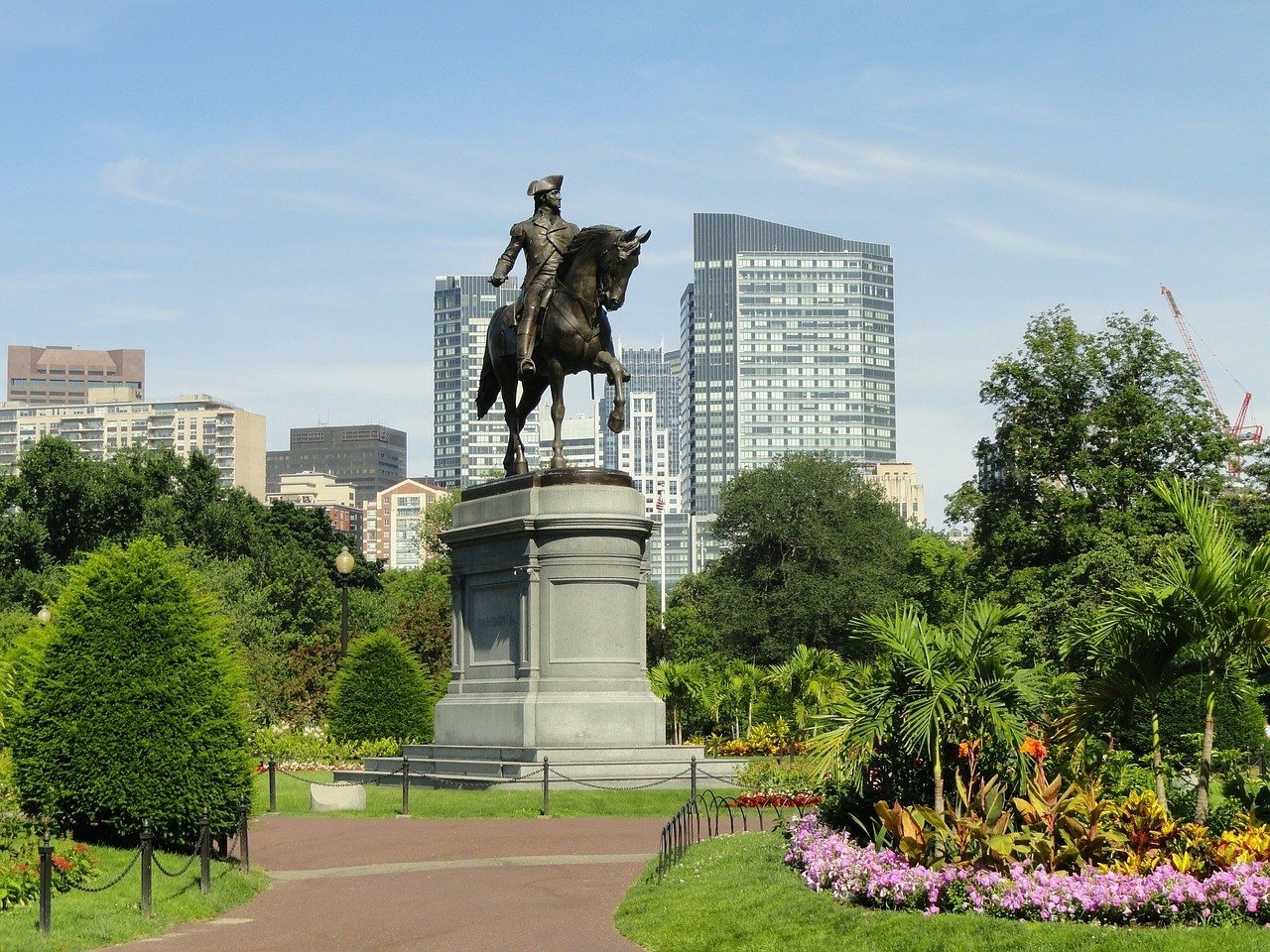 The area is often used for public speeches, gatherings, protests, and concerts. Some of the most notable speakers to give a speech at the park were Martin Luther King Jr and Pope John Paul II.
This park is one of the stop-offs in the Freedom Trail, so you'll see plenty of tour guides dressed in revolutionary period clothing.
HI Boston offers an incredible communal setting that leaves you feeling refreshed to start touring Boston every morning!
Free Breakfast
Reception (limited hours)
Freedom Trail | Black Heritage Trail | Boston Harborwalk | Harvard Yard | Mapparium
If you're spending 3 days in Boston, you're going to need a few more activities! Here's what to do in Boston if you're staying for a few more days!
Walk the Freedom Trail
5-mile walk
16 historically significant sites
The Freedom Trail is a wonderful activity to take part in during your time in Boston. Although there are many guided tours that take you along the Freedom Trail, it's easy enough to take the tour on your own.
A series of bronze markers are embedded in the sidewalk, which point you in the right direction and allow you to follow them all 2.5 miles!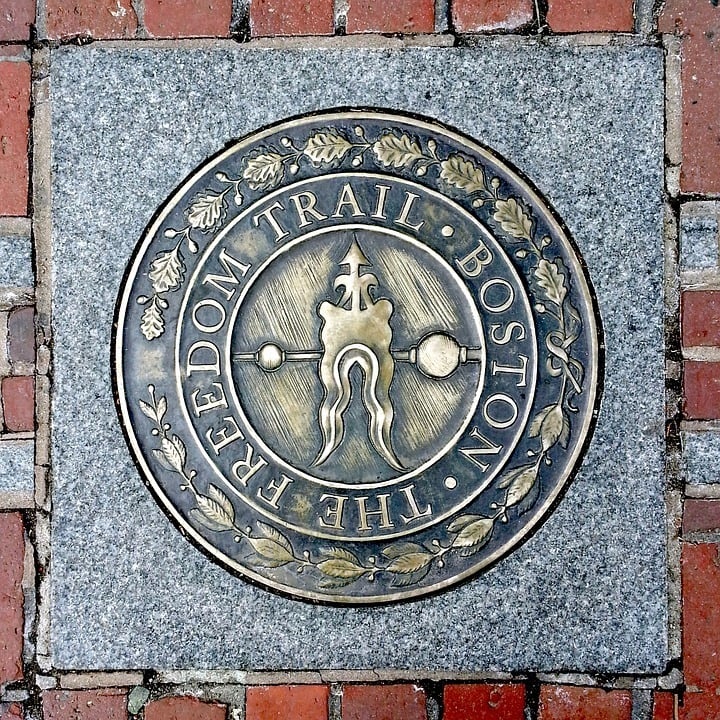 Along the way, you'll get to stop-off at 16 historically significant sites, where you can learn a little more about the cities past before continuing along the route. The great part about taking a self-guided tour is that you decide where you'd like to spend the most time. You can also take a break to enjoy lunch at a restaurant or street-food vendor of your choice.
Most of the stops along the route are free to visit, which makes this great value for money as you'll only have to pay admissions at 3 of the 16 sites (Paul Revere House, the Old South Meeting House, and the Old State House). If you're on a tight budget, you can give these places a skip.
If you're a history lover, then this activity simply must be added to your Boston itinerary!
Black Heritage Trail
Boston walking tour
5 mile walk
Beacon Hill neighborhood
The Black Heritage trail leads you down a 1.5 mile trail where you'll get the chance to visit some of the most significant places in Boston relating African American history. The Beacon Hill neighborhood was home to Boston's black population before the civil war.
After the civil war, the African American people staying in Beacon Hill were integrated into the rest of the city with all the other Bostonians.
Along the trail, you'll visit the 54th Massachusetts Regiment Memorial which is situated in the Boston Common. You'll also visit the African Meeting House, which was a secret meeting place for African American individuals before the civil war.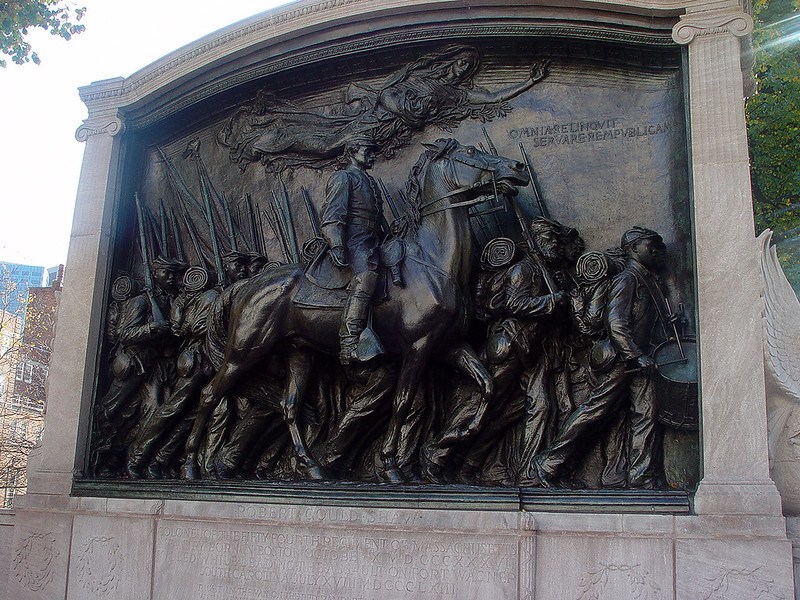 You'll then visit the Lewis and Harriet Hayden House which is the home of the famed abolitionists. There you'll learn about the plight of African Americans who were fighting for their rights. You'll visit a few more sights, including the first public school for African American children.
There are tours that can lead you along the trail. These take place a few times a day and may offer extra insights into the past, however it is easy enough to take yourself on the trail if you'd like to save some cash!
Take the Boston Harborwalk
47 miles long
Stunning views
Activities along the way
The Boston harborwalk is something you have to do while you're in the wonderful city! Although the walk is rather long and you probably won't be able to walk all the way (especially in one day), you could hire a bicycle, or just complete part of the walk on foot.
It's a wonderful way to end off the day, walking along the seaside while the sun sets. There are also plenty of activities to take part in along the way if you'd like to make a day of it.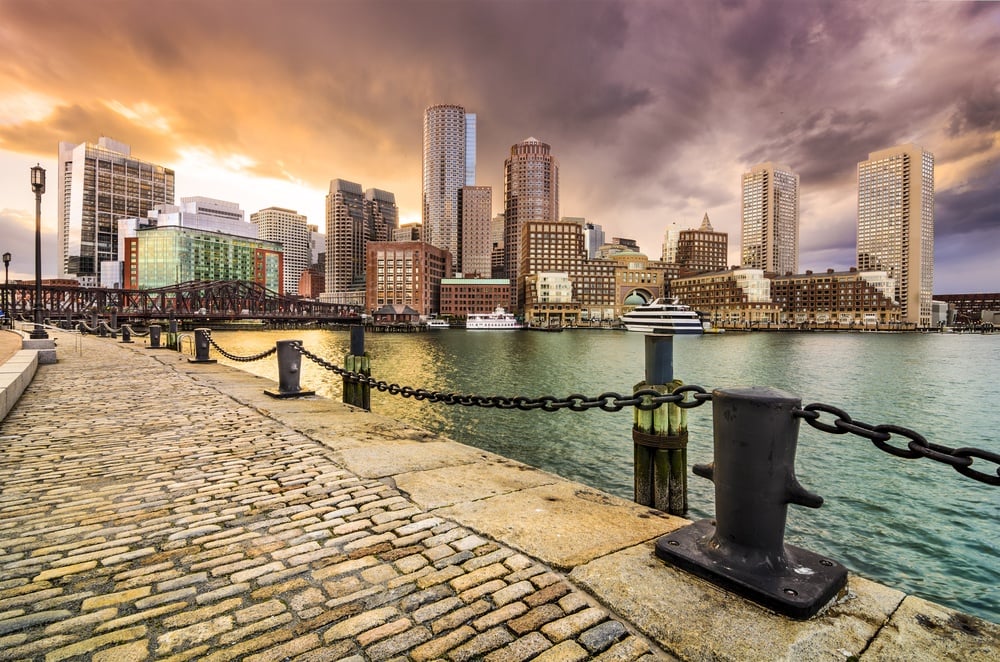 While you enjoy stunning views of the city and the sea, be sure to stop at the USS Constitution, the Boston Tea Party Museum, the New England Aquarium, and the Institute of Contemporary Art.
End your day of exploring at Castle Island, a piece of Boston that juts out into the ocean and contains many of the best restaurants, cafes and high-end shops in the city.
If walking that distance seems a little intimidating, why not take a boat ride or a cruise along the shoreline to experience the route from a different perspective. If you're spending more than a week in Boston, be sure to complete the route before you leave as it's quite an accomplishment! It will leave you with some great memories and magnificent views etched into your memory.
Explore Harvard Yard
The oldest part of Harvard University
The central hub of Harvard
Surrounded by attractions
The Harvard Yard is the central hub of the university, and is a great place to pick up on the atmosphere of this incredibly diverse school. Here you'll find students playing outdoor games, whether it be a game of frisbee or a quieter game of chess.
In the Harvard Yard, you'll see the John Harvard Statue to commemorate one of the founders of the university in 1638. The statue is made of bronze and serves as an integral part of the yard.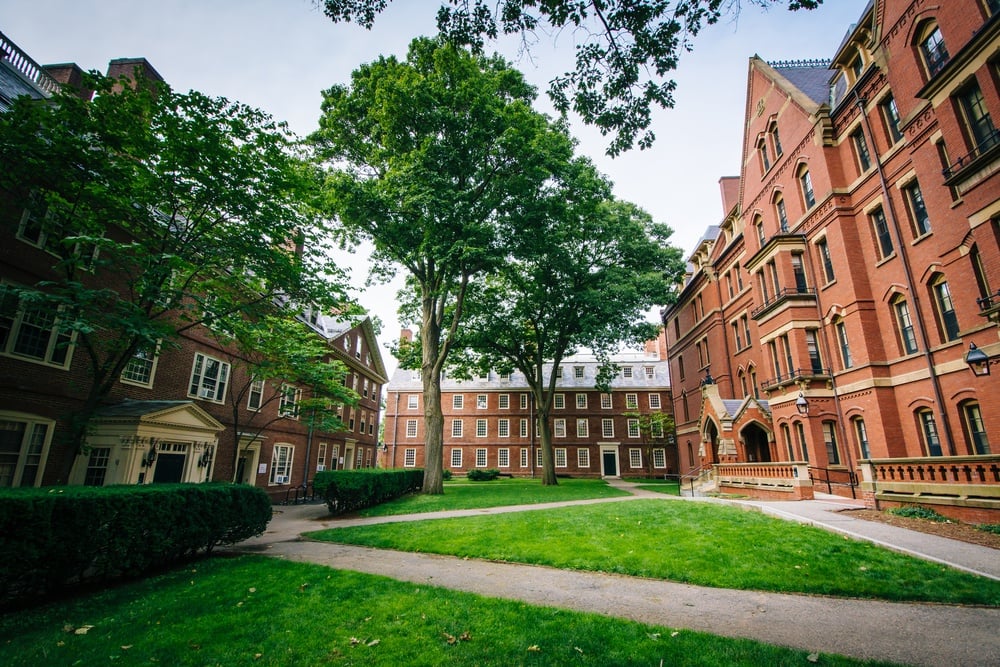 The Harvard Yard is the oldest part of the university and is surrounded by the Harvard library as well as the Memorial Church. The area opens up into the Harvard square, which consists of restaurants, bars and shops which are continually filled with cheerful students from the university!
You can roam this area of the campus as you please, and explore the different buildings that make up this wonderful university. Guided campus tours are lead by the students of the university at different times throughout the day. However, you can easily take yourself on a self-guided tour of the area!
See the Mapparium
See the world globe without distortion
Built in 1935
Three-story map
The Mapparium can be found in the headquarters of the Christian Science Monitor. It's a huge glass globe the size of a three-story building. To view the globe, you step inside and view it from the inside.
The Boston Mapparium is the only place in the world where you can see the entire globe without a distorted perspective. If you stand in the middle of the floor, your eyes will be equidistant to every point on the map, allowing you to see the globe for the first time, as it really is.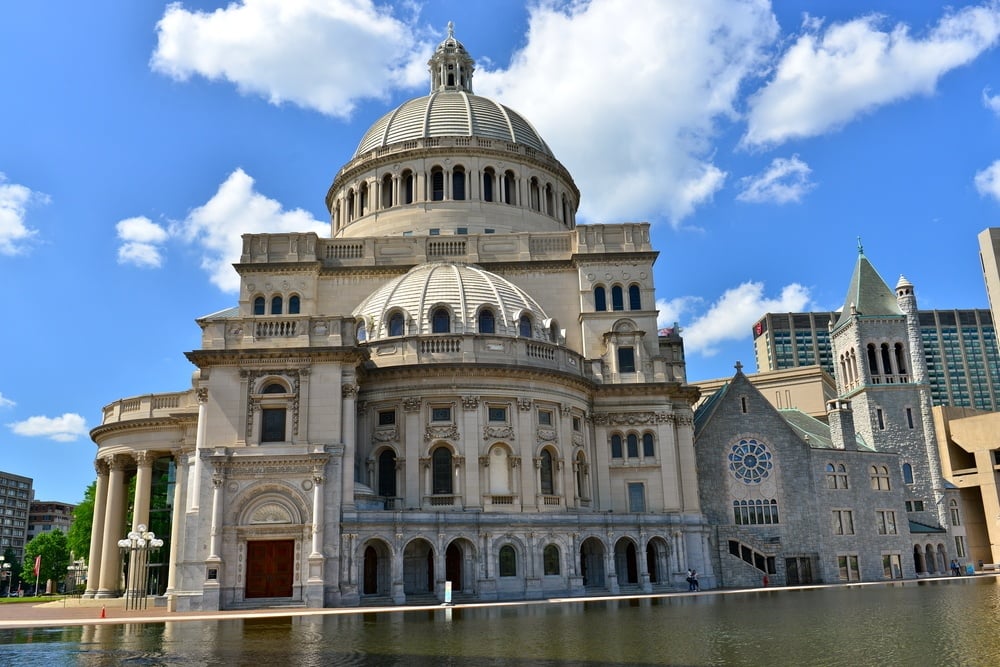 The globe was built in 1935 and lights up so that you're able to see each point accurately. The perfect spherical shape of the globe allows this masterpiece to be a whispering gallery too. If you whisper into one side of the globe, another individual will be able to hear you at the opposite end of the globe.
In order to enter, you'll have to take a guided tour which takes place every 20 minutes. Be sure to check the tour times before venturing out to the awesome Boston attraction.
If you're a fan of geographical artifacts, this is a wonderful thing to do. Although some of the names of the countries are a little out of date, you'll still find it to be very geographically accurate!
We've tested countless day packs over the years, and now we've found our absolute favourite: the traveller-approved Osprey Daylite Plus .
Want more deetz on why we love it  so damn much?  Then read our comprehensive review for the inside scoop!
For the most part, Boston is a fairly safe place. However to pass a safe vacation in Boston you should excercise some precautions. In recent years, theft has become a bit of a problem in recent years so it's important not to avoid "run down looking" neighbourhoods.
Crime tends to increase at night in quiet areas, so be sure to stick to the more populated areas if you find yourself out and about during the evening.
Smoking in Boston is forbidden in most areas! To ensure you don't get into trouble with the law, make sure you don't start lighting up just anywhere. There are actually only a handful of places you're allowed to smoke, so be sure to check for a sign stating you're allowed to smoke before lighting that cigarette.
If you're visiting Boston in winter, it's important to be prepared. Bring shoes with rubber soles and warm jackets as it can snow at any time during the winter months. You don't want to get caught in a sleet storm unprepared!
Don't Forget Your Travel Insurance for Boston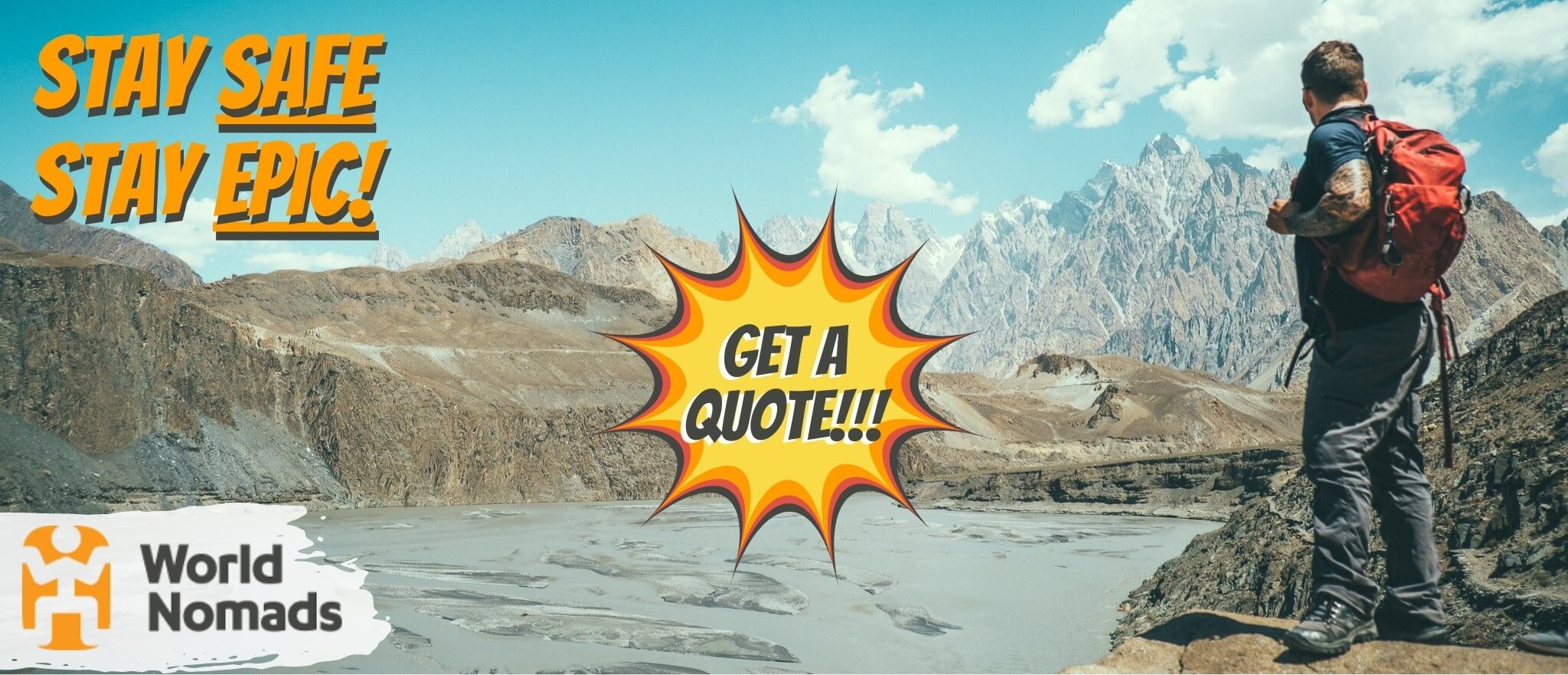 World Nomads ' mission is to support and encourage travellers to explore their boundaries. They offer simple & flexible travel insurance, and safety advice to help you travel confidently.
They've been doing it since 2002 – protecting, connecting, and inspiring independent travellers just like you.
Get a quote below or read our in-depth review!
World Nomads provides travel insurance for travelers in over 100 countries. As an affiliate, we receive a fee when you get a quote from World Nomads using this link. We do not represent World Nomads. This is information only and not a recommendation to buy travel insurance.
If you're spending a little more time in this wonderful city, you should consider taking a few day trips from Boston . Here are a few of our favorite day trips that you should be adding to your Boston itinerary!
Boston Duck Tour
The Duck is a unique amphibious vehicle that allows you to discover Boston from a completely different perspective. A duck is a vehicle that was used during World War II to travel on both land and in the water.
You'll start off touring the historic streets of Boston before plunging into the Charles River, where you'll enjoy an 80-minute tour of the city. Along the way you'll get the chance to learn about the unique heritage of the city that gave birth to freedom in America.
All this while enjoying splendid views of the city from the perspective of the water!
Guided Tour of Fenway Park
Fenway Park is home to the beloved Boston Red Sox Baseball Team. On this guided tour, you'll learn about the stadium which is now over 100 years old and about it's famous home team.
You'll learn about the many unique features of the Fenway Park Stadium and about the careers of some of its very best players. You'll also browse the stadiums 170,000 artifacts and over 150,000 photographs.
If you're a sports fanatic, this tour is the perfect one for you while you're visiting Boston.
The Boston Tea Party Interactive Day-Trip
During this Boston day-trip, you'll get the opportunity to go back in time, and learn about the Boston Tea Party , which triggered the American Revolution. The Boston Tea Party was a protest against unfair taxes, so you'll get the chance to throw tea overboard to recreate the actions of the sons of liberty.
Along the way, you'll see holographic characters that will teach you about the events that triggered the American Revolution. You'll also explore a replica of 2 of the Tea Party Ships that belonged to the Dutch East India Company.
Boston Guided Trolley Tour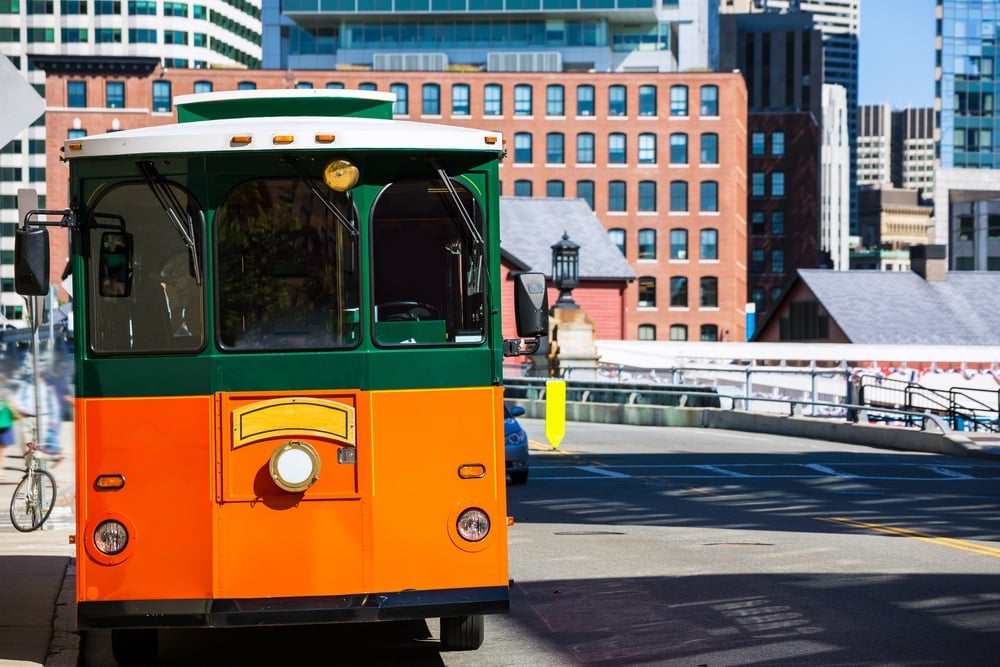 On this trolley tour, you'll travel past 120 of the best sightseeing highlights in Boston. You'll travel through Beantown from Little Italy, all the way through to the waterfront. Be sure to take an amble around the waterfront as there are a myriad of awesome restaurants and wonderful shops to explore.
You'll be able to stop for photos at any point along the route, so be sure to bring your camera along for this adventure!
You'll follow along the freedom trail, stopping off at many of its main attractions before the tour comes to an end.
Martha's Vineyard Day Trip and Island Tour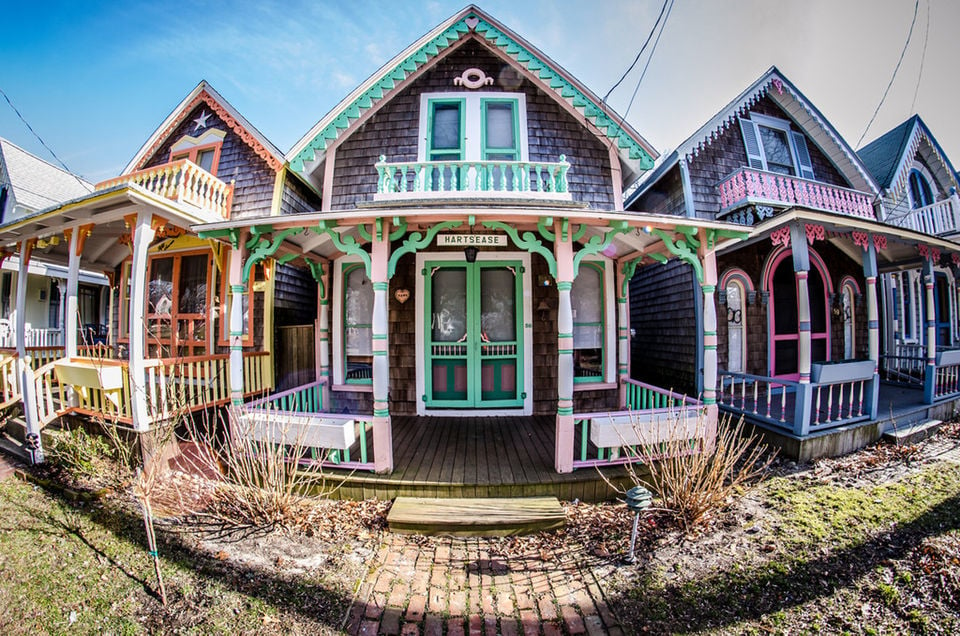 Take this day trip from Boston that gives you the opportunity to travel to Martha's Vineyard without the hassle of booking land and ocean transport.
On the tour you'll see the homes of many famous celebrities, a gingerbread house and America's oldest carousel. All of which are great sightseeing opportunities.
Enjoy magnificent views as you travel through the water to the wonderful island. You'll visit all 6 towns on the island before hopping back on a ferry and heading back to Boston. The tour is all-inclusive so snacks and lunch will be provided during the day.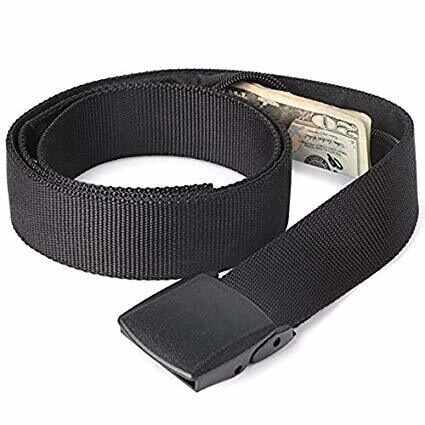 Stash your cash safely with this money belt. It will keep your valuables safely concealed, no matter where you go.
It looks exactly like a normal belt  except for a SECRET interior pocket perfectly designed to hide a wad of cash or a passport copy. Never get caught with your pants down again! (Unless you want to…)
Find out what people want to know when planning their Boston itinerary.
What should you include on a 3 day Boston itinerary?
Make sure to check out these Boston hotspots: – Little Italy – Bunker Hill Monument – Boston Common – Black Heritage Trail
Where should you stay for a weekend in Boston?
Back Bay is a great option if you're short on time as it offers easy access to top attractions. For nightlife, base yourself downtown.
What can you do in one day in Boston?
Walking the Freedom Trail (or part of it) is a great way to see Boston's top historical attractions. Head to Little Italy for food, and chill out in the Public Garden.
Are there any good day trips from Boston?
There are plenty of Boston trips to choose from. Hop on a Boston Duck Tour, a guided Trolley Tour, or head out to Martha's Vineyard for an island tour.
Boston being one of the oldest cities in the United States has so many heritage sights to see and history lessons to learn. Although the city does have a dark past, Boston is also the birthplace of freedom in America.
Boston leaves little for the heart to desire as it provides sea-side views, as well as a vibrant city life that is comparable to that of the hustle and bustle of New York.
Stroll through the waterfront in the morning and spend the evening exploring the thriving nightlife in Boston, before heading back to one of the best places to stay in Boston.
No matter what your vacation preferences are, this holiday is sure to blow your mind and keep you coming back.
So what are you waiting for? Start booking the most exciting tours in Boston for your travels! Can you hear it? The hustle and bustle of Boston's city life is calling your name!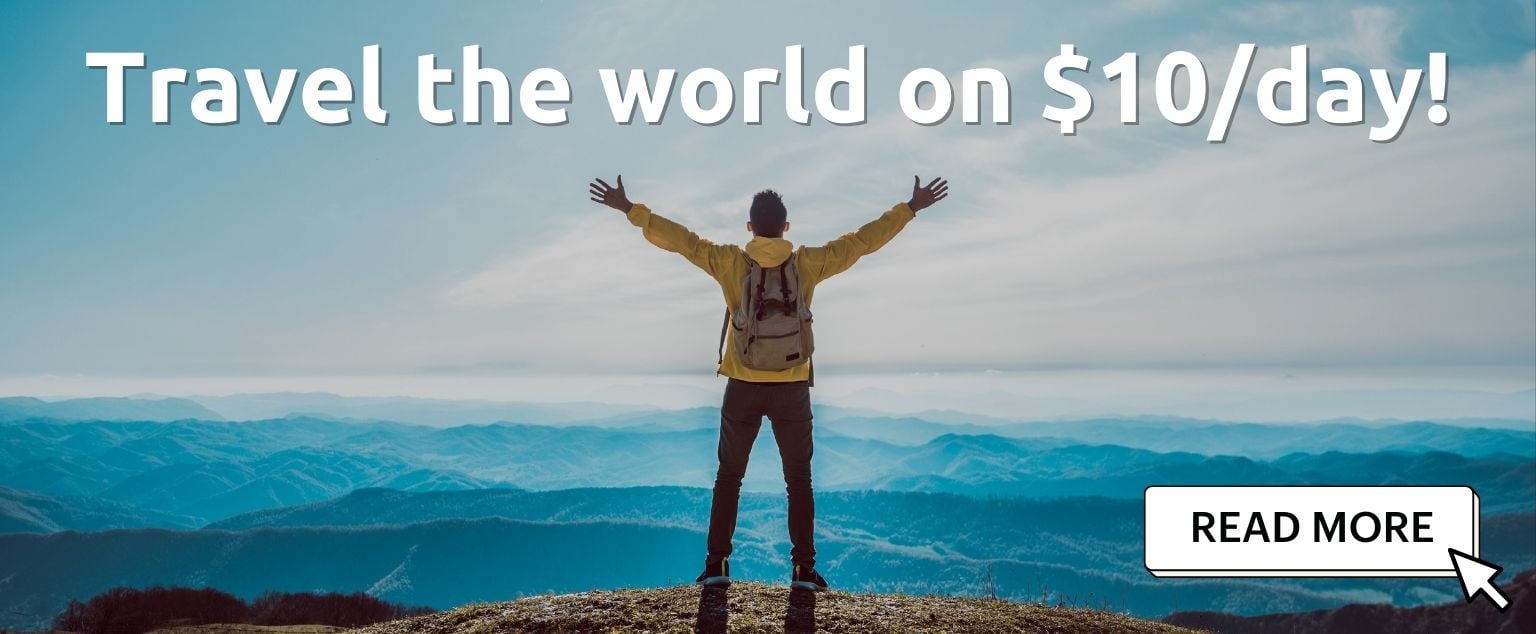 And for transparency's sake, please know that some of the links in our content are affiliate links . That means that if you book your accommodation, buy your gear, or sort your insurance through our link, we earn a small commission (at no extra cost to you). That said, we only link to the gear we trust and never recommend services we don't believe are up to scratch. Again, thank you!
Mary Beth Skylis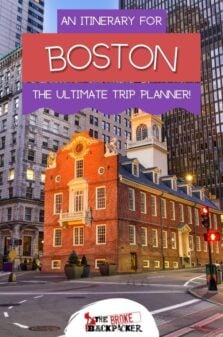 Share or save this post
Leave a Reply Cancel reply
Your email address will not be published. Required fields are marked *
Save my name, email, and website in this browser for the next time I comment.
Boston   Travel Guide
30 Top-Rated Things to Do in Boston
As Massachusetts' capital and the birthplace of the American Revolution, there's no shortage of historical sites for travelers to explore within Boston's city limits (and beyond). There's even a Boston Tea Party Museum on the harbor
All Things To Do
1-Day Itinerary
2-Day Itinerary
3-Day Itinerary
Freedom Trail Freedom Trail free
Stretching 2½ miles, the Freedom Trail weaves past 16 of the city's most historic sites, including Faneuil Hall Marketplace , the Paul Revere House and Old North Church . Taking in all of the trail's attractions requires at least half a day (and some comfortable walking shoes), but you can easily plot points of interest before you begin your jaunt from Boston Common .
Though most visitors agree the trail is easy to navigate on your own, some recommend a guided tour or downloading an app to tell you about the sites. (You'll find a handful of apps available for Apple and Android devices.) If you have a Go Boston Card, standard guided tours given by the Freedom Trail Foundation are covered by your pass.
Faneuil Hall Marketplace and Quincy Market Faneuil Hall Marketplace and Quincy Market free
U.S. News Insider Tip: Every Friday and Saturday, Haymarket (one America's oldest open-air markets) pops up adjacent to Faneuil Hall. In order to navigate this often-chaotic scene successfully make sure to bring small bills, leave bulky bags at the hotel and keep it moving on the sidewalk. - Jill LeGrow
Four buildings – Faneuil Hall, Quincy Market, North Market and South Market – constitute Faneuil Hall Marketplace, with the oldest being Faneuil Hall. Built in 1742 and now a stop on the Freedom Trail , Faneuil Hall has had a long and important history in Massachusetts politics. Samuel Adams once stood here to push for resistance against the British, and abolitionists and suffragists have stood on their soapboxes here. In fact, this is where colonists famously challenged the Stamp Act of 1764 by proclaiming, "no taxation without representation." From those illustrious days, the marketplace has expanded to include more than 100 shops and restaurants.
Boston Public Garden Boston Public Garden free
Though the Boston Public Garden sits right next to Boston Common , the two are quite different. The public garden is newer (established in 1837) and holds the distinction of being America's first public botanical garden. Flowers and trees are beautifully organized and kept in quality condition throughout. You can see the colorful arrangements and exotic trees from the 6-acre pond as you glide along the water in a Swan Boat. Additionally, the park houses two of Boston's most iconic statues: Make Way for Ducklings (a bronze sculpture of a duck and her eight ducklings) and a sculpture of George Washington (which shows America's first president riding on a horse).
Visitors looking to relax after sightseeing will enjoy the Boston Public Garden. Parkgoers say you'll find plenty of shade beneath the park's trees, which comes in handy on hot summer days. Plus, you'll likely spot some ducks and geese swimming around the lagoon. And if you have a few dollars, visitors recommend taking a 15-minute ride on a Swan Boat. The large paddle boats cost $4.50 to ride (or $3 for kids ages 2 to 15 and $4 for seniors); travelers with Go Boston Cards ride for free. Swan Boats are usually available between mid-April and Labor Day.
Popular Tours
Boston Holiday Cocoa Cruise
(13 reviews)
from $ 68.27
Boston Ghosts and Gravestones Trolley Tour
(1623 reviews)
from $ 47.20
Highlights of Boston Private Tour
from $ 253.72
North End North End free
Chances are you'll end up in the North End at least once during your visit to Boston. It's steeped in the city's rich history as it holds the title of Boston's oldest neighborhood and houses three attractions on the Freedom Trail . What makes this neighborhood a top point of interest, however, is its Italian culture: The North End is considered Boston's Little Italy.
While Italians weren't the first to settle in this area (English settlers arrived first then European Jews, African Americans and Irish immigrants), their cultural influence on the North End withstood the test of time. Today, you'll find all kinds of Italian food from classic pizza pies served at the popular Regina Pizzeria to Sicilian-style seafood, such as black linguine (made with squid ink) and calamari meatballs at The Daily Catch . For dinner, try Mamma Maria for fine dining, Giacomo's for its affordable, made-in-house pasta or Bricco , which sources its meats and bread from its own meat and bread shop, located right next door. If you're only interested in pizza, hit up Galleria Umberto for delectable solo slices or Antico Forno for its full-size, wood-fired pies. Prezza is known for its extensive wine list, boasting hundreds of wine labels to choose from. For dessert, make sure to pick up a cannoli at Mike's Pastry or Modern Pastry , or tiramisu at the 24-hour Bova's Bakery .
Museum of Fine Arts Museum of Fine Arts
If you want to make the most out of the Museum of Fine Arts, one of the most comprehensive art institutions in the country, then you'll need to spend a good chunk of your day here. The museum is home to one of the best art collections in the world, including the celebrated Art of the Americas wing. Inside this sprawling collection, you'll encounter galleries showcasing iconic pieces from indigenous cultures in North, South and Central America to works by contemporary artists like Edward Hopper.
You'll also find an impressive collection of Asian art here, plus works from Monet, Renoir, Manet and Rembrandt on display. And in special temporary exhibits, you can admire masterpieces from Black artists like Diedrick Brackens and Picasso, among others.
Boston Common Boston Common free
The grounds of Boston Common started as a cow pasture in the mid-1600s. It was also used for Puritan punishments, like whipping, and even for hangings. In 1768, the area was transformed into a British camp. After the Revolutionary War, the park became a popular locale for public speeches and rallies. Now, the Common is best known because of its status as the oldest public park in the country. You'll also find a variety of activities and events – including theater and musical performances and free fitness classes – hosted here throughout the year. If you plan to traverse the Freedom Trail , you'll start the walk here at Boston Common.
Though some visitors say you won't find much to do in this park, Boston Common is great for picnics or a leisurely stroll. Travelers also mention that this site is a wonderful spot to take young children. In addition to ample running room on the park's green space, kids can play at the Tadpole Playground or Frog Pond. Frog Pond offers a spray pool during the warmer months and an ice skating rink in the winter. Some visitors do note that the park tends to draw Boston's homeless population, particularly at night.
Best Boston Tours
Boston Tours
Photo Tour: Four Seasons Hotel One Dalton Street, Boston
June 26, 2023
The 15 Best Boston Tours
Aug. 22, 2022
Fenway Park Fenway Park
U.S. News Insider Tip: If you want to watch a Sox game without a ticket, head to the Bleacher Bar on Lansdowne Street. Located beneath the bleachers of Fenway, the best tables are positioned directly in front of the huge garage window that overlook centerfield. – Jill LeGrow
Fans of America's favorite pastime won't want to miss a game at Fenway Park. Home to the Boston Red Sox, this stadium has been the site of home runs, stolen bases and grounders since 1912. Regardless of whether or not you're a diehard Red Sox fan, you should try to catch a game and admire the ballpark's original architecture. Must-see features of the park include Pesky's Pole – the right field foul pole named after former Red Sox player Johnny Pesky – and the 37-foot-tall "Green Monster" wall in left field.
Isabella Stewart Gardner Museum Isabella Stewart Gardner Museum
After Isabella Stewart Gardner's husband died in 1898, the art enthusiast carried out their plan to buy land in Boston's Fenway area and open a museum to display her impressive collection of Italian art. The museum, which was fashioned after the Palazzo Barbaro in Venice , was completed in 1901, at which point Gardner moved in to the fourth floor and began installing her collection. Today, you can visit this Boston museum to get your fill of the Italian masters, such as Raphael and Titian. The building also showcases a cache of beautiful furniture, photographs, sculpture and rare books straight from Europe. The museum's New Wing, designed by Renzo Piano, includes a glass atrium, greenhouses and landscaped gardens.
The art isn't the only interesting thing here: the museum is also the site of the single largest property theft on Earth. In the wee hours of March 18, 1990, two thieves made their way into the museum disguised as police. The duo stole 13 works, including pieces by Rembrandt, Vermeer, Degas and Manet. Today, the museum has empty frames on the walls as placeholders until the art returns to the museum. As you may have guessed, the crime has not been solved and the works haven't been recovered. The museum is even offering a sizable reward ($10 million) for information leading to the art. 
Classes & Workshops
Italian Dinner with Tiramisu Finale in Boston
(67 reviews)
from $ 154.00
Asian Dumplings & Dim Sum in Boston
from $ 144.00
Intro to Sushi Making with Classpop in Boston
(5 reviews)
from $ 55.00
Boston Public Library Boston Public Library free
A library isn't always all about books. The main branch of the Boston Public Library in Copley Square, which opened in 1895, is so much more, according to recent visitors who call the architecture "beautiful" and a "must-see." Walking into the Renaissance Revival building is akin to visiting a museum. On Dartmouth Street, two immense stone lions sculpted by Louis Saint-Gaudens stand guard by the main entrance. Inside, Bates Hall, the library's main reference reading room, is a 218-foot-long room with a barrel-arch ceiling soaring 50 feet high.
Visitors can take a free tour and learn all about the murals found throughout the library, including John Singer Sargent's series on the "Triumph of Religion." Other murals include works by French artist Pierre Puvis de Chavannes, who depicted eight library-centric disciplines in "The Muses of Inspiration," and Edwin Austin Abbey's "The Quest and Achievement of the Holy Grail."
John F. Kennedy Presidential Library and Museum John F. Kennedy Presidential Library and Museum
A must for any history buffs or fans of our nation's 35th president, this excellent library and museum details the life of President John F. Kennedy. Exhibits include his presidential papers; masses of Kennedy memorabilia, including re-creations of his desk in the Oval Office and of the television studio in which he debated Richard M. Nixon in the 1960 election; and artifacts from the U.S. space program. There's permanent display on the late Jacqueline Kennedy Onassis plus plenty of other artifacts and information about Kennedy's life and presidency. The building itself is quite striking and was designed by architect I. M. Pei.
Museumgoers say that while the museum is off the beaten path (it sits about 5 miles south of downtown on Columbia Point), it is well worth the trek thanks to the exhibits and staff. However, some wish the exhibits had a more detailed explanation of Kennedy and events during his life. The views from the museum are amazing, add some visitors.
Boston Harbor Islands National and State Park Boston Harbor Islands National and State Park
If you want to get outdoors in the greater Boston area, consider hopping a ferry (which operates from mid-May through mid-October) to the Boston Harbor Islands. This collection of 34 islands located in the Massachusetts Bay boasts plenty of things to do and see including historic sites, hiking trails, beaches, wildlife and much more. Popular islands include Spectacle, Georges and Peddocks, though ferries also go to Lovells, Grape, Bumpkin and Thompson.
The 114-acre Spectacle Island is a great option for those looking to hike. Here, you'll find 5 miles of trails, including one which leads to the harbor's highest hill, offering incredible views of Boston's skyline. If you're looking for a place where you can sink your toes into the sand, head to Lovells Island. Here, you'll find secluded shorelines as well as tide pools (when it's low tide, a whopping 71 acres are added to the island's land mass). Meanwhile, history lovers will enjoy a trip to Georges Island. Georges Island is home to Fort Warren, which the U.S. government used for patrolling and training Union troops as well as housing Confederate prisoners during Civil War times. Peddocks Island, one of the largest of the Boston Harbor Islands, offers a little bit of everything. This island is considered a prime camping spot and features scenic hiking trails that pass through coastal forests, headlands connected by tombolos and the biggest beach of any island. You'll also find a little bit of history thanks to Fort Andrews and a restored chapel from World War II.
Newbury Street Newbury Street free
Located in the Back Bay along eight blocks between Massachusetts Avenue and Arlington Street, Newbury Street is home to gorgeous 19th century brownstones. It's also Boston's premiere destination for dining and shopping. Newbury Street has been called one of the most expensive streets in the world, thanks in large part to the significant cluster of expensive shops on the lower end (by numbered address) nearest Arlington Street.
Starting at the higher end, by Massachusetts Avenue, you'll find more budget-friendly retailers like TJ Maxx and Forever 21, as well longtime local favorites Newbury Comics and Trident Booksellers. In fact, Newbury Comics' opening in 1978 was the catalyst that began the transformation of Newbury Street from a heavily upper-class retail destination to a hipper, trendier spot for everyone.
Samuel Adams Brewery Samuel Adams Brewery
Despite its location outside of city center, visiting the Samuel Adams Brewery is a popular stop for beer lovers. This brewery location acts as Samuel Adams' testing facility for new and specialty brews, which patrons can try. You can also take a guided tour of the facility to learn more about the brewing process.
Whether you're a local or a tourist, odds are you'll enjoy a visit to this brewery. Visitors say the staff is knowledgeable, but note there can be long entry lines.
Water Tours
Sunset Cruise
(349 reviews)
from $ 26.34
Boston Premier Dinner Cruise on Odyssey
(121 reviews)
from $ 140.92
Cambridge Cambridge free
Cambridge, which sits about 3 miles northwest of Boston's city center, is home to both Harvard University and MIT , but there's more to see in Cambridge than just the schools themselves. The city features an impressive array of cultural institutions that feature collections and exhibitions ranging from fine art to technological innovations.
The Harvard Art Museums , which include the Fogg Museum, Busch-Reisinger Museum and Arthur M. Sackler Museum, house a wide range of periods, styles and mediums within its walls. Here, you'll find a mix of modern photography, 13th century sculpture, paintings from legends like Georgia O'Keeffe, Picasso and Jackson Pollock, and much more. If you prefer history, head to the Peabody Museum of Archaeology & Ethnology , which boasts exhibits exploring everything from ancient Latin American cultures to the evolution of American eating habits and tableware to the lives of Native Americans. If science is more your speed, head to the Harvard Museum of Natural History to view dinosaur fossils, rare minerals and animal specimens from New England to Asia.
Beacon Hill Beacon Hill free
Beacon Hill is arguably Boston's most beautiful neighborhood. Located north of Boston Common , Beacon Hill is awash with quaint, cobblestone-lined alleyways, corners dotted with gas street lamps, stately townhouses affixed with bay view windows and vibrant, flower-filled window boxes. It's Beacon Hill's incredible style, a stunning mix of Federal and Greek revival architecture, that make this neighborhood an attraction in and of itself. And recent visitors couldn't agree more.
Travelers who venture to Beacon Hill are charmed by its beauty and say that it's the perfect place to take a long stroll and wander around. While here, make sure to make your way to noteworthy spots including the picturesque Louisburg Square and Acorn Street, the latter of which is one of the most photographed places in Boston. After, head down Charles Street, where you'll find restaurants, shops and bars. Fans of the TV show "Cheers" will want to walk down Beacon Street to find the bar that inspired the program.
Old North Church Old North Church
Most people who know anything about American history have heard of Paul Revere's famous midnight ride, when he rode through town to warn people about the arrival of British troops. Before heading off to Lexington, Revere gave orders at Old North Church. Robert Newman – the church's sexton – and Captain John Pulling Jr. – the church's vestryman – then climbed the steeple and held two lanterns as a signal that the British were indeed coming, but by sea.
The church itself, which is officially named Christ Church, is filled with beautiful relics from the past, including North America's oldest set of change ringing bells and chandeliers brought in from England in the early 1700s. The pews have a long history as well; Pew No. 54 was reserved for Paul Revere's son.
Boston Children's Museum Boston Children's Museum
With a giant milk bottle structure at the front of the building, it's hard to miss the Boston Children's Museum. Here, hands-on exhibits present a fun and engaging way for kids to learn about various sciences, culture, art and health and wellness, among other subjects. Among the museum's standout exhibits are "Construction Zone," where little ones can learn about and play with kid-sized construction equipment, "The Common," where kids play with color, games and music, and "Japanese House" – a 100-year-old authentic Japanese house reconstructed in Boston by Japanese carpenters.
Museumgoers praise the variety of engaging exhibits tailored to kids within different age groups and can't recommend it enough. Others warn the museum gets crowded, especially in the summer.
Rose Fitzgerald Kennedy Greenway Rose Fitzgerald Kennedy Greenway free
Boston is packed with cool outdoor spaces, but this nearly 1½-mile-long series of parks and gardens offers more than most. The Rose Fitzgerald Kennedy Greenway was established to link Boston's diverse neighborhoods through a series of lawns, parks and walkways that occupy a former highway tunnel. Since opening in 2008, visitors have flocked to this sprawling green space to enjoy temporary public art displays, bubbling fountains, numerous food vendors and a carousel. Plus, the park offers free weekly events, including food and art festivals, summer concert performances and seasonal fitness classes.
Many previous visitors said the Rose Fitzgerald Kennedy Greenway not only offers a much-needed respite from the city, but also an easy way to explore Boston with kids during the warmer months. And, in many sections of the Greenway, you're never more than a few steps away from the Freedom Trail .
Art & Culture
Tour of Historic Fenway Park, America's Most Beloved Ballpark
(1794 reviews)
from $ 33.34
Freedom Trail: Small Group Tour of Revolutionary Boston
(2048 reviews)
from $ 39.50
Boston Tea Party Ships & Museum Boston Tea Party Ships & Museum
This hands-on museum offers an entertaining look at one of Boston's pivotal moments. You can toss (fake) tea overboard, climb around replica ships and converse with period actors about Colonial issues. Exhibits at the museum, which is located on Griffin's Wharf (close to where the actual Tea Party occurred on Dec. 16, 1773) include 3D holograms, talking portraits and the Robinson Tea Chest, an authentic tea chest from the Boston Tea Party. Two of the three ships have been recreated, the Beaver and the Eleanor, which are fun to explore. The film "Let It Begin Here" depicts the events that immediately preceded the American Revolution. You can also grab a cup of tea or a snack in Abigail's Tea Room, which has one of the best views of the harbor around.
Visitors love the interactive nature of the museum and tossing tea overboard, saying their time there was entertaining for all ages. They also add that the guides are informative and stay in character.
Museum of Science Museum of Science
If you're traveling with young ones in tow, be sure to swing by the Museum of Science. Here, kids can learn about astronomy, earth sciences and anatomy, not to mention participate in some fun interactive exhibits. Budding scientists can examine the Arctic in "Arctic Adventure: Exploring with Technology" exhibit or play on swings to learn about physics in "Science in the Park." The museum also features the Charles Hayden Planetarium, where you can indulge your inner astronaut during shows. Meanwhile, at the Mugar Omni Theater, you'll feel like you're actually in the IMAX film thanks to its cutting-edge sound technology and five-story-high projection screen.
Although the museum is very kid-focused, past visitors said that young-at-heart adults and even teens will get a kick out of the museum's engaging displays and shows. Though most travelers spend about half a day exploring the museum, you could easily allocate an entire day to this attraction. Also, remember that separate tickets (which cost extra) are needed for some museum features, such as IMAX films, planetarium shows and the Garden Walk and Insect Zoo.
Boston Duck Tours Boston Duck Tours
Wander Boston for a couple of hours and you're sure to see a Duck Tour quacking its way through the streets (and waterways). These "Truck Duck" vehicles recreate the look of a DUKW truck used by the U.S. military during World War II and transport tourists all over the city by land and water. The tours drive past a number of landmark sites including the Old State House, Newbury Street , Prudential Tower, Public Garden and the Swan Boats, and Copley Square (home to the Boston Public Library ). Once launched into the water, you'll cruise down the Charles River checking out MIT, the Longfellow Bridge, as well as the Esplanade and the Hatch Shell. 
Besides giving tours around the city, Boston Duck Tour boats have been used in all of the victory parades since 2002 for the Patriots, Red Sox, Celtics and Bruins (the city's major teams for football, baseball, basketball and hockey, respectively). What started off simply as a way to roll the Patriots through downtown Boston for a Superbowl celebration has turned into a much-loved tradition that continues today.
Boston Symphony Orchestra Boston Symphony Orchestra
Even if you're not a classical music aficionado, you can't miss attending one of the Boston Symphony Orchestra's world-renowned performances at Symphony Hall. The BSO began performing in 1881. Today, the symphony performs everything from family shows to traditional concerts and Boston Pops – a lively performance filled with singing and a variety of music. The BSO performs at Symphony Hall from September through April, then heads to Tanglewood (which is about 130 miles west of Boston) in the summer.
Past spectators not only praised the world-class talent, but also noted the impressive acoustics of Symphony Hall as a main selling point for attending future concerts. If you can't score tickets to an orchestra performance, consider taking a free tour of Symphony Hall. Tours, which are offered in the fall, winter and spring, provide information about the property, as well as insight into the orchestra's musicians and conductors.
New England Holocaust Memorial New England Holocaust Memorial free
Gaze up at the six 54-foot glass towers that comprise the New England Holocaust Memorial, and you're bound to be awestruck. Dedicated in 1995, each haunting tower is etched with numbers. The 6 million numbers represent the Holocaust's victims, while the towers represent the six major death camps. There is also a granite path covered in quotes from survivors that leads visitors inside the towers.
Recent visitors described walking through the columns as an emotionally charged and unforgettable experience. The monument's location next to Faneuil Hall Marketplace makes it very accessible while walking the Freedom Trail .
Martha's Vineyard Daytrip from Boston with Round-Trip Ferry & Island Tour Option
(2148 reviews)
from $ 115.00
Best of Boston Small Group Tour w/Boat Cruise + USS Constitution
(211 reviews)
from $ 160.00
Paul Revere House Paul Revere House
For a glimpse of what life was like in the late 1700s, head to Paul Revere's former residence in the North End . The house, which is situated on the Freedom Trail , offers insight into how homes looked in Revere's time (it's even filled with period pieces, including fine silver). Inside, history fans can admire the building's sweeping beams, spacious fireplaces and some original furnishings owned by the Revere family.
If you like American history, travelers say you'll enjoy seeing the Paul Revere House. This house is small, though, so don't allot more than an hour to tour the property. Docents are friendly and knowledgeable.
Massachusetts State House Massachusetts State House free
The golden-domed Massachusetts State House is an important building for many reasons and is one of the stops on the Freedom Trail . The land it sits on was originally used as John Hancock's cow pasture. It was designed by Charles Bulfinch and completed in 1798 and the cornerstone was laid by Samuel Adams in 1795. A copper dome was installed by Paul Revere in 1802 (later covered in gold). Nowadays, senators, state representatives and the governor conduct the Commonwealth's business here.
Free tours are offered by docents who explain the building's history and discuss the important art and architecture within. Make sure to look for the Sacred Cod in the House of Representatives Chamber. The almost 5-foot wooden cod symbolizes the importance of the salt cod industry to the area.
New England Aquarium New England Aquarium
Your kids will find plenty to love at the New England Aquarium, starting with the Atlantic harbor seals that hang out just beyond the ticket booth. Inside, you'll find thousands of marine critters to study, and at the center: the Giant Ocean Tank. This four-story tank includes a coral reef habitat that houses more than 1,000 underwater creatures including green sea turtles, eels and barracuda. In other parts of the aquarium, you'll find exhibits dedicated to penguins, sea jellies and seadragons, plus a six-story high projection movie screen with digital surround sound, where you can watch films about sea creatures and more. And don't forget to check out the Shark and Ray Touch Tank, which allows visitors to graze sharks and rays as they swim by.
While some visitors bemoan the aquarium's compact size (which, in turn, made for thick crowds), many appreciate the attraction's variety of animals. Several travelers also recommend watching a penguin or seal feeding.
USS Constitution USS Constitution free
U.S. News Insider Tip: Every July 4th, the USS Constitution takes her annual "turnaround" sail in Boston Harbor. The particular sail is the only one open to the public and the US Navy holds a lottery with the lucky winners getting to board "Old Ironsides." – Jill LeGrow
History lovers, boat enthusiasts and military aficionados alike can't miss the chance to board the USS Constitution. Docked at the Boston National Historical Park in Charlestown, this historic vessel is the world's oldest commissioned warship still operational today. It is helmed by United States Navy sailors, who also serve as the ship's guides. The ship's accompanying museums displays nearly 2,000 artifacts related to the ship's history.
Bunker Hill Monument Bunker Hill Monument free
Bunker Hill Monument is part of the Boston National Historical Park and a stop on the Freedom Trail . The first major battle of the American Revolution took place on Breed's Hill in June 1775, though originally it was supposed to take place on nearby Bunker Hill. Names aside, the British won the battle but fared worse than their American foes. The British sacrificed about nearly half of their 2,400 men; American casualties were between 300 and 500 out of an army of 1,400 to 1,800 soldiers. Construction of the monument started in 1827 and was completed in 1842. The 221-foot granite obelisk offers fabulous views from its observatory, though you have to work for it by climbing 294 steps to the top.
Start your visit at the Bunker Hill Museum, located across the street. Exhibits explain the Battle of Bunker Hill, the construction of the monument, and the history of Charlestown. Free tickets are required to climb the monument and you can also pick them up at the museum. Visitors enjoy the museum and say the monument is awe-inspiring and the grounds beautiful.
Food & Drink
Boston Small-Group Walking Food Tour With Tastings
(560 reviews)
from $ 106.00
Boston: North End to Freedom Trail - Food & History Walking Tour
(1219 reviews)
from $ 106.56
Boston's North End Small Group Food Tour
(767 reviews)
from $ 77.20
View Boston View Boston
U.S. News Insider Tip: To save some cash on your sightseeing, pick up a Boston CityPass which allows you to visit up to four attractions (such as the Museum of Science , New England Aquarium , Boston Harbor City Cruise and View Boston) for one discounted price. – Jill LeGrow
Replacing the iconic Top of the Hub restaurant and Skywalk Observatory that closed in 2020, View Boston opened in June 2023 to offer 360 panoramic views of Boston from atop the 52nd floor of the Prudential Center. Taking over the top three floors of the Prudential Center, View Boston includes an observatory, a wraparound roof deck and indoor/outdoor cocktail bar called Stratus, and a floor with interactive exhibits such as a projection-mapped 3D model of Boston. There's also Beacon, a bistro offering seasonal beverages and food.
The Mapparium The Mapparium
Located at the Mary Baker Eddy Library, this three-story, stained glass globe never fails to elicit wonder. Designed by the architect of the Christian Science Publishing Society building, Chester Lindsay Churchill, the globe depicts the world as it was in 1935.
The "How Do You See the World" experience includes the globe; the "Our World: Mapping Progress," which highlights humanity's achievements since 1935; and "Points of Progress," where you can learn about significant events in human rights, scientific advances, exploration, and other fields. A 10-minute audio narration features clips from President Franklin D. Roosevelt, Jane Goodall, Wangari Maathai (a Kenyan Nobel laureate) and others. One of the coolest features of the globe is that it is a "whispering gallery." Stand at one end of the gallery while a friend stands at the other. Whisper something to them and they will be the only one to hear it.
Things to Do in Boston FAQs
Explore more of boston.
Best Hotels
When To Visit
If you make a purchase from our site, we may earn a commission. This does not affect the quality or independence of our editorial content.
Recommended
18 Fall Family Vacation Ideas
Amanda Norcross September 11, 2023
The 26 Best Zoos in the U.S.
Rachael Hood August 11, 2023
30 Fun Fall Weekend Getaways for 2023
Holly Johnson July 18, 2023
The 32 Best Dog-Friendly Beaches in the U.S.
Gwen Pratesi July 14, 2023
The 21 Top Ecolodges Around the World
Mackenzie Roche|Amanda Norcross June 30, 2023
The 26 Best Fall Festivals in the U.S. for 2023
Katie Hearsum|Timothy J. Forster June 28, 2023
27 Amazon Prime Day Luggage Deals You Can Shop Now
Amanda Norcross June 27, 2023
The 34 Best Couples Vacations
Gwen Pratesi June 26, 2023
Carry-on Luggage Sizes by Airline
Amanda Norcross June 26, 2023
Photos: InterContinental Boston
Jill LeGrow June 26, 2023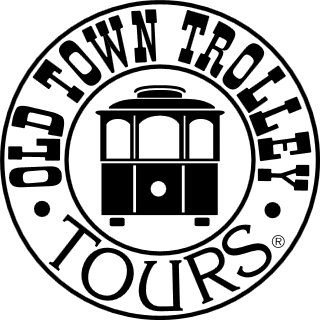 Washington DC
St. Augustine
HOME Main nav menu item
MAPS & STOPS Main nav menu item
Things to DO Main nav menu item
SCHEDULE Main nav menu item
FAQS Main nav menu item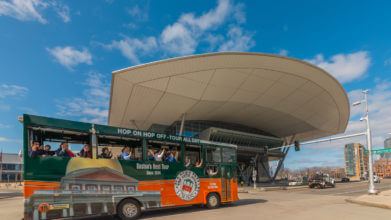 1102 reviews
Old Town Trolley Tours of Boston 4.4
Local Residents Ride Free
Experience your city like never before! Massachusetts residents can explore Boston with Old Town Trolley for FREE when accompanied by a full fare adult paid guest with Hometown Pass.
Go to  Hometown Pass   for more information.
Boston Columbus Day Parade
The Boston Columbus Day Parade is an annual parade held in Boston, Massachusetts, on the second Monday of October to celebrate the discovery of America by Christopher Columbus. The parade is organized by the Sons of Italy in America, and features floats, marching bands, and other Italian-American cultural groups. The parade begins at City Hall Plaza and ends at the North End. The Boston Columbus Day Parade is one of the largest Italian-American parades in the United States. It is estimated that over 100,000 people attend the parade each year. The parade has been held since 1919, and is a popular event for both Italian-Americans and the general public.
Annual DCR Neponset Pumpkin Float
The Annual DCR Neponset Pumpkin Float is a fun and festive event that takes place every year in the Neponset River in Boston, Massachusetts. The event is open to the public and features a variety of activities, including pumpkin carving, face painting, and a pumpkin boat race. The event is a great way to celebrate the fall season and enjoy the outdoors.
Head of the Charles River
The Head of the Charles Regatta is an annual rowing event held in Boston, Massachusetts. It is the world's largest two-day rowing event, with over 11,000 rowers from over 800 clubs and universities competing in 525 races. The regatta is held on the Charles River, and the course starts in Cambridge and finishes in Boston. The Head of the Charles is a major event in the rowing world, and it is considered to be one of the most prestigious regattas in the world.
Fall-o-Ween Children's Festival
The Fall-o-Ween Children's Festival (aka Fall Pumpkin Float) at Frog Pond is a fun-filled event for the whole family. There will be pumpkin decorating, face painting, hayrides, and a petting zoo. Kids can also enjoy the pumpkin float, which is a boat ride through a pumpkin patch. There will also be food and drinks available for purchase. The event is free to attend, but there is a charge for some activities. The Fall-o-Ween Children's Festival is a great way to celebrate the fall season with your family.
Pru Boo! at the Prudential Center is a Halloween event. It features a haunted house, costume contest, and other activities.
Things To Do in Boston in October
Explore Our Autumn Farmers Markets and Try A Pumpkin Food Tour
Love pumpkins? In all of the neighborhoods that we tour, there is a local farmers market. Check out this aggregator to find the Massachusetts Farmers Market near you! And try our favorite Boston Pumpkin Food Tour route from Cambridge to Somerville.
Get Ready for Halloween with a Chocolate Tour with Off The Beaten Path Food Tours
We run our Food Tours and Chocolate Tours year-round and our friendly guides can't want to meet you! Our Harvard Square Chocolate Tour and JP Vegan Chocolate Treats Tour are the perfect way to get ready for Halloween. So  check the Tour Calendar  for something fun going on this week. You can also head over to Salem, MA for a month-long Halloween celebration in this town that loves witchcraft.
Late Night Desserts in Boston
Dessert warms your soul so as the cooler weather moves in, time to seek out that molten lava chocolate cake or Boston cream pie. Our Chocolate Tours are a perfect adventure or check out our Most Indulgent Desserts in Boston .
Check out our award winning food and chocolate tours!
Try A Bar Crawl with our Craft Breweries
We love Pumpkin Beer and Pumpkin Cider so much, and they're popping up at places like Cambridge Brewing Company and Bantam Cider. Check out our blog post about our favorite craft breweries in Boston . There's so much creativity in the Boston brew scene, from the label to the process/recipes to the names of the local bottles, these are truly labors of love. On our tours we often sample beer, and you can email us for specific recommendations if you want more recommendations.
Go Cycling Under the Foliage
We are avid bikers, and Boston has some of the best trails in the state. Some of our favorite places to bike and enjoy nature include:
Minuteman Bike Path – Somerville to Bedford, MA
Jamaica Pond
Boston College/Chestnut Hill Reservoir
Charles River in Cambridge, MA (Sundays closed to vehicles)
Or if indoor sports are more your speed, check out:
PKL pickleball bar in South Boston
Puttshack indoor mini-golf in the Seaport
BeachHouse indoor volleyball in Natick
Visit Salem if You Dare
Salem, Massachusetts is full of interesing spooky stories and even a Salem Food Tour, but there's a reason that locals avoid it in October and that's because it can take over an hour to get there and then it's hard to park. That said, October is a fun month to explore the city.
Take a Day Trip
We started our Northampton Coffee Shop Food Tour on Saturdays and Northampton Food Tour on Sundays (to be reopened) as a way to promote a fun, foodie daytrip to this college town only 2 hours from Boston. You can easily spend all day there or stay overnight at historic Hotel Northampton. Check out our post on the Top 10 Things to Do in Northampton if you want to make a day of it.
Enjoy Music or Theater including Live Shows and Movies
Lift your spirits with a performance that wows. There are so many awesome music venues in Boston, from outdoor to indoor beats!  Check out our list of our favorite music venues in Boston.
Take a Cooking Class!
Cooking classes are fun year-round, but there's something special about learning to cook from your autumn farmers market bounty. Butternut squash soups and veggie pizzas are just some of the things you can become quite proficient at. Here's our Top 20 Cooking Classes in Boston and beyond.
The Usual: Art Galleries, Restaurants, Historical Sites are all open
Take photos in all of our most instagrammable places in Boston !
Check out some of our other recs of things to do in Boston like this blog post on  Off The Beaten Path Things To Do in Boston . Enjoy our city and explore all of its off the beaten path finds.
Our Boston Food Tours and Chocolate Tours of interesting Boston neighborhoods are a can't-miss October activity in Boston. So whether you're a local or tourist, start practicing saying "wicked cool" and check our Tour Calendar  for what's going on this week.
Related Posts:
Top 10 Things To Do in East Boston
10 Things To Do With Kids in Boston On Early Release Day
Top 14 Things To Do and Eat in Boston's Back Bay
Best Things To Do in Boston on a January Vacation…
The Top Greek Food in Boston
The Most Romantic Restaurants for Boston Dates
Neighborhood: Boston
Category: Things To Do
If you like this post, you'll love
Boston Staycation: Take a Food or Chocolate Tour!
Top 22 Boston Music Venues in Massachusetts and Where To Eat
Can You Answer These Trivia Questions?
Search boston food tour blog posts, browse the blog, browse by category, filter by neighborhood, also see..., wanna go off the beaten path.
By filling out the form above, you'll also get our occasional updates and marketing emails.
Get Tickets
Where to Meet
Work With Us
Copyright © 2023 Off the Beaten Path Food Tours | Waiver | Terms & Conditions | Privacy
Headquarters: Somerville MA, 02144; Cambridge, MA 02138; Jamaica Plain, Boston, MA 02130
TOUR CALENDAR
If you've been craving a little adventure, you're in luck. Fill out the form below to get FREE instant access to our hand-picked list of local stops and hits of flavor for your next stroll around Beantown:
The 11 Best Fall Day Trips From Boston
Brooks Payne / Getty Images
If you live in Boston or are visiting the New England city in the fall, there are some great day trips you can take by bus, to enjoy a living history museum, colorful seasonal foliage, and the city where the spooky Salem Witch Trials took place. You can also go by car to scenic autumn destinations within a two-hour drive of the Massachusetts capital, from small waterfront towns to mysterious cave dwellings and cornfield mazes.​
America's Stonehenge: Visit Historic Dwellings
J. Miers / Wikimedia Commons / CC BY SA-3.0
You've probably heard of Stonehenge—that mysterious collection of megaliths (big rocks) over in the old England. You may not know that New England has America's Stonehenge in Salem, New Hampshire , just a 40-minute drive north from Boston. Fall is the perfect season for a day trip to this curious attraction, which features 30 acres of dwellings that resemble caves and stone structures built according to an astronomical calendar, a visitor center, and more.
Davis Farmland Discovery Farm: Explore the Mega Maze
Massachusetts Office of Travel and Tourism
One of New England's oldest and largest cornfield mazes is the 8-acre Mega Maze, typically held through early November at Davis Farmland Discovery Farm in Sterling, Massachusetts. Leave Boston behind for a scenic roughly one hour, 10-minute drive to this challenging, larger than life puzzle. You can have loads of fall fun, as well as catch some live music and choose from many food options.
Across the street at Davis Farmland, enjoy picking apples and pumpkins, spray grounds, an animal showcase, and more. Buy tickets online in advance for both attractions.
Old Sturbridge Village: Get Transported to the 1800s
John Phelan / Wikimedia Commons / CC BY SA-3.0
Old Sturbridge Village in Sturbridge, Massachusetts, is a 200-acre time machine that transports visitors a New England town in the early 1800s. Within moments of setting foot inside the complex of historic buildings populated with interpreters in 19th-century attire, you can't help but feel immersed in yesteryear. The Northeast's largest outdoor history museum, Old Sturbridge Village displays the routines and rituals of a past community day after day, season after season.
Fall is a fascinating and picturesque time for a visit. A special Autumn Harvest Weekend usually includes a chance to see farm animals and artisans as well as learn from the costumed interpreters as they pick corn, potatoes, and more. The village is an easy day trip destination from Boston, located just over an hour's drive from the city.
Castle in the Clouds: Catch Stunning Views
Fletcher / Wikimedia Commons / CC BY 4.0
As of late October 2020, the Carriage House Restaurant is temporarily closed, but Café in the Clouds serves lunch every day from 11 a.m. to 4 p.m. Just over a two-hour drive from Boston in Moultonborough, New Hampshire, Castle in the Clouds features stunning fall landscapes at a mountaintop abode. The spectacular, 5,500-acre estate was built by eccentric industrialist Tom Plant in 1914 and boasts a lovely view of Lake Winnipesaukee. Hike among the 28 miles (45 kilometers) of trails, or stroll by some waterfalls. After a one-hour walking tour, linger over lunch or snacks and drinks at the Carriage House Restaurant, which caters to vegetarian and gluten-free diets.
Newburyport: Stroll Around the Waterfront Town
Snapper / Getty Images
Newburyport, Massachusetts, a waterfront town only an approximately 45-minute drive north of Boston, makes the perfect day trip. The autumn season is a great time to explore the town and enjoy pleasant weather. Not only does the town have a marina and some nice parks, but it is home to several popular restaurants and bars. Some travelers enjoy shops with antiques, clothes, and more. In addition, the beautiful beach destination of Plum Island is nearby. Check out the Plum Island Lighthouse , also known as the Newburyport Harbor Lighthouse, where open houses take place on the third Sunday from May through September.
Portsmouth: Shop and Eat at the Seacoast
Doug Kerr / Flickr / CC BY SA 2.0
Traveling to another state may not sound like a day trip, but there's plenty to see just over the New Hampshire border in Portsmouth, which is only about an hour away from Boston by car. Portsmouth is a cute, historic waterfront city dating back to 1630 with plenty of shops, art galleries, restaurants, breweries, hotels, and more. It is within close proximity to several beaches as well and is beautiful no matter what time of year you visit.
New England Countryside: Take a Fall Foliage Bus Tour
Anthony Tulliani / EyeEm / Getty Images
The Fall Foliage Bus Trip is canceled in 2020. Set out from Boston on an approximately nine-hour motorcoach tour of the New England countryside. This one-day trip held each autumn includes a stop at an orchard for apples and cider and views of lovely towns, taverns, churches, Willard Brook State Forest, and more. Book through Viator for the Fall Foliage Sightseeing tour, which includes lunch.
Plimouth Plantation: Learn About the Pilgrims
The Plymouth Day Trip is canceled in 2020. Reserve via Viator and board a motorcoach from Boston for an eight-hour pilgrimage to Plymouth, Massachusetts, the historic home of the Pilgrims. You will enjoy a guided tour of the Plimoth Plantation living history museum, the working Plimoth Grist Mill, the local waterfront, Plymouth Rock , Mayflower II , and other historic sites. The seasonal tour usually runs from June to October.
Salem: Get Spooked During Halloween
Media photo courtesy of the Massachusetts Office of Travel and Tourism
The Boston to Salem "Witch City" Day Trip is canceled in 2020. Salem, Massachusetts, is just 25 miles (40 kilometers) north of Boston, and the eerie city where the Salem Witch Trials took place in 1692 is easily accessible via car or MBTA trains . You can also book a spot on a roughly seven-hour Salem-bound bus tour direct via Viator. October is a particularly good time to visit Salem—in addition to seeing the town's Halloween shops and witch-related attractions, you'll have lunch in the Pickering Wharf area.
Walden Pond: Walk or Swim on the Famous Beach
Katkami / Getty Images
Walden Pond Visitor Center, the Thoreau House Replica, and the picnic areas are temporarily closed as of late October 2020. The Walden Pond State Reservation spans about 400 acres including the pond and surrounding areas. Few bodies of water have celebrity status to rival that of this serene pool in Concord, Massachusetts. Henry David Thoreau, the 19th-century writer, turned the pretty pond into an icon when he lived there for two years. The fall is a lovely time to walk, swim, and ride a boat at this scenic spot, which is just a 35-minute car trip west from Boston.
Hyland Orchard: Enjoy Fun for the Whole Family
The Hyland Orchard is closed for the 2020 season. Located about an hour's drive from Boston in Sturbridge, Massachusetts, this is a fun place for the whole family on autumn weekends. Hyland Orchard typically offers apple picking and live music on Saturdays and Sundays through October. Kids love wagon rides and the petting zoo. Adults can sample beer in the Rapscallion Brewery & Tap Room , housed in a 1940s apple barn, while enjoying something to eat from the food truck on-site.
The 13 Best Day Trips from Boston
New England's Most Epic 4th of July Celebrations
The Best Things to Do in New England
The Best Small Towns in Massachusetts
Best Places to Stay in New Hampshire for Fall Foliage
New England Fall Weekend Events 2020
New England Fall Foliage Bus Tours 2020
The 10 Best Day Trips from Portland, Maine
New England Fall Foliage Tours
20 Top Things to Do in New Hampshire
7 Beautiful New England Fall Foliage Train Tours
How to See New England Fall Foliage at Its Peak
New England Fall Festivals
Visit America's Spookiest City: Salem, Massachusetts
The Best Places to See Fall Colors Near Boston
The 11 Best Boston Beaches In and Around the City Limits
By clicking "Accept All Cookies", you agree to the storing of cookies on your device to enhance site navigation, analyze site usage, and assist in our marketing efforts.
Awesome, you're subscribed!
Thanks for subscribing! Look out for your first newsletter in your inbox soon!
The best of Boston for free.
Sign up for our email to enjoy Boston without spending a thing (as well as some options when you're feeling flush).
Déjà vu! We already have this email. Try another?
By entering your email address you agree to our Terms of Use and Privacy Policy and consent to receive emails from Time Out about news, events, offers and partner promotions.
Love the mag?
Our newsletter hand-delivers the best bits to your inbox. Sign up to unlock our digital magazines and also receive the latest news, events, offers and partner promotions.
Things to Do
Food & Drink
Time Out Market
Los Angeles
Get us in your inbox
🙌 Awesome, you're subscribed!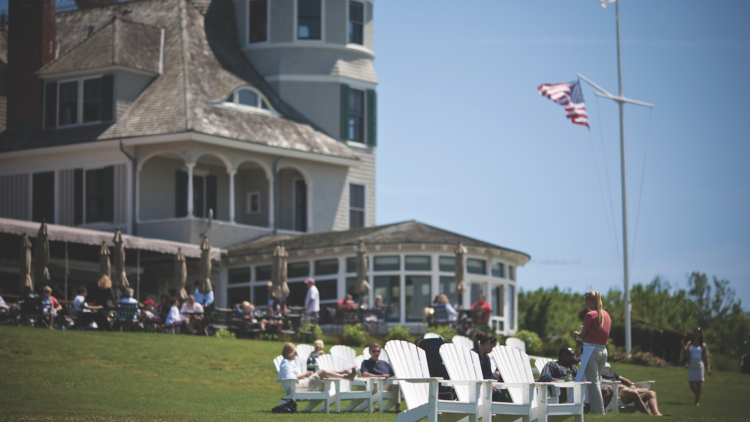 20 best weekend getaways from Boston
Escape the city this summer by heading to these mountains, islands and towns all within a few hours of Boston.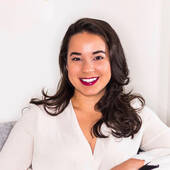 While there are plenty of winter activities to enjoy in the city, sometimes you just want to hit the road and escape to the fresh air, country roads, and charming small towns. Use our guide for top summer getaways to plan your next trip. But if you can't take a whole weekend away, check out one of these day trips from Boston . And on ce you 're back in town, get back into the swing of things by hitting up the best museums , listening to some stellar live music and dining out at the hippest restaurants in Boston .
RECOMMENDED: Full guide to the best things to do in Boston .
An email you'll actually love
Best weekend getaways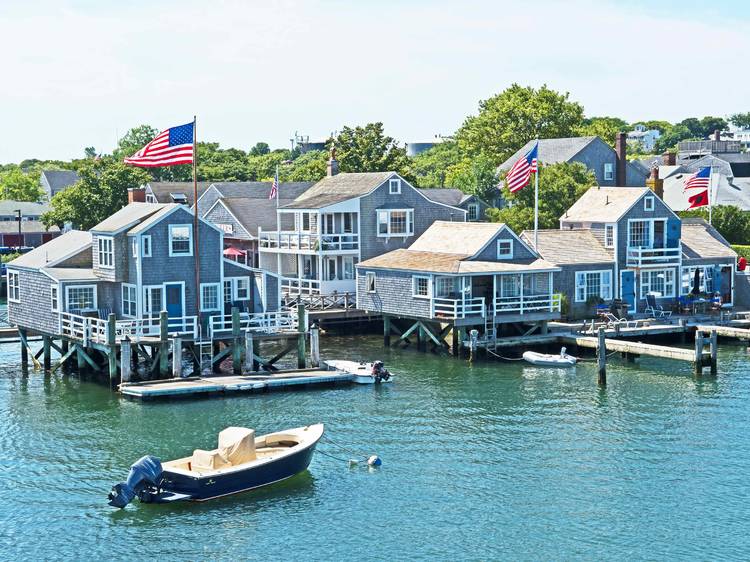 1. Nantucket Island
Nantucket is the place to be in the summer.
Eat at : or, The Whale ( 38 Main St, 508-825-5897 ) located right on the cobblestoned main street in downtown Nantucket, if the weather is still nice you can enjoy eating on or The Whale's back patio.
Stay at: Hotel Pippa ( 5 Chestnut St, 508-228-5300 ) at the contemporary boutique hotel, guests can enjoy complimentary breakfast before setting out for the day. The team at Hotel Pippa is happy to assist guest booking a variety of island activities from fishing expeditions to cooking classes. When the day is done, guests can unwind on Hotel Pippa's cozy patio.
Must do: Visit in early October and travelers can enjoy a brand-new fall festival, The Harvest Fair ( 220 Milestone Rd ) which will take place October 1-2. Historically the Island Fair and the Cranberry Festival happened on separate weekends but 2022 will be the first year the events merge for one large festival.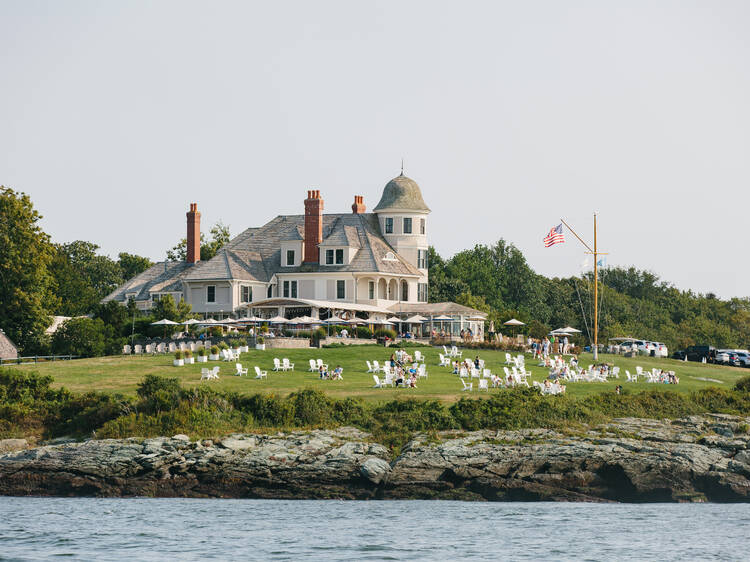 2. Newport, RI
Step back in time with a weekend getaway to Newport, RI. Home to the famed Newport Mansions, Newport is also packed full of waterfront dining, shopping, and plenty of options for getting outside and staying active.
Eat at: The Mooring Seafood Kitchen & Bar (1 Sayers Wharf 401-846-2260) pro-tip is to reserve a table around sunset on their deck overlooking the wharf.
Stay at: For a romantic getaway in Newport check in at Castle Hill Inn ( 590 Ocean Ave 888-466-1355), the views cannot be beat.
Must do: Touring the Newport Mansions is a must, we recommend doing at least three. But save The Breakers for last as it is the most impressive! Afterwards, stroll along the Cliff Walk for world class views. Last, no trip to Newport is complete without a sail around the harbor, book an afternoon sail or an evening cocktail sail on the Adirondack II .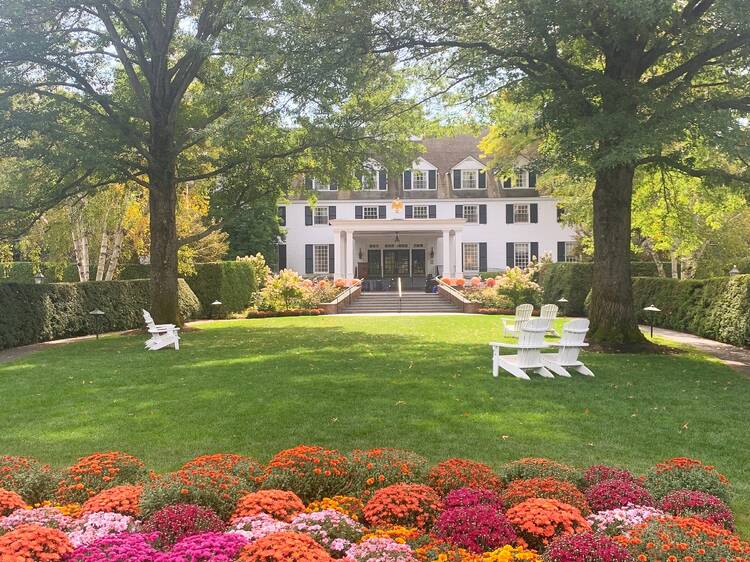 3. Woodstock, VT
One of the most charming towns in all of New England. Woodstock is the perfect fall escape, travelers can visit local farms, museums, stroll through the town square and pop in and out of all the local shops.
Eat at : Worthy Kitchen ( 442 Woodstock Rd, 802-457-7281 ) definitely worthy of a visit. At Worthy Kitchen guests will find farm-to-table comfort food and local craft beers on tap.
Stay at: The Woodstock Inn & Resort ( 14 The Green, 888-338-2745 ) located right on the town square The Woodstock Inn is the perfect place to stay if you want to be centrally located to everything in town. Walking distance to tons of shops and restaurants, the Inn also has a world-class, LEED-certified Spa.
Must do: Sugarbush Farm ( 591 Sugarbush Farm Rd, 802-457-1757 ) offers free cheese and maple syrup tastings. You can explore the farm grounds, take in beautiful foliage views and do a little shopping in their farm store. If you're visiting Woodstock in the fall, you have to take a ride out to Sleepy Hollow Farm ( 3429 Cloudland Rd South, Woodstock, VT 05091 ). A privately owned property, but you can view the charming farm from the road, you'll likely be in good company with fellow photographers and leaf peepers.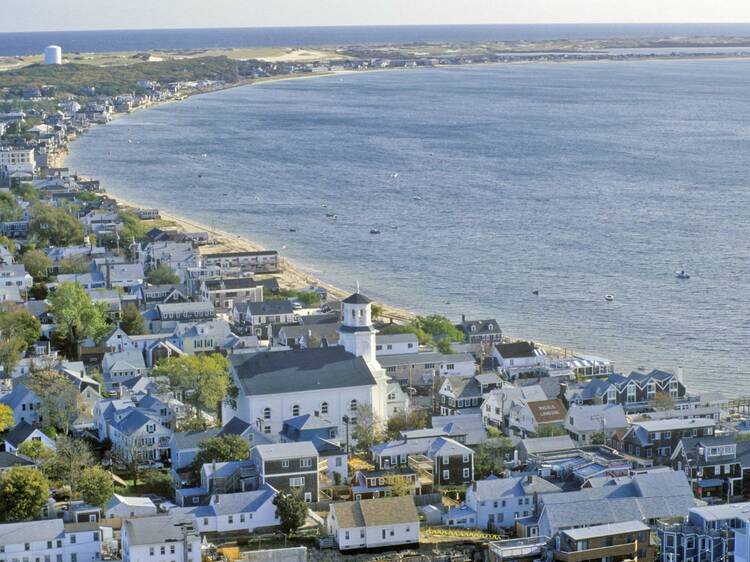 4. Provincetown, MA (PTown)
Leave the car at home because Provincetown is just a 90-minute ferry ride from Boston. With lots of fun bars, great restaurants, and plenty to do Ptown is one of our top weekend getaways from Boston for a reason.
Eat at : The Canteen (225 Commercial Street 508 487-3800) has beach front dining, an incredible lobster roll, and frosé. What more could you need?
Stay at: The Harbor Hotel Provincetown 's ( 698 Commercial St, 508-487-1711 ) retro-glam style and modern amenities makes it exactly what you want on a weekend away. Plus they're pet friendly!
Must do : Enjoy off roading on a dune tour. Stop by Art's Dune Tours for an exhilarating ride through the dunes, the team gives you a full history of the area, from how it joined the Cape Cod National Seashore to the history behind the artist shacks.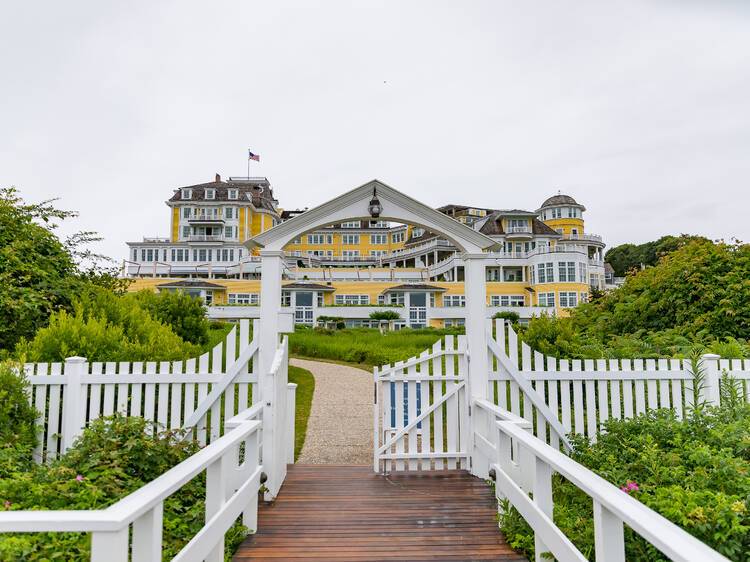 5. Watch Hill, RI
Taylor Swift vacations in Watch Hill, why shouldn't you? Just over two hours from Boston this small town is walkable and is home to the oldest continuously operating merry-go-round in the country.
Eat at : Olympia Tea Room (74 Bay Street 401-348-8211) is an institution. Just a short walk from the beach the simple menu has been keeping guests happy for over 100 years.
Stay at : There are two clear winners when it comes to where to stay, the Ocean House ( 1 Bluff Avenue 855-678-0364) or the Watch Hill Inn (38-44 Bay Street 855-677-7686) . The Ocean House boasts its own private beach, multiple onsite dining options including Dalia , a new seasonal Coastal Mexican venue by Chef Dantón Valle, and croquet courts. The Watch Hill Inn is right on Bay St overlooking the harbor, and is convenient to all the shops.
Must do: Walk down to the Watch Hill Lighthouse , then spend the day shopping along Bay Street or head to the beach.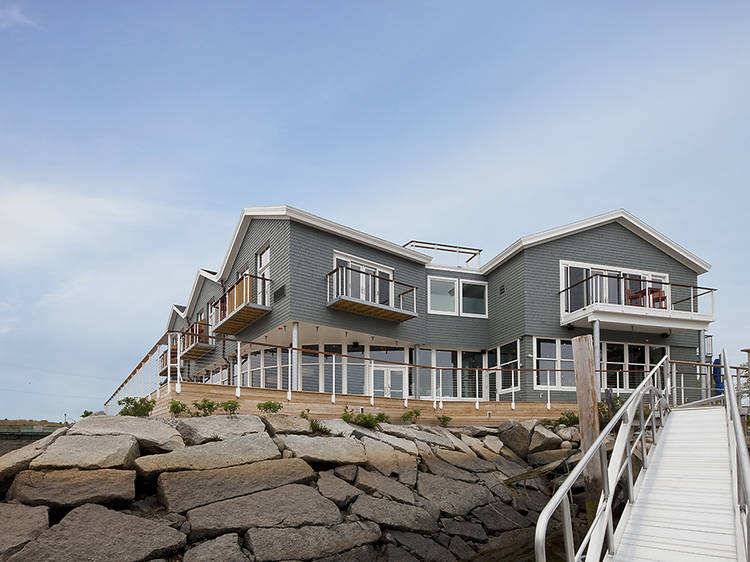 6. Kennebunkport, ME
Just an hour and a half from Boston, Kennebunkport is the quaint seaside town you've been dreaming of. There is a little something for everyone in Kennebunkport (you may even spot the Bush family!).
Eat at : Stop by Old Vines Wine Bar ( 173 Port Road (207) 967-2310) for outdoor seating and live music, their menu is filled with small snacks and sharables plates. However, the wine list and craft cocktails are the real draw. And no trip to Kennebunkport is complete without a stop at The Clam Shack ( 2 Western Ave 207.967.3321) , they've been serving fresh seafood since 1968!
Stay at : The Boathouse (21 Ocean Ave; 207-967-8225) brushes up against the Kennebunk River, which is easily viewed from your room's oversized windows.
Must do : Visit Nubble Light . If you went to Kennebunkport for the weekend and didn't take a picture of the famous lighthouse, did you really go?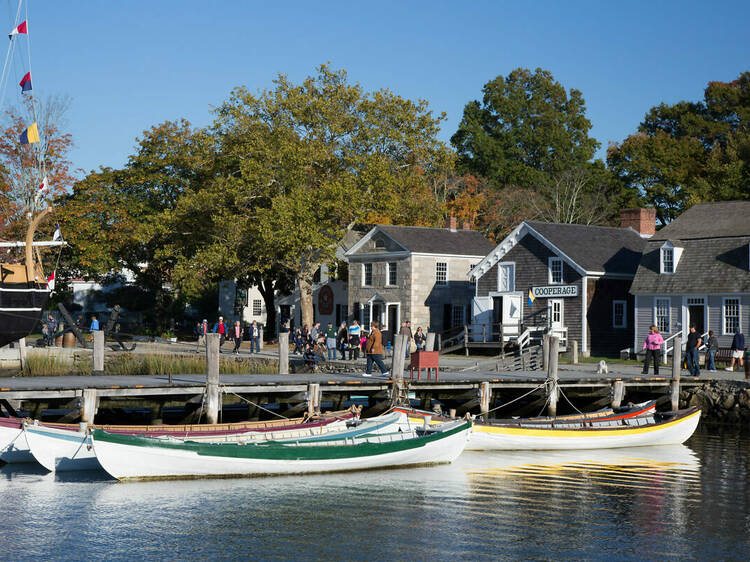 7. Mystic, CT
Home to Mystic Pizza and the Mystic Aquarium, this small coastal village, which is actually officially part of Stonington CT, is a great weekend getaway from Boston.
Eat at: Mystic Pizza (56 West Main St. 860-536-3700) is worth a visit. But if you're not in the pizza mood checkout Red 36 Bar & Grill (2 Washington Street 860-536-3604) for waterfront dining, fresh seafood and great cocktails.
Stay at: Stonecroft Country Inn Bed and Breakfast (515 Pumpkin Hill Road 860-744-5868) is the quaint B&B that summer weekend getaway dreams sometimes require.
Must do: Go brewery hopping . Mystic and Stonington are home to a handful of great local breweries including Barley Head Brewery, Bank & Bridge Brewing and Beer'd Brewing Co. Not into beer? There are also a bunch of great vineyards and wineries in the area.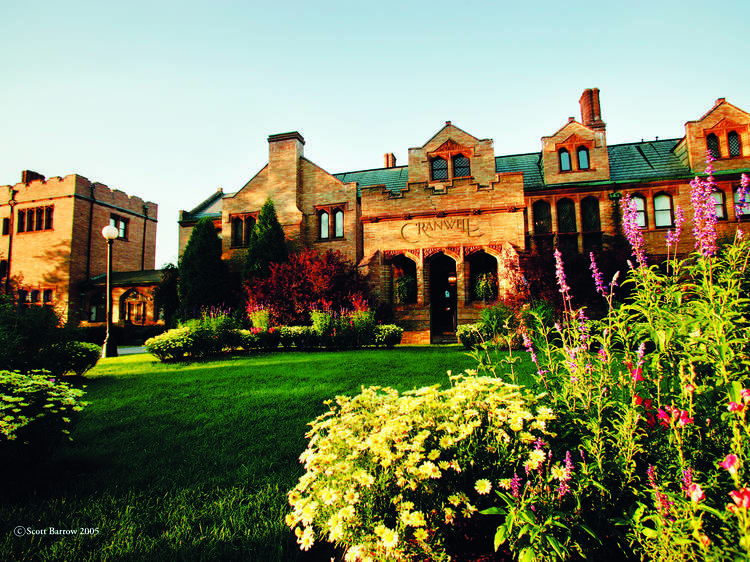 8. The Berkshires, MA
In need of fresh air? The Berkshires have you covered with museums, concerts, legendary authors' homes, hiking and more.
Eat at : Methuselah Bar and Lounge (391 North St, Pittsfield; 413-347-2888) is focused on organic wines and craft beers, pairing them with funky, reimagined American fare, tacos and Korean-inspired dishes. Nudel: Comfort & Craft (37 Church St. 413-551-7183 ) post-pandemic this Berkshires favorite has been doing "pop-ups" that allows them to change their menu every few months to focus on fresh seasonal ingredients!
Stay at : Seven Hills Inn (40 Plunkett St 413-637-0060 ) the former Gilded Age mansion offers 57 guest rooms, stunning gardens and an outdoor pool.
Must do : Be adventurous at Catamount Mountain Resort (Route 23 413-528-1262) go on a zipline tour, spend the day in the adventure park, or go on a scenic chairlift ride!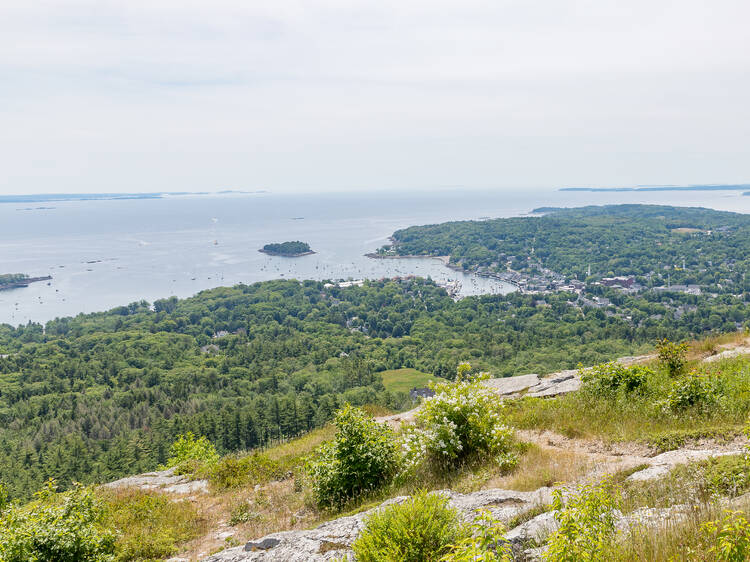 9. Bar Harbor and Acadia National Park, ME
A little further afield, Bar Harbor is almost five hours from Boston by car so be sure to make the most of your weekend in Bar Harbor and add on a trip to Acadia National Park, the only national park in New England
Eat at: The Travelin Lobster (1569 ME-102 207-288-8028), have the lobster roll you won't regret it.
Stay at: The Bar Harbor Grand Hotel (269 Main Street 207-288-5226) is a replica of the historic Rodick House, convenient to both downtown and Acadia. This hotel is the perfect spot to relax and unwind after a day of hiking.
Must do : Make the most of your weekend in Bar Harbor by doing a tour of Acadia National Park . Thsi is the most approachable way to see the park if you're not a big hiker and want to see all the major landmarks in a short period of time. (The classic tour is only 2.5 hours leaving you plenty of time to explore on your own!)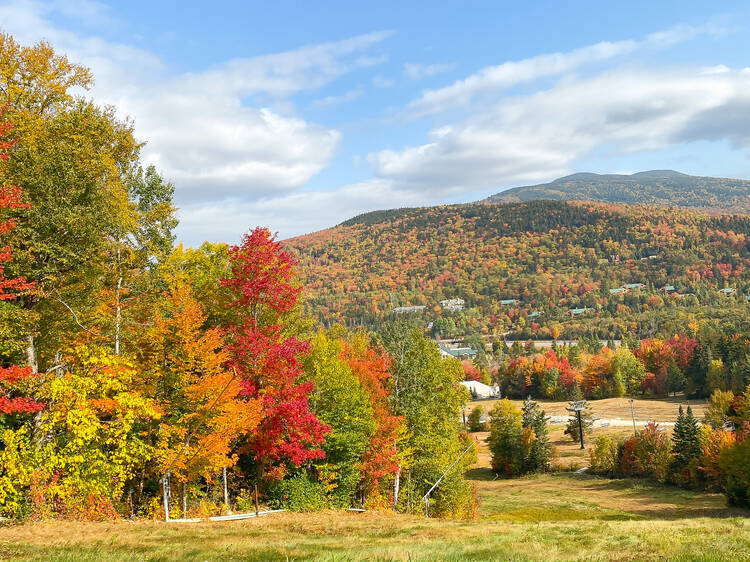 10. The White Mountain National Forest, NH
Even if you don't know it, when you think of New England you are likely picturing the Kancamagus Highway. The scenic highway runs right through the heart of the White Mountain National Forest. The White Mountains are truly spectacular in the fall and winter, there are tons of charming small towns to stay in, great hiking and of course endless vistas.
Eat at: The Covered Bridge Farm Table Restaurant ( 57 Blair Rd, 603-238-9115 ) something about wood covered bridges just captures the essence of New England perfectly. The Covered Bridge Farm Table Restaurant is located at the bottom of the White Mountains and is the perfect spot to stop for lunch on your drive up or your drive back to Boston.
Stay at : The Omni Mountain Washington Resort ( 310 Mount Washington Hotel Rd, 603-278-1000 ) this historic New England hotel has views of the presidential mountain range, a world class spa and you can take a scenic gondola ride right across the street at Bretton Woods.
Must do: The Cog Railway ( 3168 Base Station Rd, 800-922-8825 ) want to take in the foliage from the summit of Mount Washington but not looking to take on the hike? The Cog Railway will take you on a dramatic climb up the mountain. The rail has been running for more the 150 years, be sure to book tickets ahead of time so you can take in the views on this must do experience.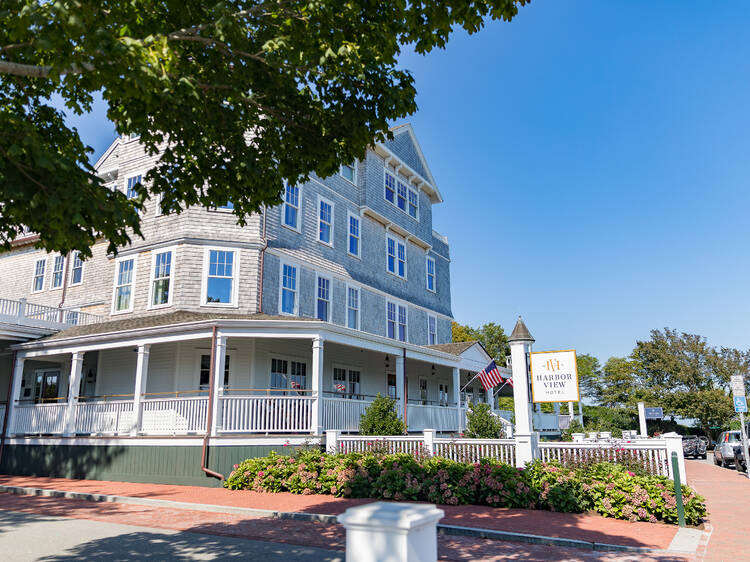 11. Martha's Vineyard
Martha's Vineyard is just a short ferry ride from Cape Cod that drops travelers right in either Edgartown, Oak Bluffs or Vineyard Haven for convenient access to shops, hotels and restaurants. Enjoy amazing beaches, see the Edgartown Lighthouse or take a ride to Island Alpacas for a truly one-of-a-kind experience.
Eat at: Visit Back Door Donuts (1-11 Kennebec Ave 508-693-3688) for the ultimate late-night snack, these donuts are worth waiting in line.
Stay at : The Harbor View Hotel (131 N Water St 877-624-7992 ) cannot be beat. So many things including amazing views, sumptuous accommodations, complimentary bikes and the Mercedes-Benz Drive Program make it a luxurious home away from home.
Must do: Whether using complimentary bikes provided by a hotel or renting bikes for the weekend, bikes are one of the best ways to explore the island. Martha's Vineyard offers over 40 miles of trails and roadways through its scenic towns and along its coast.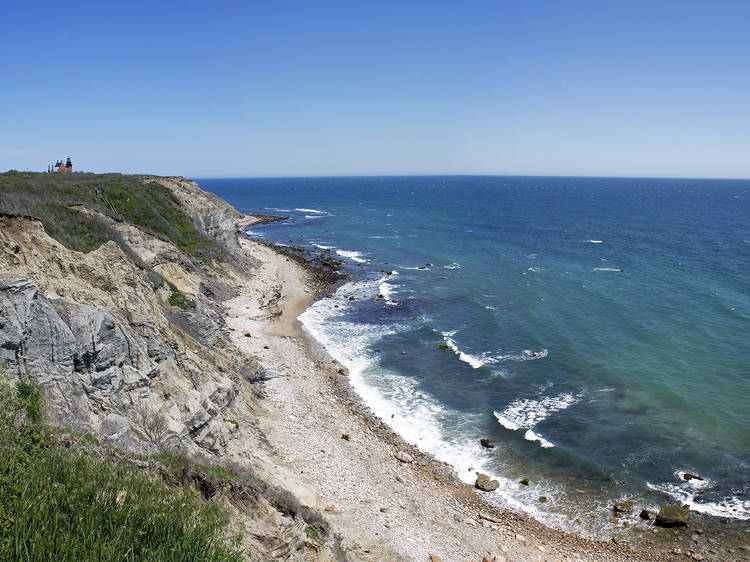 12. Block Island, RI
Located just 13 miles offshore, Block Island is a great alternative to Nantucket or Martha's Vineyard, it is a bit quieter and more relaxed. Good news for our nature lovers, 40% of the island is conservation land, accessible only by bike or foot.
Eat at: Poor People's Pub (33 Ocean Ave 401-466-8533) offers casual local seafood, burgers, pizza and more. They're conveniently located by the Old Harbor Block Island Ferry and offer outdoor seating! Before heading back to the ferry, grab gourmet sandwiches from Three Sisters (443 Old Town Rd; 401-466-9661).
Stay at : Spring House (1401 Ocean Ave; 732-776-6700) , the island's oldest hotel, entices with Adirondacks and a wraparound veranda overlooking the water.
Must do: Go horseback riding on the beach. Visit Rustic Rides Horse Farm , the offer both beach rides and trail rides, a great way to see the island!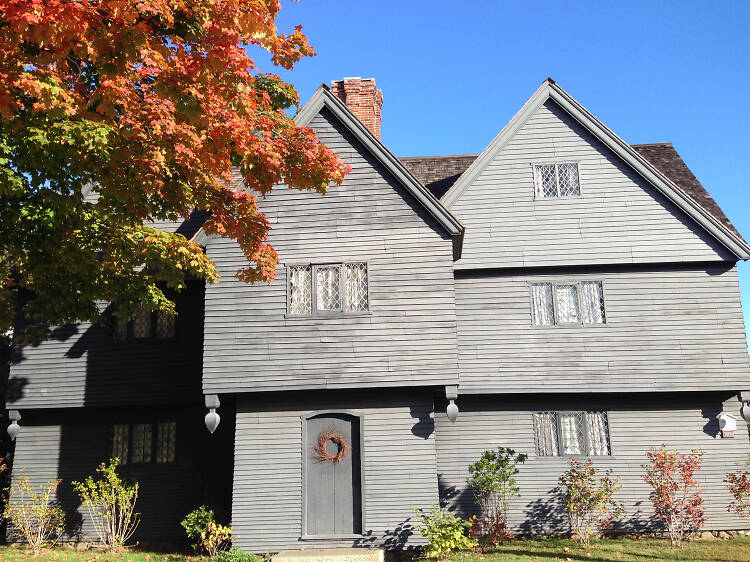 13. Salem, MA
Want to get witchy? Salem attracts thousands of visitors every fall, people looking to embrace the spooky, supernatural, and witchy vibe of the small coastal town. It can get a little crazy in the two weeks leading up to Halloween, but a winter trip is just as fun! In addition to all the witch themed attractions there is also a buzzing art scene in Salem, great restaurants and travelers have to visit Far From the Tree Cider to do a tasting.
Eat at : Howling Wolf Taqueria ( 76 Lafayette St, 978-744-9653 ) keep things spooky with a red-hot ghost pepper infused margarita. Howling Wolf Taqueria is known for their massive burritos and their wolf bites like avocado fries and ceviche.
Stay at: The Merchant ( 148 Washington St, 978-745-8100 ) a Lark Hotel, The Merchant is conveniently located right down town. Walk to all the witch shops, great restaurants and plenty of nearby tours and museums.
Must do: If you want to embrace the spooky vibes in Salem sign up for a Candlelit Ghostly Walking Tour ( 288 Derby St, 978-740-2929 ). The hour long walking tour will take you around some of Salem's most haunted locations. For travelers who want to see another side of Salem, plan a visit to the Peabody Essex Museum ( 161 Essex St, 978-745-9500 ) the world-renowned art museum has collections dating back to the 1700s including paintings, sculptures, photography and more.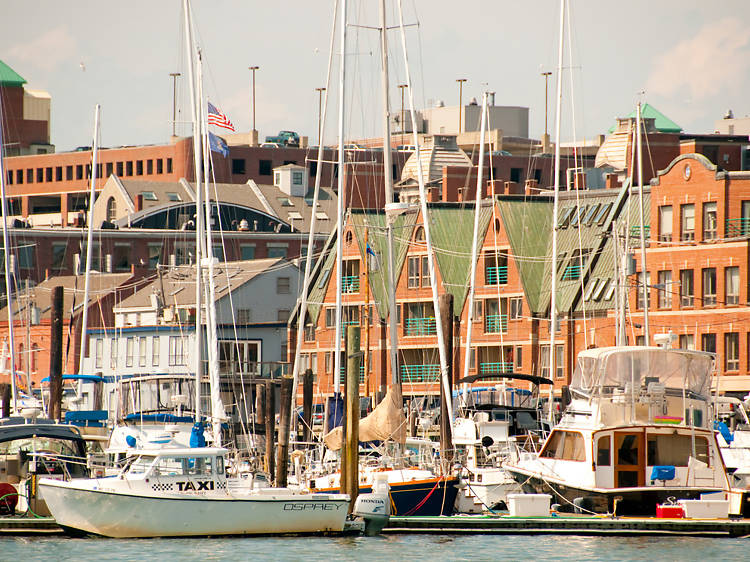 14. Portland, ME
Charming brownstones, bucket list worthy restaurants and ocean views? Portland is a great idea any time of year but especially in the summertime when you can take advantage of everything happening on the waterfront. Be prepared to eat all weekend long, Portland is a foodie's paradise.
Eat at: You really can't go wrong but three spots to get you started: Duckfat (43 Middle St; 207-774-8080 ) for fries, poutine and a milkshake when you're hungover the next day. Central Provisions (404 Fore St; 207-805-1085) for the locavore meal of the moment. And you must try Highroller Lobster Co (104 Exchange St. 207-536-1623) !
Stay at: Conveniently located in the Old Port, The Press Hotel (119 Exchange St; 800-971-2000) is the former home of the Portland Press-Herald and carries on the print tradition with newspapered walls, letterpress carpeting and leather desk chairs. Be sure to check out their amazing art collection.
Must do: Tour Casco Bay ! Experience Portland on the water as you visit all the islands throughout Casco Bay.
15. Hartford, CT
Hartford is the perfect central location for several fantastic fall attractions tucked away in the heart of Connecticut. Stay in Hartford and plan a drive to East Hampton, home to Pumpkintown USA . Then book a fall foliage scene hot air balloon ride with CT Ballooning in Kensington.
Eat at : Max Downtown ( 185 Asylum St, 860-522-2530 ) a staple in Hartford for over 20 years this chophouse and whiskey bar is a must visit during your stay in Hartford. Dine in style and enjoy elevated classic in the recently renovated space.
Stay at: Delmar ( 1 Memorial Rd, 860-937-2500 ) this pet-friendly, luxury hotel is the perfect place to enjoy a weekend getaway to Hartford. The Delmar has a full-service spa, the fitness center features Peloton bikes and guests even get complimentary admission to the New Britain Museum of American Art.
Must do: Use Hartford as your jumping off point to explore some of Connecticut's best fall attractions like Pumpkintown USA ( 100 East High St, East Hampton CT ). If you want to spend a day exploring Hartford, plan a visit to Mark Twain's House and Museum ( 351 Farmington Ave, 860-247-0998 ).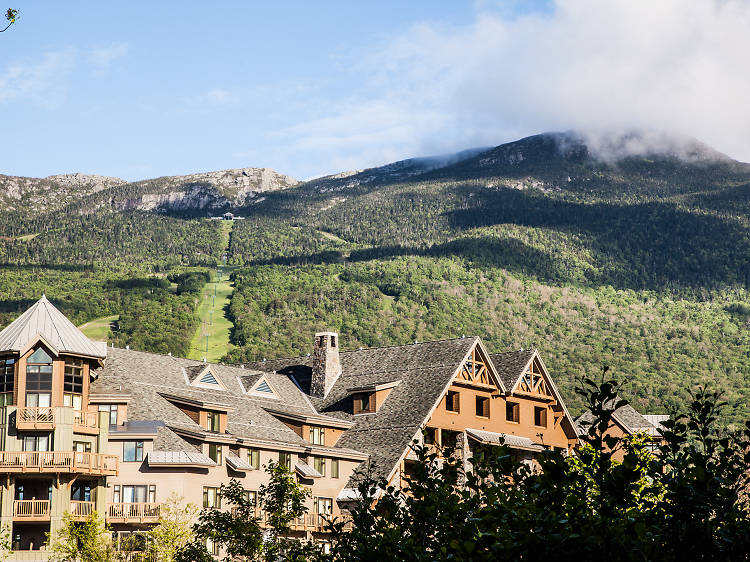 16. Stowe, VT
New England is awash with winter resort towns, but we most love those areas that celebrate four-season recreation. Come summer, Stowe swaps out skiing for hiking, golfing, mountain biking and kayaking. Bonuses include swimming hole visits and scenic drives up the squiggly Auto Toll Road.
Eat at: Plate (91 Main St; 802-253-2691) combines California cuisine with Vermont-sourced ingredients. Take the gondola up to Cliff House (5781 Mountain Rd; 802-253-3665) and enjoy a bottle of wine on the outside deck before hiking down afterward.
Stay at: Spruce Peak (7412 Mountain Rd; 802-253-3560 ) manages to feel homey and warm (also dog-friendly!), despite its luxury amenities. Added perk: It's also dog friendly, so your canine companions can come stay on vacay.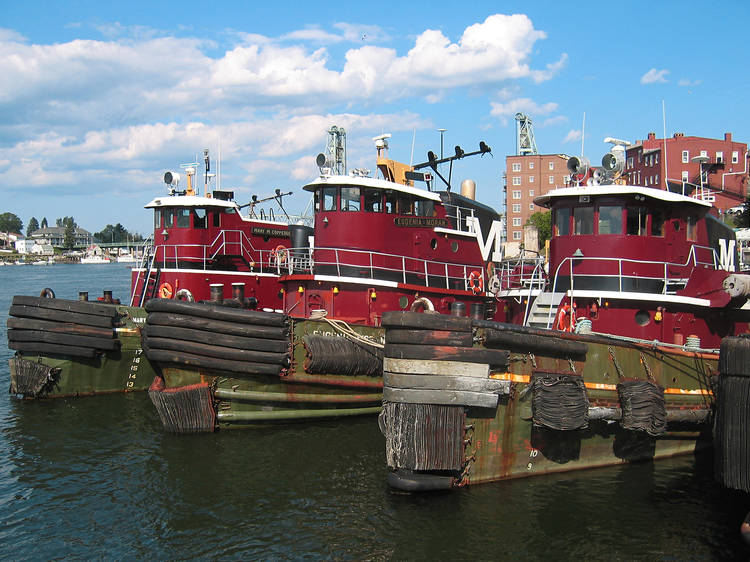 17. Portsmouth, NH
Just a short ride from Boston, this seaside town has a rich history. While you may think it was the town's role in the American Revolution or its history as a booming seaport that put it on the map, but Portsmouth is actually most well known as a hub for the brewing industry. There are 8 breweries travelers can visit right in Portsmouth!
Eat at : Botanica Restaurant and Gin Bar ( 110 Brewery Ln, 603-373-0979 ) this upscale French-influenced restaurant is the perfect spot for a romantic dinner, be sure to save room for dessert!
Stay at: Ale House Inn ( 121 Bow St, 603-431-7760 ) this boutique hotel is located right in the heart of downtown in what was once a warehouse for The Portsmouth Brewing Company.
Must do: Schedule your visit in October so you can partake in the annual Pumpkin Smash , taking place on Saturday October 28. All month-long travelers can check out the Scarecrows of the Port , unique scarecrow displays scattered throughout downtown.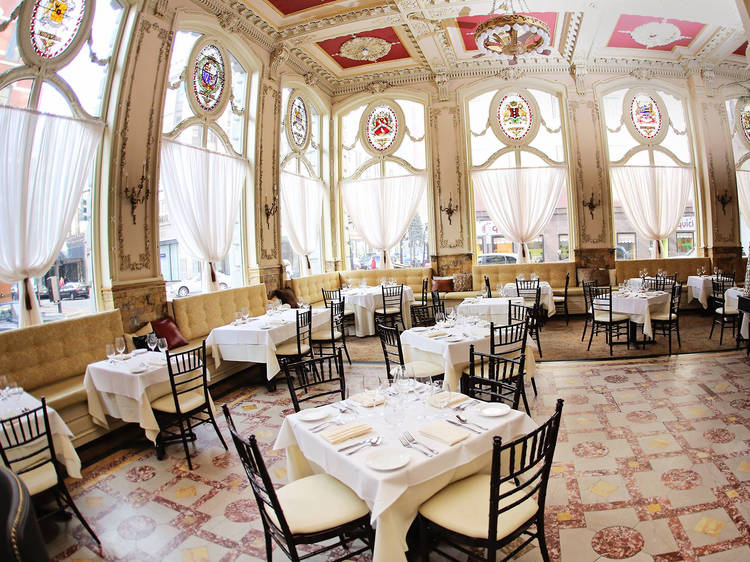 18. Providence, RI
One of the more underrated New England capitols, Providence also has an incredibly underrated food scene! This city is just a short ride on the commuter rail from Boston and is filled with New England charm and unique events like WaterFire .
Eat at : Hemenway's ( 121 South Main St, 410-351-8570 ) is a top rated and local favorite. Hemenway's offers an excellent raw bar and is the go-to restaurant for fresh seafood. If you're looking for a great glass of wine, you're in luck, in 2021 Hemenway's received the Wine Spectator's Award of Excellence.
Stay at : Graduate Providence (), formerly the Providence Biltmore this historic hotel recently got a complete renovation while maintaining some of the historic charm, like the lobby's original ornate ceiling and glass-and-brass elevator. Located right downtown, guests are just a short walk to restaurants and shops.
Must do: Head to the Roger Williams Park Zoo (1000 Elmwood Ave, 401-785-3510) for the annual Jack-o-lantern Spectacular . Starting September 29 and running through October 31 visitors can take in thousands of artistically carved pumpkins. Throughout fall there will be 4 full lightings of WaterFire, a series of up to 100 bonfires floating on the three rivers of downtown Providence. See this award-winning installation on September 24, October 1, October 22, or November 5.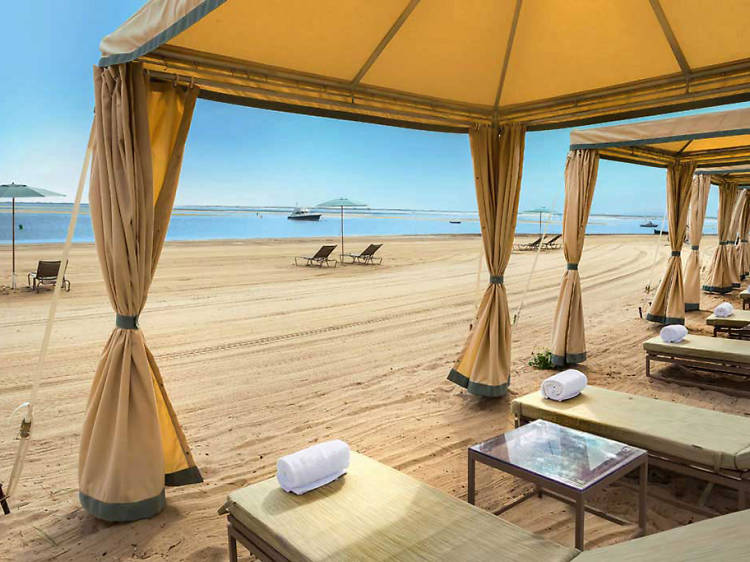 19. Chatham, MA
The Cape is a no-brainer, but where to stake your claim? We've long migrated towards the inimitable charms of Chatham, where the homes will make you drool, the town center is walkable and crammed with cute boutiques, and the seafood is hauled in just offshore.
Eat at: Impudent Oyster ( 15 Chatham Bars Ave, 508-945-3545 ) offers innovative spins on classic seafood dishes and a lively bar inside a former church.
Stay at: Chatham Bars Inn (297 Shore Rd; 508-776-6700 ) is the ne plus ultra of Cape retreats for good reason: The cabana'd beach alone earns the resort its mythic reputation—and justifies the indulgence.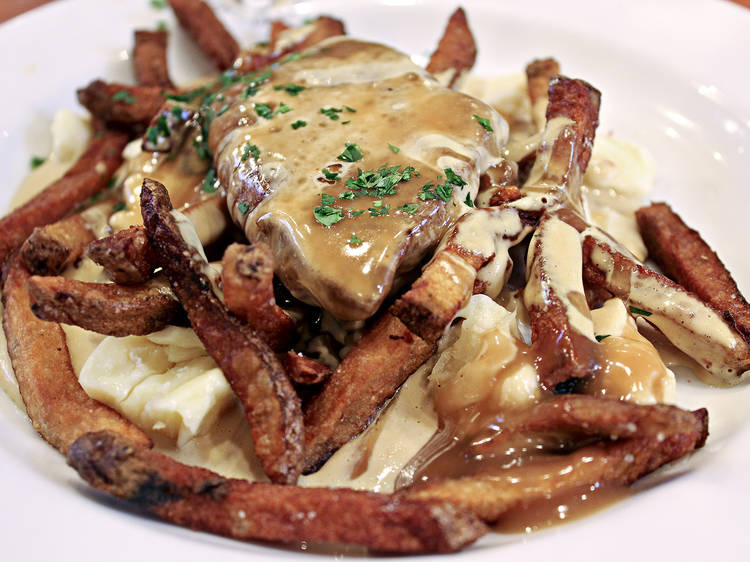 20. Montreal, Canada
If you must flee the country, you might as well drive into the clutches of a cosmopolitan city bursting with history, nightlife, outdoor concerts and a shopping scene that invites closet do-overs.
Eat at: Martin Picard's Au Pied de Cochon (536 Duluth Est; 514-281-1114) for foie gras on top of foie gras on top of poutine.
Stay at: Hotel Gault (449 St. Helene St; 514-904-1616 ) , a lavishly reappointed boutique hotel in Old Montreal.
See the best road trips in America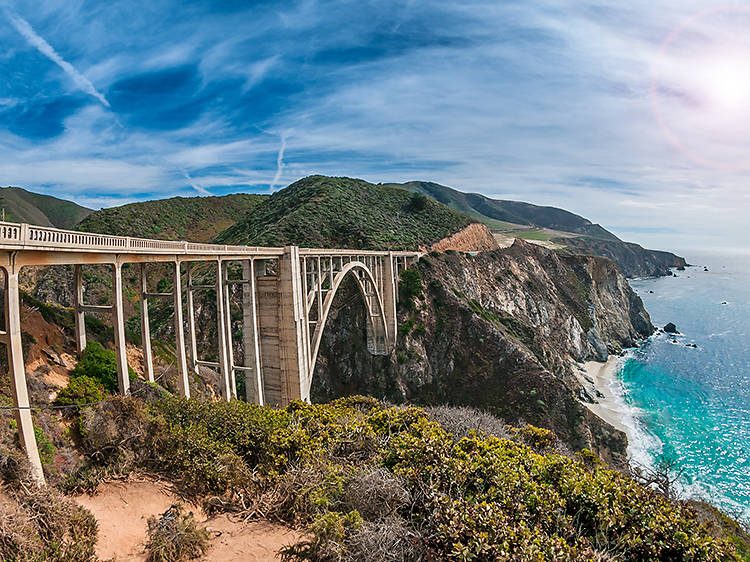 The best road trips in America
In the mood for a scenic escape? Get your motor running for the most awe-inspiring road trips from coast to coast.
[image] [title]
Discover Time Out original video
Press office
Investor Relations
Work for Time Out
Editorial guidelines
Privacy notice
Do not sell my information
Cookie policy
Accessibility statement
Terms of use
Copyright agent
Manage cookies
Advertising
Time Out products
The Weekender: October 26 to 29
Photo by Szabó János/Unsplash
October 26 to October 29
Jeromey russ (com'24).
Halloween falls on a school night this year, but this preceding weekend is still jam-packed with spooky stuff to do. Step up your Halloween game with a circus-themed party, a Day of the Dead celebration, and a horror movie marathon. 
The Greatest Bar College Halloween Party
Here's an opportunity to break out your spookiest costume and take the edge off this month's rent. The Greatest Bar is hosting its College Halloween Party on Friday with a $500 prize for the winning ensemble. Come for the live DJs, stay for the cutthroat competition. Buy tickets here .
Friday, October 27, at 8 pm, The Greatest Bar , 262 Friend St., Boston.
Day of the Dead Family Fiesta at the Peabody Museum
Dia de los Muertos is Mexico's annual holiday celebrating departed loved ones. Whether or not you grew up celebrating the holiday, you can join in on the fun at Harvard's Peabody Museum. Saturday's event features art exhibitions, food trucks, and more.
Saturday, October 28, from 1 to 4 pm, Peabody Museum , 11 Divinity Ave., Cambridge.
Time Out Market Fun House Halloween Party
Time Out Market is usually good for an over-the-top good time, and its Halloween party is no exception. Stop by on Saturday for circus performers, a costume contest, and a live DJ, all crammed inside the Fenway food court. Entry is free, but you'll need a mobile e-ticket .
Saturday, October 28, at 9 pm, Time Out Market , 401 Park Dr., Boston.
Coolidge Corner Theatre Halloween Horror Marathon
Dozens of horror movies—some of them good, most of them bad—drop every year, but Halloween is the time to bring out the A game, and that means the classics. Grab your least squeamish friends and stop by the Coolidge Corner Theatre for its 22nd annual horror movie marathon. This year's picks are Rosemary's Baby (1968), Suspiria (1977), and The Blair Witch Project (1999).
Saturday, October 28, at 11:30 pm, Coolidge Corner Theatre , 290 Harvard St., Brookline.
Ghosts & Gravestones Cemetery Tours
Boston is home to the final resting places of some of the most important people in American history, including John Hancock and Samuel Adams at the Granary Burying Ground. While some might give you strange looks for spending your free time visiting graveyards, Halloween is arguably the best time of year to check out these macabre memorials. For a bespoke experience, we recommend booking a Ghosts & Gravestones tour .
Ghosts & Gravestones tours run Wednesday through Sunday, with the earliest tour departing at 5 pm. Tickets begin at $47 for adults.
Explore Related Topics:
Share this story
0 Comments Add
Jeromey Russ (COM'24) Profile
Comments & Discussion
Boston University moderates comments to facilitate an informed, substantive, civil conversation. Abusive, profane, self-promotional, misleading, incoherent or off-topic comments will be rejected. Moderators are staffed during regular business hours (EST) and can only accept comments written in English. Statistics or facts must include a citation or a link to the citation.
Post a comment. Cancel reply
Your email address will not be published. Required fields are marked *
Latest from BU Today
Pov: is the united states an "indispensable nation" or reckless and misguided, bu today interns dish on new gsu eatery halal shack, advertising vs marketing: what's the difference between the majors, bu celebrates international education week with cooking demonstrations, a fashion show, and an ai panel discussion, building a better city with hospitality, why are we so obsessed with serial killers, my own boston: hermela haile (questrom '25), yum today is national sandwich day, what makes taylor swift the pop icon she is, the weekender: november 2 to 5, women's soccer, field hockey head to patriot league semifinals thursday, truths and myths, joy and stigma—life at bmc's gendercare center, new music november 2023: local boston concerts, new album releases, are instagram and facebook addictive, like smoking lawsuit seeks changes, pov: new laws threaten educators who teach history, no-bake pumpkin mousse dessert, police seek a man in connection with two gropings; suspect arrested in two other cases, video: skateboarding with bu girls skate, the youtube effect chronicles internet's good, bad, and ugly, the mental health toll of another mass shooting.
Vermont Tourism
Vermont Hotels
Vermont Bed and Breakfast
Vermont Vacation Rentals
Flights to Vermont
Vermont Restaurants
Things to Do in Vermont
Vermont Travel Forum
Vermont Photos
Vermont Travel Guide
All Vermont Hotels
Vermont Hotel Deals
Last Minute Hotels in Vermont
Things to Do
Restaurants
Vacation Rentals
Travel Stories
Rental Cars
Add a Place
Travel Forum
Travelers' Choice
Help Center
Leaf peeping October 2024 - Vermont Forum
United States
Vermont (VT)
Leaf peeping October 2024
United States Forums
Europe Forums
Canada Forums
Asia Forums
Central America Forums
Africa Forums
Caribbean Forums
Mexico Forums
South Pacific Forums
South America Forums
Middle East Forums
Honeymoons and Romance
Business Travel
Train Travel
Traveling With Disabilities
Tripadvisor Support
Solo Travel
Bargain Travel
Timeshares / Vacation Rentals
United States forums
Vermont forum
We are an outdoorsy family and enjoy nature so are looking for the most beautiful leaf peeping areas in the state. However, we are restricted to the middle (arrive 18/10) to late October due to U.K school holidays. Is there anywhere in the state that may have peak colours at this time or do I need to be looking more south? (I appreciate many factors dictate the timing of the colours from one year to the next)
Any suggestions would be greatly appreciated.
Thanks so much
3 replies to this topic
You should still be able to see colorful foliage on and after October 18 if you are in the valleys and southern parts of the state.
Eastern side of the state, Connecticut River Valley, Woodstock and Hanover NH (across the river in New Hampshire), south down to Brattleboro .
All good possibilities for foliage later in October.
I do think the season is getting later. We had great foliage this year in the Champlain Valley and the Islands up until almost the end of October.
But typically due to the lake it's not unusual historically to still have color around here on Oct 18, even if it's all sticks in the foothills.
Kids Play area southern VT Nov 05, 2023
Leaf peeping October 2024 Nov 04, 2023
Restaurants serving Thanksgiving dinner 2023 Nov 02, 2023
US/Canada border crossing Nov 01, 2023
Burlington Churchplace Christmas market Oct 28, 2023
New Years Oct 27, 2023
1 day activities Oct 25, 2023
Thanksgiving Dinner Near Quechee Oct 25, 2023
Itinerary suggestions at the end of this month Oct 24, 2023
Burlington at Christmas time. Oct 23, 2023
Trip Report Vermont Oct 2023 Oct 20, 2023
Your thoughts on Sleepy Hollow Farm road closure for 2023? Oct 20, 2023
Best route/stop from Montreal to Salem MA to see Vermont? Oct 20, 2023
Outdoor activities while in Stowe Oct 18, 2023
Lake Champlain Resorts 2 replies
Where to visit in Vermont around Christmas Time? 7 replies
Lake Champlain Hotel 8 replies
First Time to Vermont/ Quaint New England Villages?? 7 replies
Best places to Elope 7 replies
Family Resort with Indoor waterpark 2 replies
Vermont in December for non-ski-ers 5 replies
Vermont in November 4 replies
2-3 day Fall foliage tour - where to stay? 14 replies
Driving from New York... 1st time going to Vermont... 8 replies
Vermont Hotels and Places to Stay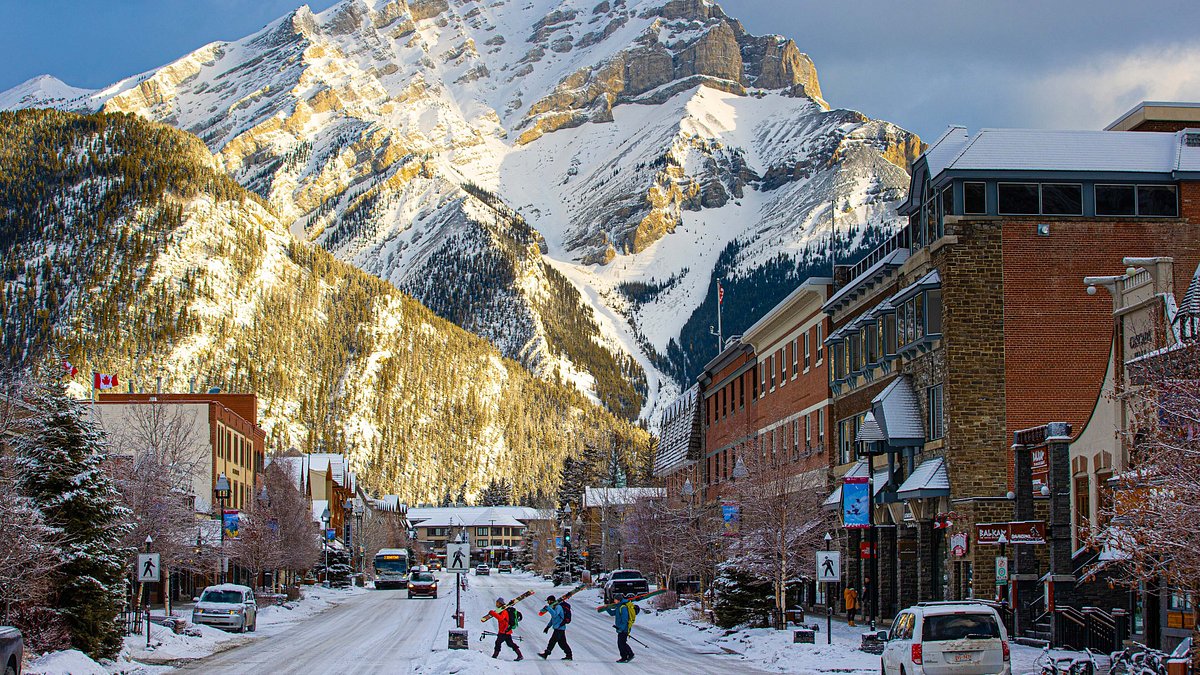 Airlines, Biden administration to clash in case that would reshape industry
A trial is set to begin in u.s. district court in boston focused on jetblue airways' $6.8 billion bid for rival spirit airlines.
Mergers among U.S. airlines in recent decades have left passengers with fewer air travel choices. The Justice Department is taking a step for the first time on Tuesday to stop the number of industry players from shrinking further: It's bringing its case to a judge.
A trial is set to begin in U.S. District Court in Boston focused on JetBlue Airways' $6.8 billion bid for rival Spirit Airlines. It would mark the first time regulators have gone to court to stop a merger between two U.S. carriers, coming as four carriers dominate the domestic market.
The Justice Department has challenged previous mergers — most notably in 2013 when American Airlines and US Airways combined to create the world's largest carrier — but the cases were settled before a trial. JetBlue has offered concessions, but regulators argued in court filings they fall short and are moving to block a proposal to create the fifth-largest domestic airline. The effort is the latest from the Biden administration to apply stricter enforcement to the nation's antitrust laws.
"This is a different DOJ," said William J. McGee, a consumer advocate and senior fellow for aviation and travel at the American Economic Liberties Project. "In my lifetime, in this industry, we have never seen the DOJ be so aggressive on the airline front."
JetBlue is at the center of two cases that could reshape the airline industry
JetBlue's bid — which would create the first airline merger in seven years — comes after the Justice Department has challenged proposed deals in a range of industries, including technology, health care and publishing. A Justice Department lawsuit against Google, the first antitrust case filed against a tech company in more than 20 years, is underway in a federal courtroom in Washington.
While the administration's results have been mixed — regulators successfully blocked a merger in the publishing industry but lost a bid to stop another between two health-care companies — the strategy points to a willingness to cite more novel theories of harm to consumers and workers, said Diana Moss, vice president and director of competition policy at the Progressive Policy Institute.
Ultimately, the question of whether JetBlue will merge with Spirit will fall to U.S. District Court Judge William G. Young, who is scheduled hear arguments during a trial expected to last about three weeks. The Justice Department is joined in the suit by attorneys general in six states and the District.
The trial will begin months after the Justice Department won an antitrust case in the same Boston court that also involved JetBlue. In his ruling, District Court Judge Leo T. Sorokin ordered American and JetBlue to dismantle an alliance that allowed them to coordinate schedules and share revenue on certain routes in the Northeast. The airlines argued unsuccessfully they needed to combine operations to compete with larger carriers.
While making its case for the Spirit merger, JetBlue is offering arguments similar to those it made to justify its American alliance.
"We look forward to presenting our case in court as we strongly believe our combination with Spirit is the best opportunity to disrupt the industry by increasing competition and choice, creating a long overdue national low-fare challenger to the dominant Big Four airlines," JetBlue said in a statement.
Justice Dept. sues to block JetBlue-Spirit merger, citing consumer harm
The Justice Department didn't respond to a request for comment about the case.
According to a Justice Department filing in the Northeast Alliance case, the four largest airlines had 55 percent of the domestic air travel market in 2000, while a dozen smaller carriers competed for the rest. Today, the top four U.S. airlines account for 80 percent of the market, with the number of smaller competitors dwindling.
"Organic growth of the sort needed to mount a national challenge to the legacies would take decades," JetBlue argued in court filings. "JetBlue's merger with Spirit would turbocharge JetBlue's growth and create a strong fifth national player in the domestic airline market."
That growth will result in lower fares and higher quality, while still offering the "no-frills service" some travelers prefer, JetBlue's attorneys said.
The Justice Department contends a merger would lead to fewer flight options, particularly for cost-conscious customers who prefer Spirit's business model of low ticket prices and extra costs for choosing a seat ahead of time or bringing a carry-on bag. In court filings, regulators noted Spirit has developed a loyal following.
"The proposed acquisition would eliminate Spirit, a disruptive and innovative competitor and reduce consumer choice in hundreds of markets that it serves today or would serve in the future," the Justice Department argued in court filings, adding that JetBlue planning documents show a merger would result in fewer seats and higher prices in markets Spirit currently serves.
A wave of airline mergers in the years after the Sept. 11, 2001, attacks saw the disappearance of Northwest Airlines, Continental Airlines and US Airways. The last major domestic airline merger occurred in 2016, when Virgin America was acquired by Alaska Airlines, which outbid JetBlue.
Consumer advocates say the disappearance of smaller carriers has led to an oligopoly, in which a market is dominated by a few large companies. Those concerns were amplified by airlines' pandemic-era performance, a time when they received $50 billion in government grants and loans to maintain operations but weren't prepared to handle a surge in travel demand.
Those disruptions spurred calls for new consumer protections and penalties for carriers that don't meet obligations. The Transportation Department has launched several investigations during the pandemic, including into whether Southwest Airlines knowingly scheduled more flights than it could operate amid a massive breakdown in December 2022. The Biden administration also said it would propose regulations to force airlines to compensate customers for more than the cost of their ticket when flights are canceled or substantially delayed.
Labor unions are split on a merger between Spirit and JetBlue, while the proposal has put consumer advocates in the unusual position of advocating for an airline they have long blasted for its business model and treatment of customers.
Justice Department wins bid to block JetBlue, American Airlines alliance
"The list of problems with Spirit is a long one, but the answer is not for it to go away," McGee said. "We'd like to see Spirit become a better airline and improve."
He said travelers might not realize they benefit from Spirit's presence regardless of whether they fly the airline, because it forces competitors to lower prices.
John Breyault, vice president of public policy, telecommunications and fraud at the National Consumers League, said most important is whether consumers have choices.
"What needs to exist is competition," he said. "Say what you want about Spirit and other low-cost carriers, but they have had an impact on prices that consumers pay."
Craig Minerva, a partner with Axinn, Veltrop & Harkrider and a former lead attorney in the Justice Department's antitrust division, said while lawyers have made a strong case for why the merger shouldn't be approved, one hurdle is the carriers' size, adding that a merger of small rivals is "very rarely an antitrust problem, if ever."
Henry Harteveldt, an aviation analyst and president of Atmosphere Research, said despite its size, Spirit has proved to be a formidable competitor to larger rivals because it has gone head-to-head with the major players. Unlike other ultra-low-cost carriers that focus on serving smaller airports, Spirit has muscled into major terminals like Chicago's O'Hare International, Dallas-Fort Worth International and Houston's Bush Intercontinental, forcing larger carriers to compete on prices.
Spirit Airlines shareholders approve merger with JetBlue
However, he said if the government is worried about concentration in the market, it would be better served by focusing on strategies that help smaller carriers become stronger competitors.
"If the government is worried about concentration in the industry, it should be more worried at the concentration at the higher levels," he said. "To counter that, they need to help other airlines become larger and become more of a competitor to the 'Big Four' carriers."
Some Spirit customers said they worry the loss of the discount carrier could mean fewer flights.
Tyler Dunbrack, 30, recently drove three hours to Baltimore-Washington International Marshall Airport from Harrisburg, Pa., because Spirit's $300 round-trip fare to Las Vegas was the best option he and friend Tiffany Stagg, 27, could find.
"It's like the Greyhound of flying," Dunbrack said. Stagg said she worries that if Spirit disappears, fewer people would be able to afford air travel.
Even Elizabeth Jackson-D'Ambrosi and her husband, Fred, who vowed never to fly Spirit again after it canceled their flight to San Antonio earlier this month, said competition in the industry is important. The couple ended up paying more than $1,200 — nearly three times the cost of their original Spirit tickets — to rebook on United.
"I don't want to just have a few choices," Elizabeth Jackson-D'Ambrosi said.
The deal between JetBlue and Spirit was finalized in July 2022. Spirit had announced plans to merge with Frontier Airlines before JetBlue swooped in with its surprise offer.
Spirit Airlines' shareholders approve merger with JetBlue
Spirit initially resisted JetBlue's overtures, arguing a merger with the New York-based carrier was unlikely to win regulatory approval. But ultimately, the low-cost carrier was unable to persuade enough of its shareholders to spurn the JetBlue offer. A combination of Frontier and Spirit would have eclipsed JetBlue to become the nation's fifth-largest carrier.
Robin Hayes, JetBlue's chief executive, has said he expects the deal to close in early 2024. If it doesn't win approval for the merger, JetBlue would have to pay a $70 million fee to Spirit and $400 million in fees to Spirit shareholders.
More coverage: Air travel, transit, railroads
Amtrak: D.C.-Boston Amtrak corridor gets $16 billion federal boost
Metro: Red Line shutdown threatens busy holiday season for arts groups, retailers
Road safety: When 395 Express Lanes close, driverless truck is taking over the road
Transit: D.C. revises plan to issue $200 tickets to drivers blocking bus lanes
Air safety: Delta pilot threatened to shoot captain on flight, investigators say
StarTribune
Gophers football opens 2024 big ten season with run of four huge challenges.
The Big Ten opener against Iowa, back-to-back games against newcomers UCLA and USC and a season-ending game at archrival Wisconsin are the highlights of the Gophers 2024 football schedule. The opponents had been announced previously, and the dates were announced Thursday.
With the Big Ten adding four former Pac-12 members — Oregon, UCLA, USC and Washington — there no longer will be divisional play. Instead, the top two teams in the regular-season standings will advance to the Big Ten Championship Game in Indianapolis.
The Gophers open the 2024 season with three previously scheduled nonconference home games against North Carolina (Aug. 29), Rhode Island (Sept. 7) and Nevada (Sept. 14).
When Big Ten play opens, the Gophers will face a tremendous challenge in their first four games. They begin the stretch on Sept. 21 at Huntington Bank Stadium against Iowa in the Floyd of Rosedale game. A week later, another trophy is on the line when the Gophers travel to Michigan on Sept. 28 to face the Wolverines in the battle for the Little Brown Jug. The schedule doesn't ease up the next two weeks as the Gophers are host to USC on Oct. 5 before traveling to UCLA on Oct. 12 to face the Bruins in Rose Bowl Stadium.
After a bye on Oct. 19, the Gophers have a home game against Maryland (Oct. 26) before hitting the road for back-to-back games at Illinois (Nov. 2) and Rutgers (Nov. 9).
A second bye week follows on Nov. 16 before Minnesota finishes its season with a home game against Penn State on Nov. 23 and the finale at Wisconsin on Nov. 30.
In these 12 games, the Gophers face seven teams that have appeared in the AP Top 25 at one point this season.
2024 Gophers football schedule
Aug. 29: vs. North Carolina
Sept. 7: vs. Rhode Island
Sept. 14: vs. Nevada
Sept. 21: vs. Iowa
Sept. 28: at Michigan
Oct. 5: vs. USC
Oct. 12: at UCLA
Oct. 26: vs. Maryland
Nov. 2: at Illinois
Nov. 9: at Rutgers
Nov. 23: vs. Penn State
Nov. 30: at Wisconsin
Big Ten that prides itself on integrity has hands full with Michigan
Randy Johnson covers University of Minnesota football and college football for the Star Tribune, along with serving as a producer for Puck Drop, the Star Tribune's enhanced online hockey coverage.
Trump lashes out from the witness stand at judge, N.Y. AG
'This was special.' Inside O'Connell's masterful coaching job vs. Falcons
Edwards takes control, scores 38 as Wolves send Celtics to first loss in OT
ACLU sues South Dakota over its vanity plate restrictions
Aggressive, up-tempo Gophers win opener 80-60 over Bethune-Cookman
Joshua Dobbs did something even football legends couldn't believe
Meet the high school volleyball All-Metro teams, the Twin Cities' best players
Wild-Islanders game preview: Can Wild win back-to-back for first time?
Defensive prowess of Gobert, McDaniels keys Wolves win over Celtics
Vikings, raiders show that midseason misadventures needn't result in giving up on the 2023 season.
Big Ten football picks: Can Nebraska run its winning streak to four? Nov. 2
Big Ten that prides itself on integrity has hands full with Michigan Nov. 3
Aggressive, up-tempo Gophers win opener 80-60 over Bethune-Cookman • Gophers
Souhan: An emotional Minnesota sports moment on the PGA Tour • Gophers
Inconsistent Gophers suddenly in danger of missing a bowl game • Gophers
Urgency at center stage as Gophers start men's basketball season • Gophers
RIP, Big Ten West — mediocre division, casualty of expansion • Gophers
© 2023 StarTribune. All rights reserved.